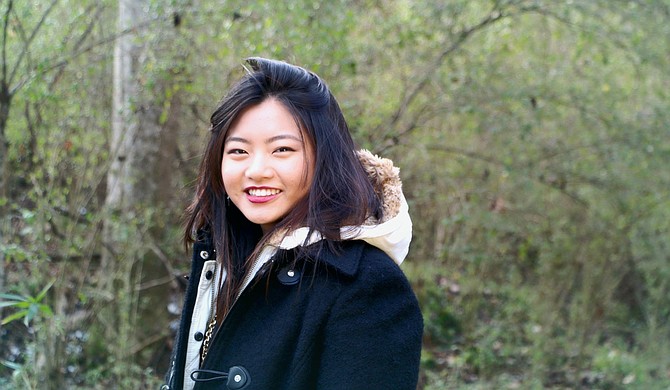 Each year, the JFP highlights some of Jackson's best and brightest teens, and each year, the list grows and grows. This year's Amazing Teens include the future leaders of our world: a teen who wants to be a biometric engineer and make the world safer; one who uses poetry to highlight the world around him; a few who are already at work on their future career paths; and so many more incredible teenagers who are giving back to our city and their community and the world around them. These teenagers prove every day that they can make a difference. Jackson has so many more Amazing Teens, and the JFP is sad that we can't showcase all of them. Here are the ones we chose. Email others: [email protected]
Carah Young
By accomplishments alone, people like Carah Young prove every day that the people in her generation are ready to lead.
The Wingfield High School senior is the student body secretary and oversees event coordination for Wingfield's National Honor Society (she essentially created her own position). She's an executive officer in Reserve Officer Training Corps at the school, and has an Internet radio show for Wingfield that focuses on politics and economics.
"At the time, it was around August (or) September. We had just found out about ISIS and everything. (My principal) was basically like: 'I'll give you a shot. Just, write a concept, write what you want to talk about, and we'll sit down and discuss it, and we'll put you as a test run,'" she says of the radio show. "... It was sensible at the time because America was going through something. We didn't have our stance on what we wanted to do. As kids, we were kind of hearing both sides of it: 'Well, we should send people over,' 'We shouldn't send people over,' 'Don't listen to the government.' 'Listen to the government,' (and) 'Stay safe.' And adults will make decisions sometimes that they don't know impacts us."
She wants to prove teenagers can be informed. "We can think, and we're trying to innovate ... how we're doing things," she says.
The topics on her show can range from national politics such as the turmoil in the Middle East to ones that hit closer to home, such as Mississippi's education system.
Young was born in Heidelberg, Germany, and as a military brat, moved around a lot. She's spent time in two countries, Japan and Korea, and several states.
She moved to Jackson in the summer of 2010 when her mom, Sharjuan Burgos, and her stepfather, Geraldo Burgos, had to go to North 
Carolina. She currently lives with her father, Carl Young.
She says that because of its learning curriculum, Wingfield is different than schools in other countries.
"It's not, like, close-minded," she says. "The school in itself is teaching a lot, but it's more on, you know, the stateside, whereas any other school I've been to ... the learning curriculum is bigger. Wingfield, it's big, but it's only touching certain areas."
The school is currently working to bring a more international element to its curriculum, including having cultural and international fairs.
"I think it's starting to take flight, as in everything we do now," she says of the school's international programming. "But I do want to see (Wingfield) turn into a very cultured school.
Young says she wants to go to college at Jackson State University and study computer engineering with a minor in radio broadcasting, journalism or mass communications.
With that degree, she wants to become a biometric engineer and create technology that is safer and more secure, such as her own fingerprint scanners, and identification badges with the wearer's DNA inscribed inside.
"Being a biometric engineer, it takes my creativity and expands it into everything I want to build, and all my plans and all my designs," she says.
She says her favorite part of Wingfield is that she's around people like herself, people who want to change something and make it better.
When she's not at school, she reads, sings and dances.
In Colorado, Florida and Texas, Young was in dance troupes; however, in Jackson, she dances on her own time.
—Amber Helsel
Jamian Rush
Rebecca Wilkinson, a senior art teacher at Terry High School, nominated 18-year-old senior Jamian Rush as an Amazing Teen for the work he's done with her special-needs art class. Wilkinson approached Rush last year to ask for help with a Halloween party she was hosting for her students. Ever since, Rush has been going back to her class whenever he gets the chance.
In addition to acting as an assistant teacher and helping Wilkinson's students with their art projects, this Easter, Rush dressed up in a rabbit costume and helped organize an egg hunt.
"I've always felt a strong connection with special-needs children, and I enjoy seeing the impact my helping them makes," Rush says. "It lets these kids see that other students care and want to help them."
Rush, a Jackson resident, was born in Steelwater, Okla., and has moved all over the country with his family due to his mother Pamala Heard's work in educational outreach for NASA. The family lived in Huntsville, Ala., Wyatt, Mo., and Waveland, Miss., before settling in Jackson in 2004.
Wilkinson approached Rush in part because of his position as treasurer on the Terry High Student Council, where he is responsible for the organization's finances.
Rush joined the Terry council his freshman year, and he was part of the student council in eighth grade at Byram 
Middle School.
Rush is good at math and believes that it must be in his blood. His mother taught algebra and is now the director of the Honors College activities at Jackson State University. His grandfather, Preston Heard, was a math teacher at Charleston Middle School in Charleston, Mo. Rush's father, Charles Rush, is a federal work-studies coordinator at JSU.
Another Rush family interest is football. His brother, Xavier Rush, whom Jamian looks to as a role model, played wide receiver at Tulane University and recently participated in the university's Pro Day.
"I look up to my brother because he's always worked hard, even in hard times, to better himself and the people around him," Rush says.
Jamian has played football since sixth grade, and is a defensive lineman at Terry. In February, he received a football scholarship from Southwest Mississippi Community College, where he plans to major in biology.
—Dustin Cardon
Elizabeth Liu
Madison Central High School senior Elizabeth Liu hasn't decided what she wants to do for a career, and that's fine by her.
Whether she's serving in student government, flexing her math muscles with Mu Alpha Theta, a national math honors association, or competing nationally in speech and debate, Liu stays busy.
In speech, she placed sixth in the oratory category at last year's Harvard Invitational, and she came in second in the calculus division of the state Mu Alpha Theta competition April 12 and 13.
Her father, Yi-Ming Liu, is a chemistry professor at Jackson State University, and her mother, Ming Shenwu, is a laboratory technician in the biology department at Tougaloo College. While both place a high value on education, Liu says her parents allow her to follow her interests.
"Thank goodness they didn't pressure me to do what they like to do because then I would be in huge trouble," she says. "... They've always encouraged me to do well (in school), but they've always been supportive of what I do and choose to do."
This year, Liu has enjoyed taking advanced placement courses in calculus and literature, which introduced her to Fyodor Dostoyevsky's "Crime and Punishment." The novel's length and humdrum title turned her away at first.
"After I read it, I thought it was so fantastic," she says. "... It was just really interesting seeing a view into what Russian life back then was and to kind of learn about the culture and different ideas."
Liu, 18, considered attending either the University of Southern California and Yale University but has decided that she will attend Yale and possibly study economics.
More than anything, Liu wants to experience everything that college has to offer.
"I'm not one of those people who sets their eye on something and is straight on ahead," she says. "I tend to chew something, discover what it's about, and then decide if I like it or not."
When she's not focused on academics, Liu plays piano for the Chinese Church of Greater Jackson. Until ninth grade, she competed in state piano competitions, but she now prefers to use music to serve God and her church.
—Micah Smith
Nathan Campbell
Nathan Campbell is no ordinary teenager. The Murrah High School senior has an abundance of academic endeavors and projects, and he just returned from a trip touring George Washington University in Washington, D.C., where he will begin college this fall.
At press time, Campbell was a contender for valedictorian at his upcoming graduation. He is on the school's speech and debate team, and is in Mu Alpha Theta and the National Honor Society.
In February, Campbell won first place for research on how certain cells can mediate hypertension and pathophysiology in the Mississippi Academy of Sciences regional competition.
He competed with the University of Mississippi Medical Center's Base Pair, a biomedical research mentorship program that teams faculty from the hospital with Murrah High School students and teachers. While he was a student at Chastain Middle School, Campbell says he wanted to become a pilot and then a video-game designer, but when he became part of Base Pair, Campbell discovered his aptitude for the sciences.
"I definitely think the ... program at my school, where we get to do research every fourth block of the day, has really contributed to me loving science," Campbell says.
Campbell says that Jeffery Stokes, a chemistry teacher and Base Pair's coordinator at Murrah, and his UMMC mentors Drs. Babette Lamarca and Denise Cornelius, have made big impacts on his enthusiasm for science.
At GWU, Campbell plans to pursue a degree in biomedical engineering, and he hopes to obtain his doctorate and conduct stem-cell research.
Campbell currently participates in research with Lamarca and Cornelius that focuses on pre-eclampsia (hypertension during pregnancy) at UMMC.
This summer, Campbell will participate in the hospital's Summer Undergraduate Research Experience internship program for undergraduates and high-school students who have excelled in biomedical sciences.
During the internship, Campbell will conduct 400 hours of research, something he says is equally daunting and exciting. His wages will help fund his college education.
—Jordan K. Morrow
Olivia Hines
Bright red hair is not the only thing that makes Olivia Hines stand out. She has a natural ability to dive into conversation and a passion for music and bringing people together.
Hines plans to attend Sally McDonnell Barksdale Honors College at the University of Mississippi as a Lucky Day scholar, majoring in pre-medicine with a focus on psychology, and minoring in music and journalism.
Hines says her ultimate goal is to become a musical therapist. After college, she intends to return to Jackson Public Schools in hopes of revamping the JPS system, something she believes requires serious attention.
"There are so many kids here who don't have anyone to talk to," Hines says. She believes everyone should have a mentor, someone like her father, Oliver Hines, who is one of her biggest influences. He taught her to be open to honest conversation.
As a senior at Murrah, Hines is the Honor Society president, captain of the speech and debate team and a member of Mu Alpha Theta math honor society. During Hines' sophomore year, she helped bring back Murrah's literary magazine, Pleiades, in 2012. She is the magazine's business manager and often contributes original poems and short stories. Hines also plays the cello with the Power Academic and Performing Arts Complex ensemble, which also has instruments such as strings and woodwinds.
"(Music) allows you to 'cleanse the soul' whether it's classical, baroque, romantic, or even rock 'n' roll or R&B," she says.
"You can find escape to release those negative energies and even depression."
Among her musical influences are Amy Winehouse, Otis Redding, Bob Marley, Sam Smith (whom she describes as authentic and angelic) and Johann Sebastian Bach. "His written pieces are most concentrated on what the cello can actually do," she says.
"I love my cello. Her name is Valerie," Hines says with a laugh. She has been playing since she was 8 years old. She plays for weddings, gigs for various organizations, and occasionally plays gigs at Brandon Baptist Church. She is a member of Christ Tabernacle Church, where she participates in the children's ministry.
*CORRECTION: The current version of this story reflects a correction. The original version said that Hines is a member of Brandon Baptist Church and plays regular gigs there. She is actually a member of Christ Tabernacle Church, where she participates in the children's ministry, and she occasionally plays gigs at Brandon Baptist Church. The Jackson Free Press apologizes for these errors.
—Jordan K. Morrow
Juliette Richert
Juliette Richert sits outside the Mississippi Museum of Art, anticipating receiving honorable mention in the Scholastic Art Awards. With a calm and reserved demeanor, she describes her piece: a mixed-media collage she created as a memento to the Civil Rights Movement. The 16-year-old Ridgeland High School junior says the project was originally for a class, but civil rights has become a subject she is passionate about.
"I think you can contribute to society most by helping individual people," Richert says. Although she has another year of high school to make up her mind about where to go to college, she already knows what she wants to do: "Just help people," she says.
She plans to become a psychologist and possibly use her artistic abilities as a therapy tool. "Mental illness is hard. I don't think the medicine side of it is for me, but I really do like the people interaction, and being able to help someone in that way is really important," she says.
Richert, who is secretary of her high school's Mu Alpha Theta math honor society chapter and was recently elected as secretary for the state organization, tutors students in math. She is also in the National Honor Society, competes with Ridgeland's academic team, and serves as her class vice president and as a junior diplomat for the City of Ridgeland.
Although her family is originally from New Hampshire, they moved to Ridgeland shortly after Richert was born, and she considers it home. She contributes to the community as much as possible. Richert says her mother, Jan Richardson, who is in charge of the city's Great American Cleanup effort, has been a great mentor.
Richert is on Ridgeland High's bowling and swim teams. Of her extracurricular ventures, she most enjoys her involvement with the marching band's color guard and winter guard, which is like color guard, except it practices inside, throughout the school year.
"It takes a lot of time management to keep good grades with all I have going on," she says, but she enjoys and appreciates the journey.
—Jordan K. Morrow
Nicholas Armstrong
Senior Nicholas Armstrong, 18, discovered many of his talents and interests during his time at Jim Hill High School, including his affinity for acting, which he will pursue as a speech and theater major at Jackson State University this fall.
"When I first came here in my ninth grade year, I was new. I didn't know what to do or where to go," he says of Jim Hill. "I was trying to find my place, and I found the drama club."
Unfortunately, the school's drama club wasn't as active as Armstrong would have liked. He only did one play in his high school career, "Jim Hill Through the Years," which he acted in his freshman year.
However, that led him to try other activities, including the school choir. He joined in 10th grade as a second tenor, moving to baritone in his junior year, and then to a bass and baritone in his senior year. The drama club still hadn't picked up much steam in Armstrong's junior year, so he began looking to another art form that satisfied his love of performing.
"I looked to what else I can use my voice in, and I turned to poetry," Armstrong says. "It's somewhat like acting, but you are reciting other people's stories as they relate to you."
Armstrong uses his poetry to express how he sees his personal life and the world around him. One of his favorite original pieces, "Police," deals with the recent issues of police brutality. He says that by nature, he often sees the details that others overlook, including character flaws. These traits often make up the metaphors in his poetry.
"It's something I do for enjoyment and so I can get my voice heard," he says. "The concept of it is very nice. In the poetry, it's a riddle. You have to decipher it."
When not writing or performing, Armstrong enjoys playing video games, such as "Pokemon," and reading fantasy novels, including Richelle Mead's "Vampire Academy" series.
Nicholas has a brother, Octavious Armstrong, 29, and a sister, Kayla Armstrong, 20. His father, Marvin Armstrong, works as a driver for Mississippi State Hospital, and his mother, Inez Armstrong, is a nurse and provides in-home care for the elderly.
—Micah Smith
Ebony Nichols
Lanier High School junior Ebony Nichols has big plans for a career in graphic design and photography. She's already putting her goals into action and getting real-world experience. At 17, she's doing an internship with a professional printer, and she sells a line of T-shirts.
"I design posters, banners and business cards," Nichols says. "My T-shirt line is called Royal Boss. Boss stands for: Built on Self Success."
Born and reared in Jackson, Nichols had different ideas when she started high school. A former Jackson State University Baby Tiger and Franklin Middle School drill team member, Nichols' interest in graphic arts blossomed last year.
"When I came to Lanier in ninth grade, my expectation was to get on the drill team and try out for different things," she says. "In 10th grade, I started studying graphic design at the Career Development Center."
As her junior year draws to a close, Nichols plans to go to college at Louisiana State University or the University of California, Los Angeles. In the meantime, she works hard at school each day so she can focus on her design business between 4:30 p.m. and 
6 p.m. "I do all my homework at school, right when I get it," Nichols says. "I know myself. When I get home, the business will be an automatic distraction."
Nichols interns two days a week at T-shirts and More (777 Cooper Road), where she's learning the basics of printing and other things she hasn't learned in her classes at the Career Development Center. She is trying to find a building for Royal Boss. She already has a printer's license from the city and is applying for a state permit.
Nichols describes her T-shirts as "challenging." Her distinct logo is a capital R turned backwards next to a capital B with a crown resting on top of the two letters.
"I would like to have a website to sell my T-shirts, but I don't have one, yet," Nichols says. "Right now, I set up a booth and sell my T-shirts during events. My last event was a women's conference at the Jackson Medical Mall."
As a member of Lanier's yearbook committee, Nichols takes photographs at pep rallies, football games and soccer games. She's also a member of Beautiful Souls, a support group for girls aged 8 to 19.
—Genevieve Legacy
Marsei Hogan
The Callaway High School Chargers lost only one football game in the 2013-2014 school year thanks in part to linebacker Marsei Hogan. Hogan, 18, is a junior this year and looks ahead to next season.
"Our hopes are high," he says. "Of course, we're going to try to go undefeated, but (we'll) just go game by game."
While Hogan is an exceptional athlete on the field, he also realizes that he is a leader off the field as well.
"I've worked with the ninth graders and tried to help them," he says. "There can be a lot of expectations, and I try to show them that they can do it."
This natural leadership also guides Hogan's possible college pursuits. He wants to go into sports psychology. "I enjoy talking to young players and getting their minds right," he says. "I love talking to people, so it seems right for me."
In addition to football, Hogan makes sure his academics are in the right place. He is enrolled in Advanced Placement English and will have taken most of his senior coursework by the end of this year. He is planning on a dual enrollment at Hinds Community College for his senior year.
"I'd like to stay ahead of the game," Hogan says.
His father, Maurice Hogan, is proud of his son's accomplishments but is quick to point out that football isn't the only thing that is important in his son's life.
"Sports is a toll to get you where you want to go," he says.
Marsei is the oldest of three brothers. His younger brother, Tay-Micah, is 9, and his littlest brother is on the way.
While Marsei isn't hinting on where he may play in college, he is excited about his opportunities. He does admit that one of his favorite college athletes is Eric Kendricks at the University of California, Los Angeles. Kendricks holds the record for most tackles by a UCLA player in a single season since 1978.
Before attending Callaway, Marsei played football at Jackson Academy. He was a running back and a linebacker at the private school. He doesn't shy away from telling you that he prefers playing defense. 
 "It was an adjustment, but I like playing defense all the way," he says.
—Tommy Burton
Bria Paige
Bria Paige may have her career path planned out, but she's open to change along the way. A senior at St. Joseph Catholic School in Madison, Paige has built up an impressive resume while she has been in high school. She is president of the City of Jackson Mayor's Youth Council and is president of her school's student body, having served as her class president since 10th grade.
Paige says her positions at school honed her ability to work with peers and help them to achieve a common goal. "It's learning how to lead others, be a servant leader, and .. making my school a better place," she says.
Her mother, Mitzi Paige, is the civil chief for the U.S. Attorney's Office, representing the Southern District of Mississippi, and her father, James Paige, is a security officer at the federal courthouse in downtown Jackson. She has twin siblings, Amber and Kellyn, both 14. Because both of her parents work in the justice system, many people ask Paige if she plans to follow a similar course.
"I did debate, so everybody asks me if I'm going into law, but no. I think I'm more interested in journalism right now," she says. "That could change in the future, but I've been stuck on journalism for a while."
Even in high school, Paige, 17, has actively pursued her interest, taking courses in the subject and completing a summer editorial internship with the Jackson Free Press in 2014. Now, she is the editor of St. Joseph's newspaper, The Bear Facts, which summarizes major events around the school. "I just like to inform my peers," she says. "Journalism is what I want to do in the future, so this just gives me a peek at what I will be doing once I go to college."
In addition to her school activities, Paige has danced with Ballet Mississippi since she was about 3 years old. She says she'll likely continue dancing after high school, albeit with less severity than the five weekly practices she attends now. Paige hopes to attend either Howard University in Washington, D.C., or Spelman College in Atlanta.
—Micah Smith
Martavious Kency
Martavious Kency, a freshman at Provine High School, doesn't consider caring for his younger siblings to be a chore. Rather, Kency, 14, sees taking care of his brother, Delawerence, and sister, Ashunci, as a leadership-training opportunity.
"They help me out by teaching me how to be a leader," Kency says of his big-brother duties, which includes helping them with their math and reading homework, not to mention occasionally whipping up his signature dinner of pork chops and mashed potatoes.
Kency also teaches them the art of balling. Last year, he lettered in two sports: football and basketball. Under coach Otis Riddley, Provine's head football coach, Kency played two offensive positions, quarterback and wide, but he says the team fell short of making the playoffs in a competitive district. 
 Basketball season was a little better for Kency, the team's sixth man who plays the Nos. 1 and 2 guard positions, and coach Otis Gaines' Rams, who made it to the conference semifinals.
Sports allows him to show both sides of his personality, he says.
"Coach Gaines would say I'm energized on defense," Kency says of his performance on the hardwood. "Coach Riddley would say I'm calm on the football field and hardworking." Eventually, Kency would like to become a coach or athletic trainer to help others play at the next level. Teachers note that Kency, a west Jackson native, has the well-rounded talents on both the playing field and the classroom to do anything he puts his mind to.
After his first year of high school, biology and geometry are his favorite subjects, and Kency knows that he needs to improve in English class—one of two classes in which he earned a B this year (the rest were As)—although he did enjoy reading William Shakespeare's "Romeo and Juliet."
In the meantime, the soon-to-be-sophomore is keeping his professional options open.
"If I don't make it in sports, I'd like to be a doctor or a lawyer," he says.
—R.L. Nave
More like this story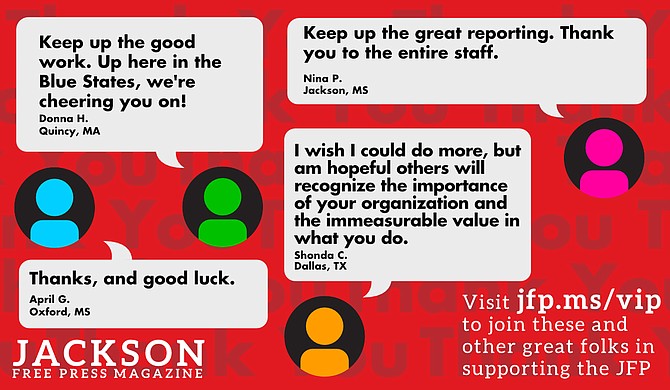 Thanks to all our new JFP VIPs!
COVID-19 has closed down the main sources of the JFP's revenue -- concerts, festivals, fundraisers, restaurants and bars. If everyone reading this article gives $5 or more, we should be able to continue publishing through the crisis. Please pay what you can to keep us reporting and publishing.