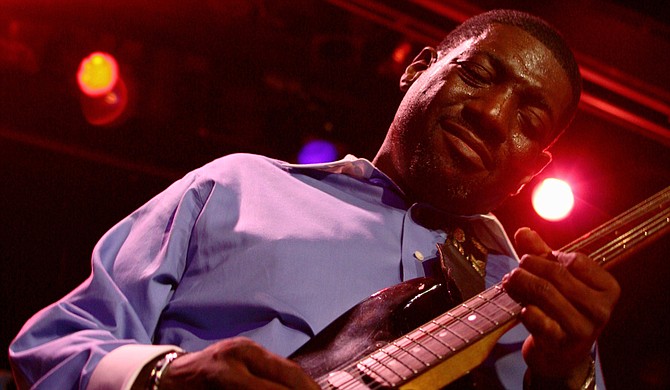 Jackson-native blues and soul artist Stephen Johnson decided to clear his name—or at least to clarify it—about two years ago. Although he still answers to Stevie J, as he's done his whole life, he now performs as Stevie J Blues so that his fans can distinguish him from Atlanta-based Stevie J (Steven Jordan) of the reality show "Love & Hip Hop: Atlanta." That other Stevie J had a fairly successful career as a music producer in the '90s, but since the 2012 premiere of his TV show, Jordan has gained a questionable reputation as an unabashed party boy—and Johnson wants to separate his music from the TV host. But the blues guitarist takes it in stride.
"It's so funny because before 'Love and Hip Hop Atlanta' came out, if you Googled 'Stevie J,' my picture would come up," Johnson says. "Every now and then, somebody will hit me on Facebook and ask me what Joseline (Jordan's wife) is doing, and I'm like, 'Man, you got the wrong person.'"
Johnson, 40, grew up playing music in the church, eventually lending his guitar skills to gospel greats such as Shirley Caesar. But it wasn't until legendary bluesman Bobby Rush took him under his wing that he made the move to blues and southern soul. The two guitarists met at Malaco Records in 2001, shortly after Rush had a serious car accident in Pensacola, Fla. Johnson joined Rush's backing band in 2002, and played with the Grammy nominee for about five years before setting off for a solo career.
Armed with his soulful guitar licks and vocals, Johnson released his debut album, "2 Sides of a Man," on Help Me Records in 2008. Johnson was the last artist that label owner Senator Jones signed. Jones, a deejay and music industry veteran responsible for the success of blues-and-soul artist Sir Charles, passed away six months after releasing Johnson's debut album. The single, "Because of Me," still managed to reach No. 1 on the Southern Soul chart, despite little promotion.
Fast-forward seven years and two more albums (or three, if you count both discs in 2010's "The Diversity Project") and Stevie J Blues is preparing his next full-length recording project, "Back to Blues," which is set for release this fall on Johnson's independent label, PK Records.
"It's heavily blues driven, but it's going to play with different genres," Johnson says, adding that his intention with "Back to Blues" is to expose the blues elements present in genres such as pop, rock 'n' roll and R&B. To give faithful fans a taste of what's to come and bring new fans up to speed, Johnson will release a six-song EP this summer, offering four new tracks and two from his 2013 LP, "Unstoppable."
In the past, some of Johnson's lyrics have gotten him into trouble with his youngest brother, Jay Johnson, who is his pastor at Abounding Grace World Healing Church in Jackson. For instance, songs such as "Married Girlfriend" and "Stolen Wine" contain unambiguous tales of infidelity. But the elder Johnson says that "Back to Blues" will deliver more radio-friendly lyrics.
Many of Johnson's fans hail him as the new face of Delta blues and Mississippi's best-kept secret, due to his passion for the history of his craft. All Access Magazine called him a "limitless bluesman" because he is so well versed in that history, and he shares it with fans whenever he hits the stage. At any given show, Johnson says he gives audiences the blues "from yesterday, today and tomorrow." He wants listeners to know that when they come to see him perform, they should "come expecting a history lesson in the blues."
The "Back to Blues" fundraiser and listening party is 7 p.m. Thursday, April 2, at Underground 119 (119 S. President St., 601-352-2322). Sponsorships and VIP packages are available. Call 769-216-5128 for details. For more information, visit steviejmusic.com.