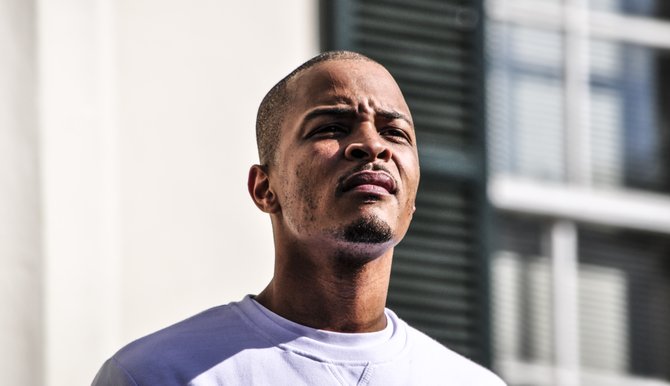 T.I. could have had whatever he liked in Jackson this week. After traveling to several Jackson schools to talk to local students, the rapper was given the key to the city on Wednesday.
Representatives from the Hinds County Sheriff's Department and Jackson Police Department and Mayor Tony Yarber gathered at city hall to honor rapper T.I. 'Tip' Harris for his youth advocacy against violence.
T.I. has spoken to crowds of about 250 youths everywhere from Atlanta to Los Angeles, even while on house arrest amid encounters with the law. The rapper, who has earned three Grammys, galvanized Jackson students today with his message of safety and productiveness.
When he speaks, T.I. uses his rough past to urge young people not to make his mistakes. "If I can do it, and I can show them that it can be done, then there lies hope. There lies inspiration," T.I. said.
Yarber said the rapper's experiences make him an inspiration, and reminded the crowd at city hall that no one is perfect.
"The only reason I'm mayor is because I didn't get caught," Yarber said.
Local community activist Brad 'Kamikaze' Franklin was also in attendance, and spoke to those who opposed the decision to give T.I. a key to the city saying, "If y'all got a chance to see the faces of those kids in these schools today, you would understand."
T.I. used the adverse opinions as motivation: "I can't really change everyone's opinion of me, but I can change me. Everybody don't catch on and they don't necessarily acknowledge change at the same time, but the good part is: I'm not doing it for them," T.I. said.
Hinds County Sheriff Tyrone Lewis presented a "Resolution of Respect" that encourages the recognition of those who have risen above challenges and those "who have had run-ins with the law but pay their debt to society and are now using their experiences to help young people achieve a life void of violence," Lewis said, referencing T.I.
Yarber, who T.I. called "one of the most prolific mayors" he's ever seen, welcomed the rapper to the Jackson family, home to 175,000 citizens.
"At the end of the day it's not about grown folk, it's about the young people who he impacted today," Yarber said.
An Internet search reveals that other people who have received keys to Jackson include:
David Banner, hip-hop recording artist, 2013 Mustafa Poyraz, mayor of Kahramanmaraş, Turkey, 2012 Bishop Charles Edward Blake of Los Angeles, Calif., 2009 Howard Dean, former Vermont governor and presidential candidate, 2005 Pramukh Swami Maharaj, guru, 2000
— Anna Wolfe
Holder Letting Go
U.S. Attorney General Eric Holder, the nation's first African American AG and one of the longest-tenured members of first-black-President Barack Obama's cabinet, is stepping down. Holder shepherded the USDOJ through rocky times and made civil-rights enforcement a hallmark of his tenure.
Under Holder, several Mississippi cases rose to national prominence. In March 2012, Deryl Dedmon and two co-conspirators from Rankin County became the first individuals charged under a 2009 federal hate-crime law for the murder of James Craig Anderson, a black man from Jackson.
Dedmon, along with Dylan Wade Butler and John Aaron Rice, pleaded guilty after they were charged with one count of conspiracy and one count of violating the Matthew Shepard and James Byrd Jr. Hate Crime Prevention Act. Dedmon previously pleaded guilty to murder charges in Hinds County Court. Subsequently, at least seven other men and women were also charged with crimes related to Anderson's death.
Additionally, the case of Shelby County, Ala. v. Holder challenged the federal Voting Rights Act, which required a number of states that had histories with racial discrimination in voting to obtain permission from federal officials to change their election laws. The U.S. Supreme Court decision in Shelby cleared the way for several states, including Mississippi, to implement voter-ID laws.
Civil-rights groups had argued, and Holder agreed, that voter ID represented an unconstitutional barrier to exercising voting rights. Mississippi's voter ID law, designed to stop election fraud, was first used in the June 2014 U.S. Senate primary, which resulted in multiple allegations of voter fraud that have yet to be resolved.
—R.L. Nave
Citywide People's Assembly This Weekend
The last Jackson People's Assembly was a somber affair. It took place the week after the death of Mayor Chokwe Lumumba, a co-founder of the Malcolm X Grassroots Movement, in late February.
The assemblies and its working committees are a key pillar of the MXGM's Jackson Plan. Lumumba described that sometimes-controversial mission as "essentially a self-determination tactic and strategy for African people in America, particularly and specifically in the areas which are affected by the plan," which include predominantly black counties in western Mississippi.
Six months after Lumumba's death and the unsuccessful campaign of his son, Chokwe Antar Lumumba, to succeed him as mayor, the organizers of the citywide People's Assembly say it's time to get down to business.
"People in Jackson do have a lot to talk about and a lot to vent about. The assembly is a place for that occur in an organized fashion," said Akil Bakari, chairman of the assembly's Political and Human Rights Committee.
As advertised on the flyer for the event, perhaps the most talked-about issue will be Jackson's 1-percent sales tax proposal. City residents overwhelmingly agreed to raise their own taxes on certain items in order to create a pot of money that can be used for infrastructure improvements.
After the vote and while Jackson was in the throes of the political campaign to select a new mayor, the Mississippi Legislature amended the original 2009 law that made it possible for the city to hold a city referendum on the tax. Under that legislation, the sales tax would exempt food and beverages at restaurants, which brought criticism from Jackson officials and residents.
State officials argue that the change was needed to keep some businesses from being taxed twice. Under state law, wholesalers of beer and light wine charge a 7-percent sales tax to retailers; retailers in turn apply that 7 percent tax as a state income-tax credit. Under the original sales-tax hike, wholesalers would have to charge retailers 8 percent in sales taxes but retailers would still receive only a 7 percent credit.
Yarber recently called the change a tradeoff. In separate legislation, lawmakers gave Jackson the ability to make implementation of the tax retroactive, allowing the city to collect an additional three years of the tax. Thus, Yarber said he wouldn't put up a fuss about the legislative amendment even though some members of the council have grumbled aloud that the city should take action.
One of the People's Assembly topics will involve coming up with a plan to pressure city officials in fighting the change to the sales-tax proposal, which Bakari argues was tantamount to taking away Jackson's right to self-determination.
Former Lumumba administration officials Willie Bell, who headed public works, and Kwame Kenyatta, a former Lumumba adviser, will give an overview of the inner workings of the sales tax as well as a projection of how much has been collected since the tax went into effect in March.
"There doesn't seem to be enough info coming from the administration on his this is supposed to work," Bakari said.
The Citywide People's Assembly takes place Saturday, Sept. 27, at 3 p.m. at Anderson South United Methodist Church, 1315 McDowell Road. Call 601-965-0342 or visit facebook.com/JxnPeoplesAssembly for more information.
—R.L. Nave
Support our reporting -- Follow the MFP.