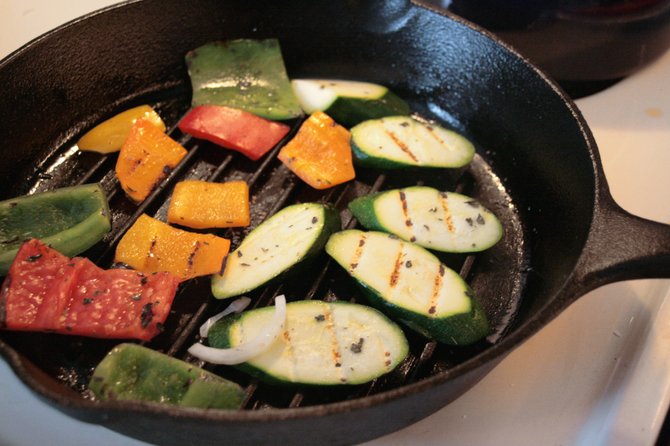 For my family, summer is one of the greatest times of the year because it brings back a tradition—sitting under the carport with family and friends cooking drunk chicken, steak and burgers.
Sometimes it means eating crawfish until we can't anymore, bellies full of the crustaceans. But then winter comes, and we don't grill so much.
Strangely enough, the winter and fall are when I want to grill the most. It's a great source of heat, and you get delicious food.
When the air gets cooler, don't hang up your tongs and grill spatula. While it's not going to be exactly the same, you can still get that smoky flavor with a few indoor-grilling tricks. Just don't use your outdoor grill inside. The small amounts of carbon monoxide it produces can kill you.
What tools do you need?
Cast-iron skillet with parallel raised ribs—As I've discovered, the cast-iron skillet is your best friend when cooking. For one thing, they're cheaper than you might think: A regular-sized skillet runs about $30, which isn't bad if you consider its multitude of uses. You can use these pans to bake, fry, and grill, and the ribs mimic grill marks.
When you first buy the pan, be sure to season it (Google "cast iron seasoning" for tons of directions). Only use a tiny bit of oil to prevent sticking, and never, ever put this pan in a dishwasher or scrub it with soap. When you're done, move the pan to a cold stove eye and let it cool down.
Once it has cooled, only scrub it with a brush and hot water. Dry cast iron carefully because water will rust the pan if you let it sit long enough. Food Network personality Alton Brown says it's best to heat the pan on medium-high for five minutes before cooking.
These are some tips I've found helpful, but you can find plenty more online.
Electric griddle—It may not seem like it, but an electric griddle can function much like a grill. Some come with attachments to mimic a grill grate, and you can find ones to fit griddles that don't come with the attachments. The heat source isn't as effective as a grill that uses fire as a heat source, but you can still grill things on it ... and make pancakes.
Grill pan—This is your best bet for grilling indoors. You can find these at stores such as The Everyday Gourmet (1625 E. County Line Road, Suite 500, 601-977-9258), and they come in styles such as flat like a griddle or with the raised lines. These are available for electric and gas stoves, but gas is ideal because it provides an even layer of heat.
Oven broiler—Brown says that most steak houses actually use a broiler to grill. Place a rack on the top rung in the oven and put the food directly on it, leaving a pan on the rack below to catch drippings. Brown says to put a wad of aluminum foil in the door so it doesn't shut all the way (to keep the heat constant). Also, remember to add just a touch of oil to keep the food tender.
How do you get that smoke flavor?
You have a few options, but here are the most common ones.
Smoked paprika—This is my favorite seasoning to use. It gives a nice smoky flavor to almost anything.
Liquid smoke—It's actually smoke that was passed through a tube from a combustion chamber with wood chips to a condensation chamber, where the smoke turns into a liquid. Brown says you can add this about an hour before cooking, along with some salt, and it will produce a smoky flavor.
What foods can you grill?
Anything from veggies to steak, though I wouldn't roast a whole hog inside.
What about grilling peppers or tomatoes to make sauces?
These are most often done either on a grill or a gas stove. If you're like me, and you'd like to make these sauces but have neither, you have two options—a kitchen blowtorch or your oven. While a blowtorch is fairly cheap, using it to roast tomatoes or peppers is probably going to take a while. If you don't want to buy one, use your broiler.
To broil tomatoes or peppers, cut them in half and place them cut-side down on a baking sheet. Put the oven rack high up, and place the tray of veggies on it. Turn the broiler on high and cook them for 5 to 10 minutes, or until they're blistered and blackened.
While it's not the same as creating a salsa from freshly grilled tomatoes and peppers, you get much of the same effect. You can also blacken veggies to create a roasted veggie soup or to add another layer of flavor to a dish.
Grilling indoors will never be the same as using a charcoal or gas-burning grill, but that doesn't mean you can't have that same flavor. If you don't want to freeze your butt off while cooking outdoors in the winter, why not bring the party inside and have an indoor cook-out?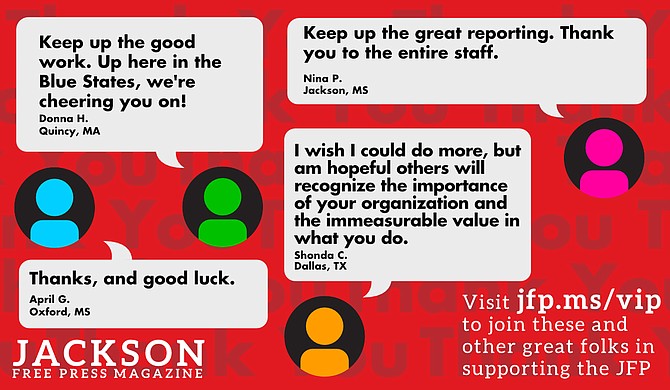 Thanks to all our new JFP VIPs!
COVID-19 has closed down the main sources of the JFP's revenue -- concerts, festivals, fundraisers, restaurants and bars. If everyone reading this article gives $5 or more, we should be able to continue publishing through the crisis. Please pay what you can to keep us reporting and publishing.