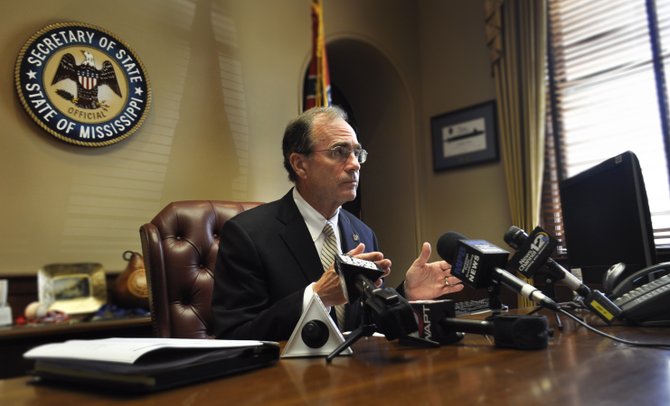 At the first meeting of the 51-person panel Mississippi's secretary of state convened to examine possible changes to voting and elections practices, the group tried to answer the question: Who should be allowed to vote in party primaries?
Most of those who spoke Wednesday concluded that the system should allow more people to vote—the more votes the better.
"Getting people out to vote and participate—that's what we should be encouraging," said Louisiana Secretary of State Tom Schedler, a Republican who spoke to the panel about his state's election process.
The problems presented in the Republican primary fight between U.S. Sen. Thad Cochran and state Sen. Chris McDaniel prompted most of the discussion in the meeting.
Schedler praised his state's practice of putting all candidates on one primary ballot regardless of party. There, the top two advance to a runoff, unless one candidate wins a majority in the first round.
That's unlike Mississippi, where voters must choose one party's ballot in a primary election, even though they don't register by party. It's illegal to vote for one party's candidates in the first primary and then cross over and vote in the other party's runoff.
Those provisions have been much in dispute since the Cochran-McDaniel runoff. McDaniel's lawyers have argued that Cochran's outreach to non-GOP voters was "party raiding" that violated Republicans' freedom of association.
Also in dispute is a Mississippi law that says voters can be challenged if poll watchers don't believe they will support the party's nominees. That law has been declared unenforceable. State Republican Party Chairman Joe Nosef urged the panel to consider a solution to that problem.
"To be able to enforce whatever the rules are would be nice, because from a voter's standpoint, that's incredibly frustrating," Nosef said.
Nosef said Mississippians are promised party primaries, but with no way to enforce people voting with the intent to support the party they're voting with, citizens aren't getting what they expect.
Mississippi Secretary of State Delbert Hosemann said he expected that loyalty rule would be one focus of the panel's work. He also said he would push in the 2015 Legislature to remove voters' birth dates from poll books, saying they are sensitive information that's no longer needed now that Mississippi voters must show photo identification before voting.
The Republican secretary of state says the study group will consider other possibilities, such as allowing online voter registration and allowing people to vote before election day for any reason instead of Mississippi's currently restrictive absentee system.
Louisiana's system drew some support Wednesday from panel members. Carroll County Circuit Clerk Durward Stanton urged panel members to "look at it closely," saying it would solve the dilemma that voters have in his county, where the most competitive local races involve Democrats, while the most competitive state races involve Republicans.
But big changes, like switching to an all-candidate primary, may not appeal to leaders of Mississippi's two major parties.
"I think we ought to be careful," Nosef said. "We shouldn't have a knee-jerk reaction to our primary and what people think may or may not have happened."
Mississippi Democratic Party Chairman Rickey Cole said he opposes a Louisiana-style system, but does want a functional way for poll workers to challenge primary voters and favors raising qualifying fees to screen out fringe candidates. Cole would like to see qualifying fees multiplied by 10 and the vote threshold to win without a runoff lowered to 45 percent.
"I think we need to make as modest a number of changes as possible," Cole said.
The Associated Press contributed to this story.
Support our reporting -- Become a JFP VIP.
The news business has changed dramatically in the past year, and we need your help more than ever to keep bringing you important stories about Jackson and the Metro. Become a JFP VIP with an annual membership or you can Sign up as a monthly supporter. Thanks for anything you can do to empower our journalism!