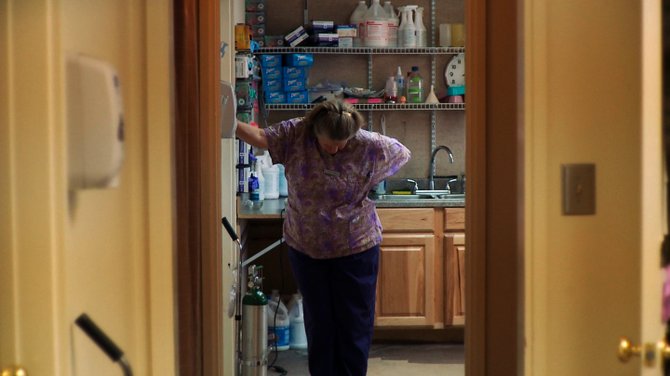 "I just thought the other day, 'My God, I can't retire,'" said Dr. Susan Robinson, one of the only four doctors who openly perform third-trimester abortions in the United States. "There aren't enough of us," she laughed, sadly. She told her story in the documentary "After Tiller," which aired Monday, Sept. 1, as part of PBS' "POV" documentary series.
In Mississippi, where access to abortion is in constant jeopardy, the documentary didn't air, however. Mississippi Public Broadcasting Executive Director Ronnie Agnew decided to replace the show with other programming due to its controversial nature.
The documentary chronicles the lives of four third-trimester abortion providers in the wake of Dr. George Tiller's death. Tiller was a Wichita, Kan., abortion doctor who was shot and killed while attending church services in 2009.
Agnew declined an interview with the Jackson Free Press but released a statement saying that MPB has the right to choose its programming. "I respect POV and the content it produces, but we will always reserve the right to make programming decisions based on what we think will appeal to a wide audience. We were pleased to air two locally produced documentaries on Monday night," Agnew wrote.
But community concern over the public-television censorship grew throughout the week. Laurie Bertram Roberts, president of Mississippi's chapter of National Organization for Women and an occasional columnist for this newspaper, said Agnew was wrong for cherry-picking the POV documentary series.
"When MPB chooses to air a program such as 'POV,' then they should air the program," Roberts said. She said Agnew shouldn't use his personal gauge of appropriateness to either show or refuse to show certain shows.
A statement from PBS Ombudsman Michael Getler said 10 states did not air the program—at least on the Monday it was meant to air. "Typical 'POV' carriage, specialists say, is about 55 percent of the stations and 73 percent coverage of the country's TV households. This program looks like 48 percent and 60 percent, respectively," Getler wrote.
MPB's Public Relations Director Margaret McPhillips, who is Republican U.S. Sen. Roger Wicker's daughter and U.S. Sen. Thad Cochran's former spokeswoman, sent Getler's statement to the JFP. Both Wicker and Cochran are on the record as opposing abortion rights.
The refusal to air "After Tiller" isn't the first time MPB has cut, or moved, programming based on what they, or those who influence them, deem inappropriate. In 2010, MPB cut and then moved to a later time slot the afternoon show "Fresh Air" after host Terry Gross interviewed comedian Louis C.K., who made a remark about his sex life. Those who supported MPB's controversial decision called the show "left-wing propaganda."
"Where does it end?" Roberts said, adding that if Agnew wants to censor every story that would offend conservative viewers, he would have to refuse to broadcast more than just comedians on talk shows and films like "After Tiller"—which documents real stories of women and their health-care providers, both in difficult situations.
The trailer for "After Tiller" illustrates the emotion surrounding the nation's abortion debate on both sides. It shows images of protests, bullet holes in windows (of abortion provider Dr. Warren Hern's office in Boulder, Colo.), tears in clinic waiting areas and hugs in procedure rooms. It portrays the lives and struggles of those dealing with hard decisions.
It is not propaganda, Roberts explains.
"We, in Mississippi, do not have conversations about abortion outside of these very charged, very partisan, very stunted conversations that are political. Very rarely are these personal stories ever shown. So here's a chance for that to be shown in an apolitical way," Roberts said.
In his statement, Getler wrote that the documentary "is not about the broad, heated, decades-long debate about abortion. It is about these four doctors who, in the wake of the assassination of Dr. Tiller and facing intense protest from opponents and fearing for their own safety, carry out this procedure. It is also about the complex reasons that their patients seek their services and the ethical dilemmas surrounding these decisions."
Late-term abortions have been a point of controversy in recent Mississippi legislative sessions culminating with the passage of a 20-week abortion ban in April 2014. The ban prohibits women from receiving abortions after halfway through their pregnancy, which is often defined as the marker for late-term abortions. The only exceptions of the ban are for women facing life-threatening pregnancies or serious injury or in cases of severe fetal abnormality. The law doesn't mean women in Mississippi aren't receiving late-term, even third-trimester, abortions in hospitals and in serious circumstances.
Late-term abortion is still a relevant topic for women in Mississippi, not only by how they can be affected directly, but in how the narrative surrounding women's reproductive health is formed. Even those who fight for abortion rights for women, Roberts explained, can have a difficult time grappling with the idea of late-term or third-trimester abortions. As taboo as abortion is in Mississippi, late-term abortion is even more so.
"We can't agree on it (late-term abortions) because we don't talk about it," Roberts said.
Agnew said Mississippians can still watch the documentary online.
"I feel confident that anyone who wants to watch 'After Tiller' will be able to do so at pbs.org," he wrote.
But not everyone has access to the Internet. Agnew's attempt to squelch an intelligent discussion about late-term abortion, or "protect (women) from hearing about abortion," according to Roberts, is parallel to the way men in Mississippi Legislature try to "protect" women from abortion itself. They make the decisions; women are supposed to go along with their choices.
Support our reporting -- Become a JFP VIP.
The news business has changed dramatically in the past two years, and we need your help more than ever to keep bringing you important stories about Jackson and the Metro. Become a JFP VIP with an annual membership or you can Sign up as a monthly supporter. Thanks for anything you can do to empower our journalism!