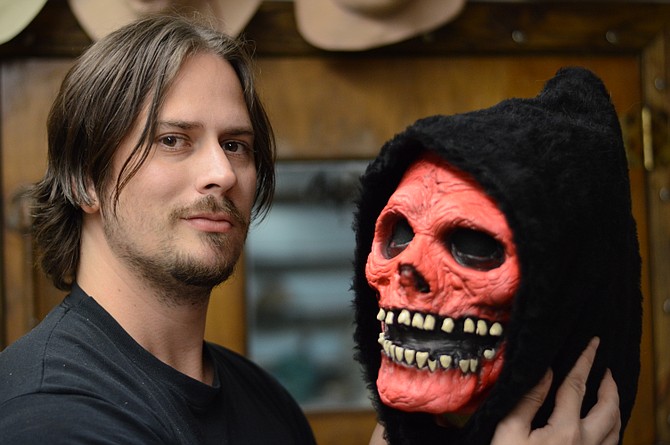 Most kids get toys or ice cream as a reward or to celebrate a special occasion. When Justin Mabry was a kid, he got a new mask.
"I used to go to a costume shop called Jaki's Toys and Games in the '80s. Now it's Jaki's Formal Wear & Costumes," he says. "I collected monster masks and Halloween masks. As I got older, I got more familiar with famous movie monsters, and none of the masks in the stores looked anything like those." Mabry didn't know it yet, but that thought was the beginning of a lifelong career.
Mabry, 37, grew up in Jackson in the late '70s and '80s, watching late-night horror movies on USA Network, going to the local haunted houses that popped up at Halloween each year and playing with Garbage Pail Kids until his mother threw them away. He remembers the early stages of his mask making—buying masks and repainting them to make them look more realistic. He added streaks of blood-hued paint to a Frankenstein monster mask, for example. As he grew older, and more displeased with the quality of masks on the market, he set out to make something better with no intentions of ever selling them.
When Mabry learned how to sculpt as a teen and, his fate was sealed. "When we did haunts, I would bring my own masks, and people were always impressed by them, but I had no interest in money," he says. "When I was 17, me and my dad went and sat down with a bunch of business executives who offered to send my molds to Mexico and China for mass production. I said no. I was a kid; I had no idea how business worked."
Mabry continued making masks, drawing inspiration from the horror magazines, comics and classic monsters that still influence his work today.
"There was no Internet. (Artists like me) were thought of as kind of a freak," he says. Now, mask artists like Mabry are celebrated in many circles.
He made masks one at a time for clients while dabbling in different aspects of on-set movie making. Chris Zephro of Trick or Treat Studios was one of Mabry's best customers.
"We began talking on the phone because we had mutual interests," Mabry says of Zephro. "He was tired of working for corporate America. He asked me if I wanted to start a mask company, (but) I already had a mask company. He said, 'No, with me.'"
Zephro and Mabry formed Trick or Treat Studios in 2009 with Mabry as art director and Zephro as president. They gathered a talented team of talent that included Academy-Award winner Robert Short, most famous for his work on "Beetlejuice"; William Malone, the maker of the original Michael Myers mask; and nearly two dozen others. Although Trick or Treat Studios is headquartered in Soquel, Calif., Mabry remains in Pearl with his wife, Carrie, and three children. He is the lead designer and sculptor for Trick or Treat, and continues to do commission pieces for Night Owl Productions.
"With Chris being a business wizard and me being the art guy, it was the perfect team, but we had to prove ourselves," he says. "It did catch on because we were bringing back vintage-style masks. Everything had moved to modern, nondescript monsters. We wanted to bring back the classics."
Trick or Treat Studios started out getting licenses from small companies such as New Comic Company LLC, which owns characters from "Creepy" and "Eerie" comics from the '50s and '60s. From there, they obtained licenses for "Hellboy" from Dark Horse Comics and "The Goon" from Avatar Press.
"We went after (films such as) 'Darkman' and 'The Fun House' from Universal Studios," Mabry says. "In a meeting, we decided to ask about 'Halloween II,' and to our surprise, it was available. Everyone had gone for 'Halloween.' After that, people started coming to us." TTS now holds licenses for "Day of the Dead," "Land of the Dead" and even AMC's "The Walking Dead." Mabry recently worked on the upcoming horror flick "Phantasm V: Ravager."
While other retailers prepare for the end-of-the-year holiday season, for Mabry, October is Christmas. He works nearly around the clock in the weeks before Halloween, casting, painting and perfecting his monsters so he can send them out into the world. He says that he couldn't do it without his team, specifically his assistant, Cody Smith, a local musician, and his wife, Carrie, who supports his artistic ventures and even helps with the monsters' hair. Smith was brought into the fold after working for Chris Russell, one of Mabry's former apprentices. "It's strange and great all at the same time," Smith said. "Justin's really informative and not just about skill, but about the history of it all. I love it."
For Mabry, the long hours are worth it. "I've studied just about every mask company since the beginning of masks," he says. "I've gotten to work with some of my heroes. I used to call these people when I was 12 and ask for tips, and now I try to do the same."
Visit trickortreatstudios.com.
*This story has been edited to reflect corrections. The original version said Chris Zephro owned Night Owl Productions. He actually owned Trick or Treat Studios. Mabry, and not Trick or Treat Studios, contributed work to "Phantasm V."
More like this story