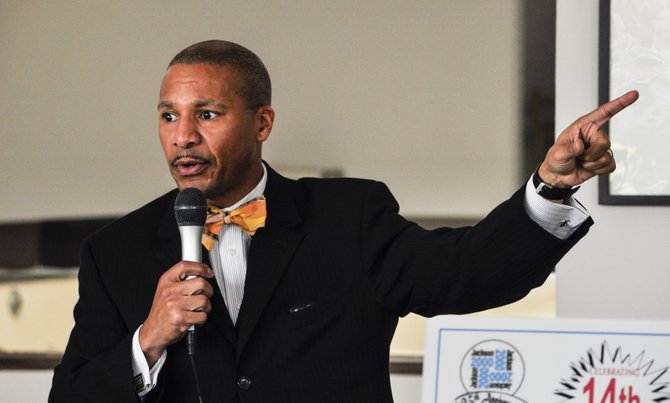 Several area initiatives aimed at Jackson Public Schools could spark improvements for young people in the capital city.
This week, Mayor Tony Yarber will launch his new youth-oriented listening tour, during which he'll travel to Jackson schools to address topics that affect the city's young people.
The initiative, called "I Need You To Make It" or "INYTMI," will cover three components: education, health and character.
"We want to invest in our city's youth. We need to do everything possible to ensure their success. We're creating a holistic approach to the development and progression of our city's youth and young adults by implementing the 'I Need You To Make It' Youth Initiative," Yarber said through a news release.
Yarber, a former elementary school principal, has made education a top priority on his agenda. Last month, Yarber presented rapper and actor T.I. with a key to the city after the entertainer spent the afternoon speaking with JPS students.
During the ceremony, Yarber said the rapper's experiences make him an inspiration, and reminded the crowd at city hall that no one is perfect.
"The only reason I'm mayor is because I didn't get caught," Yarber said then.
Like the mayor, JPS is also boasting of overcoming challenges. In the last few years, JPS has hurdled "three big rocks," according to JPS Superintendent Dr. Cedrick Gray said last week.
Two years ago, the school district's state accreditation status was probationary because it was not in compliance with accommodations for students with special needs. The Southern Poverty Law Center, the Southern Disability Law Center and Disability Rights Mississippi filed a class-action lawsuit against the Mississippi Department of Education for failing to ensure JPS met the needs of some 3,000 students with disabilities enrolled in the district.
In the suit, the plaintiffs alleged that "For years, students with disabilities throughout JPS have been denied the educational and supportive services they need to achieve academically, and have been removed from their schools and forced into substandard, segregated settings with little to no appropriate academic programming and related services."
Afterward, JPS filed a lawsuit against the City of Jackson regarding funding, which meant that two of the area's largest employers were pitted against each other.
Now, JPS is in full compliance on special education, is accredited, and the district settled its lawsuit against the city. It has also found qualified bonds in order to make critical repairs at some schools.
Alignment Jackson, a partnership between the United Way of the Capital Area, Jackson Chamber of Commerce, Jackson Public Schools and the City of Jackson, is also furthering JPS's improvements and has a goal of achieving an 80 percent graduation rate—a 15 percent hike—by 2024.
The biggest change made through Alignment is Freshman Academy, which aims to individualize a student's ninth-grade experience by putting students in smaller teams with the same teachers who will meet to discuss teaching methods.
Additionally, all ninth graders received laptop computers this school year. This exemplifies the school district's push towards integrating technology in education, Gray said.
"We want to put a textbook in front of them and lecture to them for an hour and that doesn't work for our young people anymore," Gray said.
JPS has also offered online registration to make the beginning of the school year easier for parents.
Still, JPS has challenges to come. Gray equated the goals of the school district to SEC football, but instead of playing a new game with a new opponent each week, the schools only have one game.
"The school system works just a little differently. We get one game. One. One shot. And that is every year, in the spring of the year, the students take a test. Several weeks later the results come back, and that's our Super Bowl," Gray said.
Only, with the implementation of Common Core State Standards, the opponent is changing. Training the teachers how to teach Common Core, Gray said, is ongoing.
"We'll be taking a brand-new test this spring coming up—one we've never seen before," Gray said.
But Gray has some ideas in mind. As far as helping the struggling schools reach these standards, Gray said principals will be required to check in with him every two weeks, while the schools that are already excelling will have more autonomy. Not only that, the high-achieving schools will share their best practices with the struggling schools.
Gray wants a stronger partnership and network among the different schools and the community for the purpose of growing together—hence the slogan, "Building stronger schools together."
Alignment Jackson will also focus on giving high school students more career-oriented opportunities to prepare them for college and beyond. Ninth graders will attend a career exploration fair this year.
Gray reminds community members and parents that change is hard, especially in regards to new education standards. But to excel, Jackson must get on board.
"When something new comes out, we don't embrace it. We push against it. And you're going to push against it so much that by the time the rubber meets the road and you're going to have no choice but to embrace it, we'll have waited too late," Gray said.
"We're trying to stay above that fray ... It's a work in progress."
The INYTMI School Motivational Tour and Lecture schedule is as follows:
Tuesday, Oct.14:
*Poindexter Elementary—10:30 a.m.
*Peeples Middle School—1:30 p.m.
Tuesday, Oct. 21st:
*Hardy Middle School—10:30 a.m. (pending)
Provine High School—1:30 p.m.
Tuesday October 28th—Youth Council Induction Ceremony
Location: Smith Robertson Museum and Cultural Center (528 Bloom St.)
Time: 6 p.m. to 7:30 p.m.
Clarification: and earlier version of this story stated that JPS lost its accreditation two years ago. During this time, JPS had a probationary accreditation status. MDE assigns each district one of four accreditation statuses--Accredited, Advised, Probation or Withdrawn--which depend on how well the district is complying with mandatory processes and standards. JPS' rating slipped from accredited to probationary in 2012.
More like this story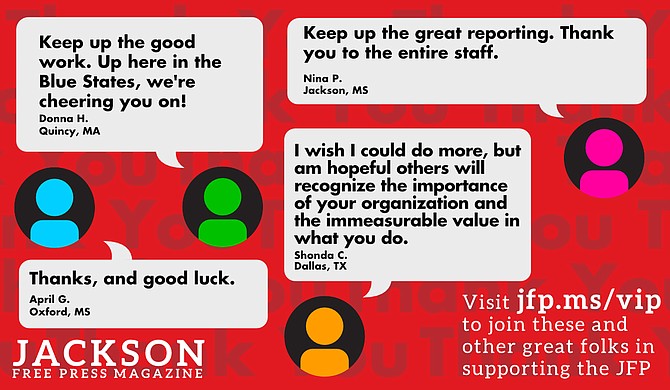 Thanks to all our new JFP VIPs!
COVID-19 has closed down the main sources of the JFP's revenue -- concerts, festivals, fundraisers, restaurants and bars. If everyone reading this article gives $5 or more, we should be able to continue publishing through the crisis. Please pay what you can to keep us reporting and publishing.