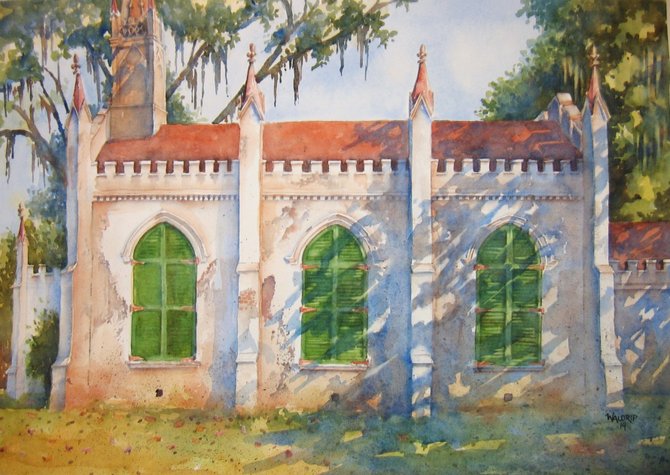 Close your eyes and imagine an artist dragging the bristles of his brush across a page, adding pressure for heavier strokes and keeping the paintbrush just barely on the page for lighter lines. For many, watercolor is a beautiful yet challenging medium, but David Waldrip of the Gaddis Group Gallery in Fondren doesn't buy that.
"It's not difficult; it's just knowing how," Waldrip says. "It's a very spontaneous medium, as opposed to oils, which take a long, long time. ... Watercolors are just fun."
Waldrip, a member of the Mississippi Watercolor Society board and a watercolor artist himself, has been with the organization for four years. He helped organize the 2014 Grand National Watercolor Exhibition while the society's executive director, Susan Wellington, was out of the country.
"I've always had a childhood interest in (art)," he says.
When he was at Whitten Middle School, he started taking lessons from artist Kenneth Quinn, who became a celebrated art professor at Mississippi College before retiring in 2006. Waldrip's interest in watercolor painting began when he took a class from the University of Mississippi offered in Jackson.
Over the years, Waldrip has established himself as a skilled artist, and this year, one of his pieces, "Chapel in the Woods," a painting of an old church outside of Natchez, received honorable mention in the 29th annual watercolor exhibition. He was one of only 10 Mississippi artists featured in the exhibit and one of three to receive awards.
Wellington and Jackson painter Vicki Armstrong also won honorable mention.
"It's a little bit harder for the local artists to actually make the exhibition now because we are getting quite a few nationally recognized artists that enter," Waldrip says, though he doesn't see that as a bad thing. "We actually encourage that. You like to see greater talent. It makes it more interesting and more worthwhile. It makes you try harder."
The exhibition lines the hall outside of "The Mississippi Story" exhibit in the Gertrude C. Ford Galleries for the Permanent Collection at the Mississippi Museum of Art.
Pieces depict a wide array of subjects, including animals, people and glass bottles.
Wellington's realistic painting depicts cranes on wooden posts, the negative space a body of water, which gives the viewer a sense of Mississippi. Wellington and artist Vicki Armstrong also won honorable mentions.
The Grand National is one of two Mississippi Watercolor Society events, the second of which is its annual membership show, beginning Nov. 6. Each artist can enter two images or paintings for the Grand National, but only one can be selected. Waldrip says that the Mississippi Museum of Art, which has housed the exhibition since 2009, dictates how many paintings it will display, which determines the number of spots. The 2014 exhibition has 50 pieces.
This year, the organization transferred judging to an online platform, onlinejury.com, which Waldrip says made the process easier. Artists submitted applications and digital images of the paintings to the website, which then collected money and fees. The judge—watercolor artist Judi Betts, known for her transparent paintings—chose the entries from the list, including those who won honorable mention.
Last year, Cathy Hegman of Holly Bluff won the 2013 Arts in Mississippi Award with her painting, "The Leapers," a muted abstract watercolor featuring a fox leaping over a woman in a large hat and hoop skirt, with a deep red and bright blue scattered throughout the piece.
The Mississippi Watercolor Society Grand National Exhibition will hang in the Mississippi Museum of Art (380 S. Lamar St., 601-960-1515) from Oct. 4 through Nov. 16. For more information, visit mswatercolorsociety.org.