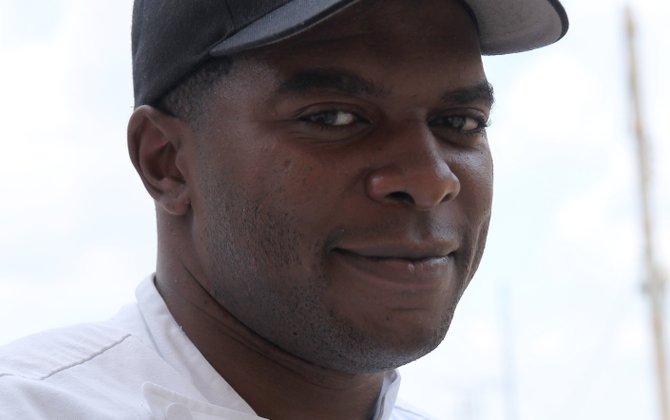 If you watched Food Network a few of Sundays ago, you might have seen a familiar, local face on "Cutthroat Kitchen": Jackson chef Nick Wallace. "Cutthroat Kitchen" is a high-energy game show where chefs go through different recipe challenges to compete for $25,000. Throughout the show, host Alton Brown throws twists and turns at them with his crazy auctions, constantly bringing their starting money down while allowing them to hamper other competitors. The chef who is able to defend or adapt himself the best wins whatever is left of the $25,000.
The episode with Wallace featured chili-cheese dogs, fettuccine Alfredo and crepe suzette. In the first round, he had to build a kitchen with items from a toolbox and a shopping cart, and in the second, he used pasta as utensils. Sadly, Wallace went home after the second round.
We caught up with him to see what it was like to be on such a crazy show.
What was the process like to get on "Cutthroat Kitchen"?
It was something that started with this Anthony Bourdain show that I was supposed to do last year called "The Taste." ... I just didn't get some of the things that Anthony Bourdain needed in time, so I missed my call. ... Apparently, you know, production crews and companies and all, they actually talk to each other so they actually sent out my information (to see) if they could get me somewhere, and that's how I landed on "Cutthroat Kitchen," by them just reaching out to me.
Were you nervous?
I wasn't necessarily nervous. I actually do well by standing in my place. I don't do well in transforming into something else, so that was probably about the only nervous thing I had. Going to Hollywood, sometimes, you know, you don't really see the truth in people because they're acting. I wasn't sure how I was going to be able to transform, maybe into something they wanted me to be.
I didn't know if my personality was going to be as bright as they needed me to be. I think what I did, and what my mom and family taught me to be, was be very humble, (and) I think it worked for me regardless. That's where I was in my place.
That 30-minute show took all day. Before we even got to round two, it was after lunchtime, and we were there since 7 o'clock in the morning.
What was it like going through the different challenges?
Interesting, to say the least. I didn't know if I was going to be able to get through something like the grocery cart, but they'll tell you: "Hey, we're not giving you something that's completely brand new. We're giving you something that we have tested out and tested out and tested out."
So I felt good about that part. ... It can work. You just have to get very creative and make it work. I felt a lot more confident that someone has already tried this before, and they just aren't pulling something out of their heads, just by sitting at a computer saying, "Hey, I think you can do this." That right there encourages you before you even get your sabotage, because they tell you all that.
Was it less intense than you thought it would be?
No. The high level of intensity was there, pretty the much the whole time, because you never knew what to expect. They kept the chefs hidden, and everything was always quiet. We couldn't hear anything. Everything was about a surprise ... and Alton Brown was the biggest jokester in the world. He likes to play jokes and that kind of thing, so he's pretty funny. You never knew what to expect.
It was really intense, and when you get done for maybe one set, you have to go back to your quiet room, and sometimes you have to put earphones on because Alton was creating some kind of surprise for the chefs because he just felt amused at that time. You never know what the next 30 minutes is going to be. You have no clue.
If you could've done anything different, what would it have been?
I probably would've made sure I betted up enough so I wouldn't have (gotten) pasta for utensils. I think that probably would've helped me, my edge, a little bit more.
My pasta was very flavorful. I don't take anything back, no added ingredients or anything because it was fantastic.
I would have probably been able to uniform my dish a lot better if I didn't have pasta and pasta sheets to cut with and stir with and all that. That was a big hassle. ... My pasta was cooked on one side. It was raw on the other because I couldn't stir it up and things stuck together, and it was funny.
Wallace may have lost "Cutthroat Kitchen," but he's still going strong in Jackson. Soon, he will give a new concept to Palette Cafe in the Mississippi Museum of Art (380 S. Lamar St., 601-960-1515), renaming it Preserve. The restaurant will focus more on bringing the garden to the table. Many of the dishes will use produce grown at the museum. Wallace also has plans to open a French restaurant in the old Eastland courthouse on Capitol Street. For more information and to see more of his future ventures, visit chefnickwallace.com.
More like this story