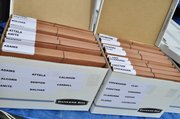 Almost 200,000 Mississippians from around the state have signed a petition for a state initiative to require lawmakers to fully fund the Mississippi Adequate Education Program—far more than the 107,216 certificated signatures required.
Better Schools, Better Jobs, a statewide coalition that is pushing for full funding of MAEP, announced Monday that circuit clerks in 82 counties certified 121,691 petitions to present to the Mississippi secretary of state's office to get the initiative on the ballot in November 2015. The proposal does not involve raising taxes.
Luther Munford, the Butler Snow attorney who filed the petition, said Mississippi's ranking on education funding against other states justifies the need for full funding of MAEP. Munford cited statistics showing Mississippi is 33 percent short of the national per student spending—13 percent below Alabama.
"We ought to beat Alabama at something other than football," Munford said.
Former Gov. Ronnie Musgrove, a Democrat, is currently leading a lawsuit for several Mississippi school districts to recover funds that have been lost due to the state's refusal to fully fund MAEP, a requirement by law since 2006.
The Legislature has only fully funded the program twice in the 17 years since its creation. In just the last six years, it was underfunded by $1.5 billion, and $250 million this year alone, Munford said. But Better Schools, Better Jobs, under Initiative 42, aims to change the state constitution, not punish the state for past decisions.
"We're not interested in damages. We just want them to do right in the future," Munford said.
Currently, the state constitution does not make full funding of public schools mandatory. Instead, the state's obligation to pay for education is at the Legislature's discretion. Mississippi law says that the state will maintain and support a free system of public education as long as the state can afford it.
"I kind of refer to that as the 'if we feel like' phrase, and they have not felt like it in the past 17 years," Better Schools, Better Jobs spokeswoman Patsy Brumfield said.
Munford said he and public-education advocates want the law to include language they can enforce or take to court to demand the Legislature fund public schools adequately. "People who don't want to spend the money will oppose it," Munford said.
Supporters, however, are adamant that the state can afford the proposal without affecting other state agency budgets.
The state currently has more than $400 million in its "rainy day fund."
Support our reporting -- Follow the MFP.