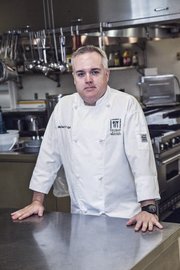 When you think of Columbus, Miss., you probably think of the Mississippi University for Women and its extensive nursing program. But did you know that MUW has one of Mississippi's only culinary programs that lead to a Bachelor's of Science in the subject?
The university established its Culinary Arts Institute in 1996, and its programs allow students to learn about entrepreneurship in the restaurant industry, food photography and styling, food journalism and culinary 
entrepreneurship.
Recently, the institute decided to venture out into a new area—sustainability. Erich Ogle, an associate professor and the director of the Culinary Arts Institute, recognizes the need for a more sustainable state.
"One of the reasons we're wanting to develop a curriculum in sustainability (is) so that we can ... educate students and get them aware of how to utilize local, sustainable sources for produce, dairy products, etcetera," Ogle says.
One of Ogle's goals is to teach students about making their future endeavors more eco-friendly, not only in using local products, but also in areas such as recycling, waste water and cleaning with environmentally friendly products.
"I think a lot of the students, particularly when they get here in their first couple of years, they don't really have a concept of where their food comes from, and how it's processed and how it's packaged and all that before they actually get it," Ogle says. "Not only in a food-service venue, but in a grocery store as well. We're really hoping to open students' eyes to how their food gets to them, and how we should all start trying to make some changes to do that in a more sustainable way."
Ogle also sees sustainability as a way to help stem Mississippi's obesity epidemic. The Culinary Institute's Project CHEW operates on that philosophy. In CHEW, which stands for "Cook Healthy, Eat Well," the institute will take a food truck through Mississippi, doing cooking demonstrations at different schools.
"We're really excited about it," Ogle says. "One of things that we're hoping to accomplish (with all of this) is that we can educate Mississippians on healthy-cooking techniques, increase knowledge of nutrition and trying to use (local produce and foods), just to also make people aware that you can, in fact, go and make healthy meals and have healthy choices from locally sourced products."
Currently, the school is searching for someone to head the CHEW project, but Ogle says the institute should begin the program at the start of the new year. The institute is in the process of developing its sustainability curriculum and expects to begin it next fall.
Ogle was originally a graphic designer. While studying for his first degree, he put himself through college by cooking in restaurants. A Starkville native, Ogle graduated from MUW with a bachelor's degree in graphic design in 1996. Eventually, he realized that his true passion in life is cooking.
He was one of the first graduates of the W's Culinary Arts Institute, earning a bachelor's degree in culinary arts in 1999. After studying at the University of Adelaide in Australia in a program developed by Le Cordon Bleu, Ogle graduated with a master's degree in gastronomy in 2011. He began work as the culinary institute director that same year.
"I've always loved cooking ever since I was a kid," he says. "(I'm) fortunate to have two grandparents that were very good cooks and were into cooking, themselves. ... I was always on the stepstool at the kitchen stove. I was always interested in that."
For more information about MUW or its culinary institute, visit muw.edu.
Support our reporting -- Follow the MFP.