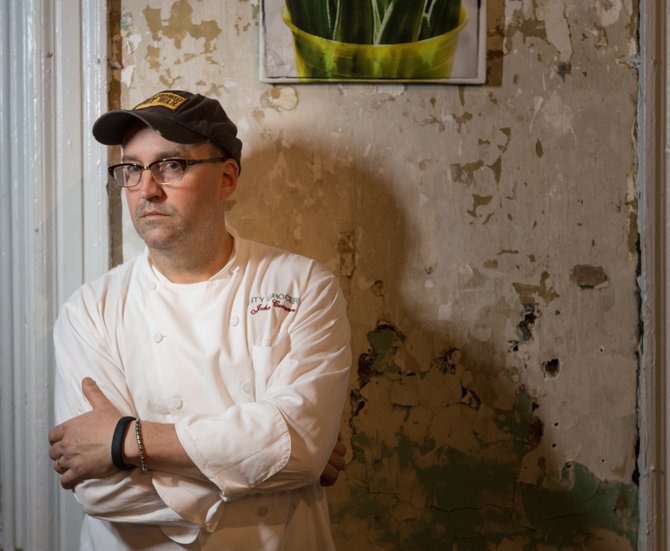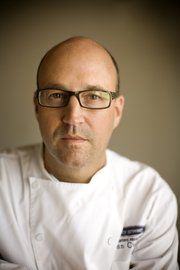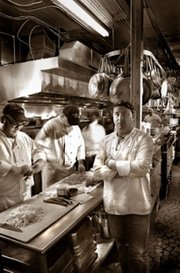 John Currence takes on the day—and the world—with a quart-sized container of iced coffee and the mouth of a sailor. Unsurprisingly, his first cooking job was on a tugboat in the Gulf of Mexico. Currence's relationship with food, however, began long before he was a deckhand. It's practically genetic, tracing back to his grandparents, who farmed and passed that respect for food to his parents, whose love of travel and culture was insatiable.
A Mississippi transplant, Currence grew up in New Orleans and spent his childhood summers in the Carolinas with his grandparents.
"My mom's parents would take me, and my dad's parents would take my brother," he says. "We'd go off to our individual places for a month, and then we'd go back to the same Howard Johnson and meet again, and our grandparents would swap us. A month later, my mom would pick us up and drive us back to New Orleans. So, my mom, who was a teacher, would basically get a two-month vacation, and my grandparents, who had farms, would get free labor."
Currence gardened, gathered, shucked, shelled, canned and learned the meaning of hard work. "There were things that were, unknowingly, informing my understanding of food," he says. "That food and those techniques had sort of a profound effect on what would speak to my food as an adult."
When at home with his parents, food was still a common theme. His mother cooked three meals a day, including dinner, which the family ate together every night. "She was an extremely adventurous cook," Currence says. "She traveled all around the world with my dad, and she was constantly coming home and trying to recreate these things she'd (eaten). China, Belgium, Norway or England or wherever they were traveling—I saw all these things at our dinner table."
In the early '70s, Currence went along for the trip. He and his family packed up and moved to the United Kingdom. His mother, who was a history teacher, would take him and his brother out of school for four-day weekends to explore their new home, learning its stories and its cuisines.
"I ate schnitzel in Germany, pasta in Italy, crepes in Paris—I saw all these classic things in their place of origin," he says. "So, all these things combined with growing up in New Orleans and being exposed to New Orleans French Creole and the sort of insane crossroads of food that New Orleans is, with African influence, Caribbean influence, French, Spanish, Croatian—the list goes on and on. It was pushing me toward a future there."
From the Ground Up
The morning after high-school graduation, Currence began his first cooking job. "When I arrived, I was informed that I was the cook, because that was the bottom of the totem pole," he remembers. "The boat captain gave me a copy of 'The Joy of Cooking' and sent me on my way."
Currence soon returned to his parents' native Carolinas—they were each from one of them—for college at the University of North Carolina, where he worked part-time jobs at short-order joints until he got a dishwashing gig at the legendary Bill Neal's Crook's Corner. Craig Claiborne had just discovered Neal, and The New York Times published an extensive feature story about him.
"When the archaeologists go back and look at it, it was one of the landmark pieces of journalism that really legitimized southern cooking as viable and worth some investigation. I was sort of smack dab in the middle of that," he says.
Once Currence was promoted from dishwasher to prep cook, he got serious about his craft. "I couldn't get enough of it. I wanted to learn how to cook fish, so I ended up taking a job at 4 in the morning at a little Jewish smokehouse butchering salmon and bluefish, and learning how to brine and smoke fish for this little mail-order smoke shop," he says. "I wanted to learn how to cut meat, so I volunteered time at the Food Lion because they weren't going to pay me to screw up protein. I took on a job baking bread at an Italian restaurant. I just curated these jobs constantly while I was there."
Currence's new set of skills landed him back in his hometown as a sous chef at Gautreau's Restaurant. "And that's where the bomb really went off," he says. "When I hit New Orleans, it was like 'this is the rest of my life.'"
Oxford Calling
Even with a job he loved, Currence knew he could do more. In the spring of 1992, he got away to Oxford, Miss., for a few days to visit his friend Palmer Adams, who was an undergraduate at the University of Mississippi.
"We started romanticizing the idea of: If we opened a restaurant, what we would do and how (would we) do it differently?" he says. They made loose plans for what they would do when Adams graduated and moved to New Orleans.
"At some point in that conversation, (Adams) said, 'Why the hell are we talking about going to New Orleans? There's nothing going on in Oxford, and we've got people here that are looking for something,'" Currence says.
He recalls spending most of the next day in a car on the square, drinking beer out of an ice chest and counting cars that drove by to gauge how viable an Oxford restaurant would be. He ran out of paper on his legal pad and had to move his tick marks to the cardboard on the back.
Three weeks later, he visited Oxford again. That's when he found City Grocery, a livery stable turned restaurant on the courthouse square. He remembers walking through the door and thinking that he knew what they would do. Currence worked out his notice, packed his things in the back of his Pontiac and headed north.
"I rented a house, planted a garden, and we went to work (re-opening) City Grocery," he says. "There couldn't have been a more sort of serendipitous happening, to find Oxford at the time that I did, a place where I wasn't going to have to reach beyond my abilities—which were, at that point, negligible—and to be able to do it with almost no money. We were incredibly lucky, we worked hard, and we were successful."
Dawn of The Big Bad Chef
City Grocery Restaurant Group eventually opened three more eateries—Boure, Snackbar and Big Bad Breakfast—and took over ownership of Oxford staple Lamar Lounge, which is a not-for-profit restaurant and music venue. Basically, Lamar Lounge uses earnings to pay its bills, its employees and food costs, and everything that remains is given to charities. Currence recently opened another Big Bad Breakfast in Birmingham, Ala. He has received countless honors for being the trailblazer of Oxford's culinary scene. The Mississippi Restaurant named him Restaurateur of the Year and Chef of the Year in 1998 and the Southern Foodways Alliance presented him with the Guardian of Tradition Award in 2006. In 2008, Currence won the Great American Seafood Cookoff in his native New Orleans, and in 2009, he was honored as Best Chef South by the James Beard Foundation.
In 2013, Currence released his first cookbook "Pickles, Pigs & Whiskey," proof that he isn't just a great chef, but is also a skilled writer and an authoritative voice on southern cuisine and culture.
For as much as he receives, Currence also gives. "I think it's unfortunate that, in business, there isn't any sort of education about business or corporate responsibility," he says.
"One of the things no one ever told me—I think it's just part of my internal wiring—is that we have a responsibility to give something back to the community that we are fortunate enough to make a living in."
He served as chairman and president of the Mississippi Restaurant Association as well as president of the Yoknapatawpha Arts Council. Since the establishment of the Southern Foodways Alliance in 1996, he has worked with the organization. He has worked extensively with St. Jude Children's Hospital, Memphis Ballet and the Lafayette County Animal Shelter.
Welcoming Change
Currence's most notable contributions as of late are to the ongoing conversation about equality in the Magnolia State. Over the years, he has been vocal about progress, whether it be the state flag, alcohol laws or most recently, the Religious Freedom Restoration Act, SB 2681, which many Mississippians believe will enable business owners to discriminate against LGBT customers based on religious beliefs.
"It's been very easy for people who don't agree with my particular point of view to sort of point the carpetbagger finger at me and say: 'He's not from here! He doesn't have the attachment,' but strangely, they discount the fact of what's a really, really good-size restaurant business here," he says. "After 23 years here, whether people like it or not, this is f*cking home for me. I'm not going anywhere. And I can honestly say I love it as much as anyone here.""
When Mississippi Gov. Phil Bryant invited Currence to prepare a meal for a private luncheon in New York, where Bryant and the Mississippi Development Authority would meet with corporate "site selectors," he accepted. Months later, when Bryant signed SB 2681, Currence considered backing out. Instead, he planned for a second New York meal the following day—a culinary protest against the anti-gay law—the Big Gay Mississippi Welcome Table. He teamed up with culinary greats Kelly English, Art Smith, Virginia Willis, Bill Smith, Bryan Petroff, Jamie Bissonnette and Aaron Sanchez. The governor's office was not pleased, but Currence promised to save Bryant a seat, should he have a change of heart.
"It's great to see him sort of taking people to task on social media for supporting the bill. As for the dinner, I thought it was incredible, and just a really great gesture," says LGBT rights advocate Eddie Outlaw, co-owner of William Wallace Salon and Fondren Barbershop in Jackson.
Currence's activism stems from business, as well as personal beliefs. "When I sit here, as a business owner in the state, and watch the sort of continued bashing of Mississippi, based on outside stereotypes about us, that is furthered when we continue to make stupid, prosaic decisions on all levels ... it's incredibly frustrating," he says.
"And I feel like we have approached sort of a watershed moment in the history of the state. It's ironic to be having this discussion on the 50th anniversary of the Civil Rights Act. My greatest desire is to be part of leadership that will help finally guide us out from underneath this black cloud of our history."
Currence's goal is to see petty issues take the back burner, replaced with a community invested in improving the infrastructure, growing the economy and taking care of the poorer regions of the state.
For him, it's more about action than arguments. The Great Recession had just set in, and he was leaving the country for a hunting trip when he received a call about the building that now houses Snackbar and Big Bad Breakfast. He took it immediately. "I was like, 'We are going to create jobs. They talk about there being a recession—f*ck that. We are going to spend some money, and we will build a restaurant, because people are continuing to go out to eat, and we will create jobs in the face of this recession,'" he says.
John T. Edge, the director of the Southern Foodways Alliance who has known Currence for 20 years, says he's watched Currence build his business and reputation from the ground up.
"I think in this moment in America, chefs aren't just the people who stand in front of the stove," Edge says. "Chefs are public figures. John's sort of taken on that mantel and understands the responsibility with his activist work. He reflects what so many people in Mississippi believe but what too few were actually saying."
Support our reporting -- Follow the MFP.