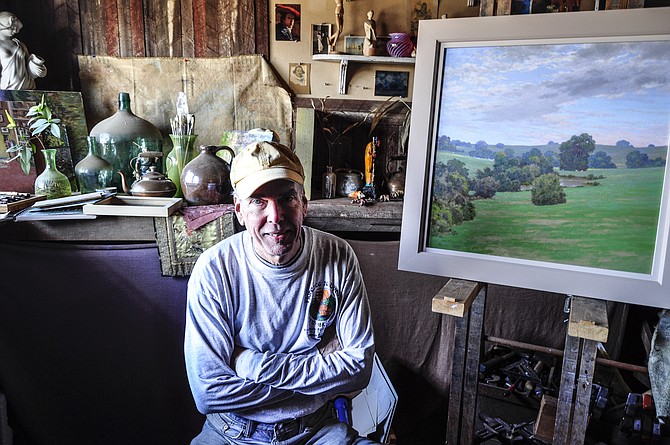 Local painter Richard Kelso likes to keep things simple. He has no computer or email. His flip-style cellphone is for telephone calls, nothing more. "I'm a 19th-century person; I'm not even a 20th-century person," he says with a smile. "I'm not enamored with all of this stuff. I'm really not."
Kelso's two-room studio, located above Hal & Mal's Restaurant, is teeming with items befitting a seasoned artist—from supplies to miniatures for still-life studies to samples of his work. The central focus is the wooden easel in the main room where a landscape with billowing clouds and the green of a field rests in the natural light coming from the nearby window. It is here, with a view overlooking the parking lot of Martin's Restaurant & Bar, the activity of downtown, where Kelso has worked since arriving in Jackson in 1987.
While he drew as a kid, it was not until the Cleveland, Miss., native attended Delta State University that he began painting under the guidance of professor Sammy Britt. Kelso also studied with German-born American painter Henry Hensche at the Cape School of Art in Provincetown, Mass.
"I had never been anywhere in my life. I was 20 years old, and at the time, all I cared about was golf and my girlfriend back home," Kelso says. "It was an eye-opening experience, let me tell you."
Painters revere Hensche for his teachings on seeing color under changing light conditions. "If you can see color, and you can learn to mix the color that you see, the world is your oyster," Kelso says. "So (Hensche) basically was teaching us to see with our own eyes. It was the most fundamental thing he could teach."
Kelso graduated from Delta State in 1970 with a bachelor's degree in art. After obtaining a master's degree in fine arts in 1980 at the University of Mississippi, he taught art at Millsaps College for two years, and then at Meridian Community College for four years. There, he made the decision to become a full-time painter.
"It was a big unknown, but I wasn't worried about it," he says. "I was comforted to know that deep down in my gut I was doing exactly what I should be doing, and I haven't changed my mind on that."
Kelso primarily paints oils in a style he describes as "an offshoot of impressionism, where the important thing is light—the quality of light, the time of day, atmospheric effects." He's produced paintings from locations such as England, Italy and France, but the Mississippi Delta is consistent feature of his works. "I'm ... scanning and looking at so many landscapes," he says of drives through the area, often when visiting his mother, Jeanette Kelso, 98. "I will paint 50 landscapes mentally by the time I get to Cleveland."
Kelso, 67, has pieces in the Mississippi Museum of Art's permanent collection. His art has been featured at the Oxford
Treehouse Gallery and the Lauren Rogers Museum of Art in Laurel. His biggest representation is Fischer Galleries, which has chosen him as its December artist of the month. Despite his success, Kelso is his own worst critic, but that only fuels his desire to improve with each new painting.
"The learning will go on as long as you're doing it," he says.
Richard Kelso's opening reception is 5:30 p.m. to 7:30 p.m., Thursday, Dec. 11, at Fischer Galleries (736 S. President St., 601-291-9115). Visit fischergalleries.com.
*This story has been edited to reflect a factcheck change. Richard Kelso's opening reception is on a Thursday, not a Tuesday. Jackson Free Press apologizes for this error.
More like this story