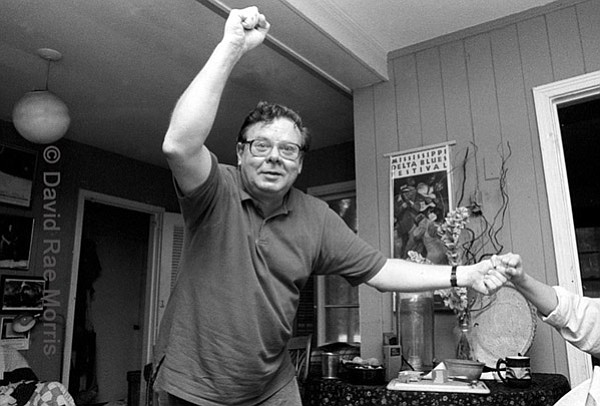 When Ole Miss beat Alabama last month, I immediately thought of my father. Although he was a graduate of the University of Texas and a proud Longhorn, Willie was still a native of Mississippi, and by default, a lifelong Ole Miss man. Indeed, had it not been at my grandfather's urging, my father would have surely never left Mississippi.
"I saw no reason to leave," he wrote in "North Toward Home." "I had my heart set, at the age of seventeen, on entering Mississippi's educated landed gentry—by taking a degree at Ole Miss, as all my friends planned to do... ."
He lived elsewhere for almost 30 years. By the time he returned, the Mississippi of his youth had changed dramatically, but the old sport rivalries endured.
This Saturday would have been my father's 80th birthday. I have, of late, frequently contemplated what he might have thought about the annual meeting of Ole Miss and Mississippi State in the Egg Bowl. Ole Miss is trying to reclaim some small bit of glory after painful loses to LSU and Auburn, not to mention last Saturday's thrashing at the hands of Arkansas. Mississippi State, which fell from No. 1 in the nation to No. 4, is limping from the defeat at Alabama, but is still hoping to dispatch their old rivals and, helped by an Auburn victory, claim the SEC West title and go on to win the national championship.
The media attention has been overwhelming. At times, embarrassing. After State lost to Alabama, a headline in the newspaper in Syracuse, N.Y., proclaimed: "No. 1 Rebels bite the dust."
While my father was always gracious to his friends who attended Mississippi State, and would even have pulled for them occasionally in important games (that did not involve Ole Miss), there is no doubt about his allegiances. Even though he had never attended the University of Mississippi as a student, he had lived in Oxford for 10 years serving as writer-in-residence.
When he arrived on the Ole Miss campus in 1980, my father lived in a modest house at 16 Faculty Row, described by one writer as "a street of identical white bungalows shaded by lush live oak trees."
Built into the side of a hill, his was the first house on the left off Jackson Avenue. In the days before multiple stadium expansions, before ESPN or "College GameDay," before Katy Perry was even born, and before tailgating in the Grove became such a spectacle, Willie and his friends would often gather informally at his house for drinks and food and then walk up the hill, cutting through the parking lot behind the law school, across the Grove and to the stadium.
During his tenure in Oxford, he could often be seen holding court in the South Zone with an eclectic posse of writers, artists, entrepreneurs and PhDs including Larry and Dean Wells, Ronzo, Dees, Semmes, Jane Rule, Barry and Susan Hannah, Ron and Jane Borne, and David and Lib Sansing, to name just a few.
On occasion, he would watch road games on televisions otherwise for sale at Shine Morgan's on the Square, sharing the recliners with Ed Morgan, Charles Henry, Clyde Goolsby and Red Smith. Or he would listen to Stan Torgerson call the games, describing the action in vivid detail—from left to right, as you looked at your radio. When Ole Miss scored a touchdown, he would stand up with a giant grin and silently pump one arm in the air.
On occasion he had a visiting writer or Yankee and would have to explain the nuances of the game and of Ole Miss tradition. He enjoyed celebrating a great play or a hard-fought touchdown, but was rarely prone to overreact.
Although Larry Wells remembers one game where Willie got so mad at then-coach Steve Sloan for running the ball on three straight plays and then punting that he stood up and shouted, "Throw the f*cking ball!" Still, he was never one to taunt the opposing team or to gloat in victory. And he was always gracious in defeat, to a point.
Every August Willie would buy an assortment of sports magazines and carefully study the prognosticators. "I think Ole Miss is going to have a good year," he might say. "But Georgia and Tennessee are going to be hard to beat."
I vividly remember him taking me to my first Egg Bowl on a cold and rainy day in 1980. We sat huddled in the stadium in Jackson with Larry and Dean Wells, sipping whiskey out of a flask. John Fourcade was 15-32 for 129 yards and a touchdown.
While Ole Miss led for a time in the fourth quarter, State prevailed in the end, 19-14. I was there three years later for what became forever known as the "immaculate deflection"—a sudden gust of wind that denied State the winning field goal.
We traveled to Shreveport that year for the Independence Bowl where Ole Miss lost to Air Force 9-3 in a monsoon that would have impressed Noah, but Willie always liked to point out that Buford McGee was two steps away from breaking away for the winning touchdown.
When Ole Miss returned to Shreveport to play Texas Tech in 1986, the rented Winnebago we were traveling in was stolen out of the motel parking lot in the middle of the night. Riding back to Mississippi on one of athletic department buses, my father took to the loudspeaker.
"We won the game," he proudly exclaimed. "But we lost the Winnebago. "
Every December he bought cards in the Annual LaFayette County Bowl Picks. You had to guess the winners of all the bowl games, which by the '90s had grown to nearly 30, and then predict the score of the national championship game, which was always the tiebreaker. The card with the fewest losses won first place, which over the years grew to almost $10,000. It was a "spirited contest for a paltry $20."
He would buy cards for his friends and family alike, telling us to "buy the USA Today and review the point spreads in the sports section," and reminded us that "you always have to pick some upsets!" He would study our selections carefully. "This is a good card," he concluded confidently. "One of us is going to win this year."
While he might pick an opponent to beat Mississippi State in a bowl game, he would always pick both Ole Miss and Texas, no matter how lopsided the point spread. "You always have to go with your heart," he said. Years later when Texas played Ole Miss for the first time since 1966, everyone asked who Willie would have cheered for. Those who knew him concluded that surely he would have pulled for Texas in the first half and Ole Miss in the second.
He married his second wife, JoAnne Prichard, on a Friday evening in Jackson in September 1990, and they "honeymooned" the next day at the Ole Miss-Auburn game. When they came to visit me and my partner, Susanne, in Minnesota that Thanksgiving, he insisted on leaving early enough on Saturday so that he might be able to pick up the Egg Bowl on the radio on the drive south, a game that Ole Miss won 21-9.
But it's not really about football.
Willie knew there was a much darker side to the University of Mississippi, and that Mississippi State has never carried the same racial and historical baggage. It took 30,000 troops to ensure James Meredith's enrollment at the University of Mississippi in 1962, but when Richard E. Holmes became the first black student to enroll at Mississippi State three years later, it was peaceful.
"There were no catcalls, no racial slurs," Holmes remembered. "It was quiet and serene. Nothing happened; there was just curiosity and disbelief."
Mississippi State was bound by the same cultural mores as Ole Miss and had declined invitations to play the NCAA tournament in basketball because it would mean playing teams with black players. But in 1963, after State won the SEC title for the fourth time in five years, head coach Babe McCarthy and MSU President Dean W. Colvert hatched a plan that defied Gov. Ross Barnett and required that their team sneak out of Mississippi to compete in the tournament in East Lansing, Mich.
The Bulldogs would face a Loyola team with four black starters. When State forward Joe Dan Gold and Loyola point guard Jerry Harkness shook hands at mid-court, the gym lit up with flashbulbs from press photographers.
"When those flashbulbs went off—boom, boom, pop, pop—you felt the history of it right there," Harkness told ESPN.com in 2012. "That game, if you ask me, was key. I felt like it was the beginning of things turning around in college basketball." Loyola won the game, 61-51, and went on to win the national championship. But no one much remembers that today.
It was about so much more than basketball.
When Gold died in 2011, Harkness came to his funeral. As he stepped up to the casket, he noticed the picture of the two of them shaking hands hanging nearby.
"I started to cry, and we all hugged," he told the Chicago Sun-Times. ''I thought winning the national championship was the greatest accomplishment in my life,'' he said. ''But then you get older and realize things, and it's not even close. Winning the championship fell way down to second."
The Ole Miss football team would not face an opponent with a black player until 1967, and it was another five years after that before Ben Williams became the first black player on the team. Still, the University continued to be associated with racial turmoil.
In 1982, John Hawkins, the first black cheerleader, refused to carry the Confederate flag onto the field before Ole Miss football games, and it was another decade before Chancellor Robert Khayat found a way to rid the stadium of the flags altogether.
"A place whose people are often obsessed with the past," he wrote, "Mississippi is considered by many Americans to be regressive, even uncivilized, with an unyielding white majority, smaller than it was, but still in control, which apparently does not care for meaningful economic and human improvement that might move it up from the bottom and continues to elect people who will keep it that way."
While he thought the band's rendition of "From Dixie with Love" "would touch the soul of a Massachusetts abolitionist," Willie would no doubt have supported Chancellor Dan Jones today in his attempts to make the university more inclusive for all. He understood how the past interferes with meaningful progress.
Faculty Row is gone now. The approximate location of my father's house is now a parking lot for the Luckyday Residential College. The majority of the houses were moved to Community Green, a new subdivision off Molly Barr Road.
A few years ago, I had an email from writer Liz Barrett who had bought one of the houses: "I believe it may have previously been the home of your father when he lived on campus."
She invited me to visit, and the moment I walked in the door I knew it was 16 Faculty Row. I remembered the layout and could see my father's furniture, what had hung on the walls and even where his beloved dog, Pete, slept. He would be glad that another writer lives there now, and I hope that Liz will be inspired by its many benevolent ghosts.
There was nothing my father loved more than a good sports rivalry, be it Texas vs. Texas A &M, Jackson State vs. Alcorn, Ohio State vs. Michigan, Harvard vs. Yale, or Ole Miss vs. State. He would be the first to point out that the Egg Bowl is about far more than just football.
It is equally about who we are as a people, where we have been and inevitably where we are going. My father saw sports as one of the ways we can all move forward, together.
It will no doubt be an exciting time in Oxford this Saturday. Fans from both sides will be celebrating with plenty of food and music, beer and whiskey, cowbells and Rebel yells.
And if we look really hard, we might catch a glimpse of Willie in his Ole Miss windbreaker, perched high above the South End Zone, cheering on Ole Miss, and perhaps, secretly, Mississippi State, too.
Happy Birthday, Daddy. Hotty Toddy!
More like this story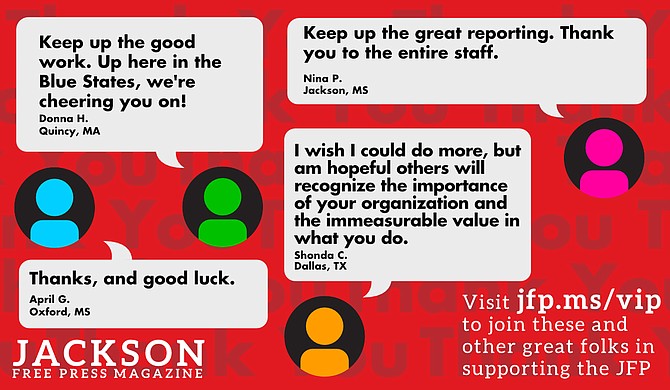 Thanks to all our new JFP VIPs!
COVID-19 has closed down the main sources of the JFP's revenue -- concerts, festivals, fundraisers, restaurants and bars. If everyone reading this article gives $5 or more, we should be able to continue publishing through the crisis. Please pay what you can to keep us reporting and publishing.