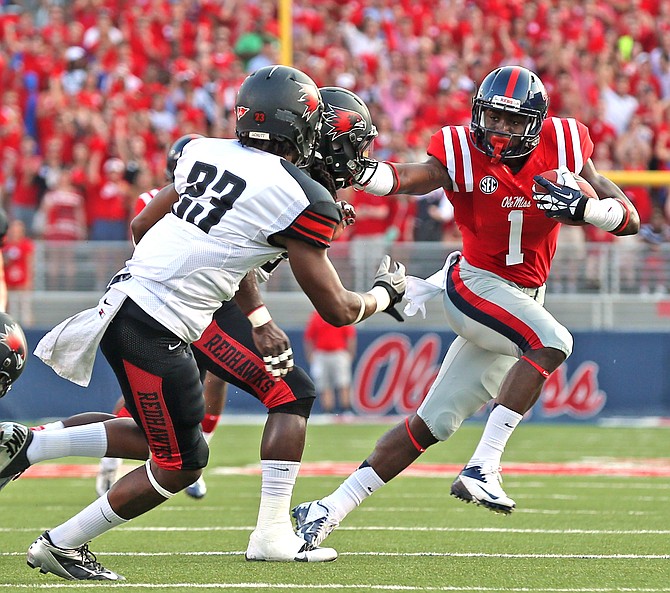 Dak Prescott wasn't even supposed to play in the 2013 Egg Bowl, as he nursed an injured shoulder sustained in a loss to Texas A&M. Even so, Mississippi State (10-1) and Ole Miss (8-3) fans alike recall how his heroics in overtime (and a Bo Wallace fumble) carried the Bulldogs to a 17-10 victory in Starkville.
None of that will matter this weekend. Bragging rights will be up for the taking again in a showdown to cap off the greatest season of Mississippi college football in recent memory. Ever since Ole Miss and State football graced the Sports Illustrated cover Oct. 13, this year's title has garnered national attention. As it should—never have two such highly ranked Mississippi teams faced off.
Regardless of national playoffs, Saturday's tussle between Mississippi State (10-1) and Ole Miss (8-3) will settle the long-awaited title for the best team in 2014 Mississippi football (and maybe in history, too).
2014 Season Recap
In preseason polls, Ole Miss sat as high as No. 17, while no poll placed State in the Top 25. By week 7, both teams played well enough to earn a ranking among the best in the country. After winning their first four games handily, Ole Miss faced then-No.1 Alabama at home. Against the predictions of most (save Katy Perry) the Rebels fought their way to a 23-17 victory in Oxford.
The Bulldogs were also at home that weekend, coming off a victory in Death Valley over LSU and seeking to redeem their 2013 loss to Texas A&M. State showed that they were much improved, forcing three A&M interceptions on a way to a decisive 48-31 victory and an undefeated record of their own. Soon both 5-0 teams found themselves ranked third in the nation.
State had just begun to play their best football, and when they defeated Auburn in week 8, their 6-0 record was good enough for the No. 1 ranking in the country for the first time in school history.
Two weeks later, the first round of NCAA College Football Rankings came out, and both teams stood in national championship contention: Ole Miss sat at No. 4 (after falling 10-7 in Baton Rouge), and State remained No. 1 and undefeated.
The fairy tale would not last, however. The loss at LSU ended redshirt junior star linebacker Denzel Nkemdiche's season with a broken ankle, and Ole Miss dropped its next game to Auburn at home. The 35-31 loss to the Tigers not only brought the team's record to 7-2 but also ended the season for Laquon Treadwell when the sophomore receiver broke his ankle in a heart-wrenching would-be touchdown play. Then, last week, any hopes of the Rebels reaching the national championship vanished with their loss to unranked Arkansas, 30-0.
State faced adversity of its own against Alabama. A shaky start in the first half and three Prescott interceptions dashed the Bulldogs' hopes for a win in Tuscaloosa and an undefeated season. By drubbing Vanderbilt 51-0 in Nashville last weekend, State, however, showed that they had more than moved on from their sole defeat.
Even though Saturday's face-off will not be the tussle of two undefeateds, both teams still have plenty to play for (on top of bragging rights). Ole Miss will defend its home turf and avenge last season's late-game collapse, while State must keep alive its pursuit of a national championship.
Game-changers
With Treadwell out for the season, expect Ole Miss sophomore tight end Evan Engram on the receiving end of a high percentage of Wallace's passes. Through week 10, Engram had already amassed 480 receiving yards and scored two touchdowns for the Rebels.
"(Engram) has Laquon's body," Wallace said, comparing him to Treadwell. "We can get mismatches with him. He's very athletic for a tight end, so his role will expand, and he'll be able to take on that challenge."
The Ole Miss secondary, tied for third in the country for interceptions (19) with three returned for touchdowns, has played a crucial role in the team's success. The leadership of senior cornerback and Senior Bowl invitee Senquez Golson played no small role in those statistics: He snagged nine of the team's interceptions with one touchdown. As he plays in his last game in Oxford, expect him to keep Dak Prescott's arm honest.
Head Coach Hugh Freeze heaped praise on his star corner. "(Golson's) had a phenomenal year," Freeze said. "We've been able to feel like he could play on an island at times. He's made great plays for us, in particular the turnovers he's created."
Bulldog sophomore wide receiver De'Runnya Wilson did not play football his sophomore or junior years of high school, but the former Alabama Mr. Basketball quickly made up for lost time in his first two seasons in Starkville. Through the Alabama game, Wilson snagged 30 of Prescott's passes and scored six touchdowns on the season. His success against the Rebels star secondary could be a game changer in the Egg Bowl.
Head Coach Dan Mullen remarked on Wilson's quick development into a standout SEC receiver prior to the team's final home game against Vanderbilt: "Coming into this year, I think he's really learned how to be a wide receiver and how to prepare for games. ... He's handled all of that stuff, the part of being a football player aspect and not just a great talent."
Mississippi State's success this season has come on the shoulders of Prescott, who remained in serious conversation for the Heisman Trophy up until his three-interception game at Alabama. Perhaps losing at Alabama shook off some of those expectations, and Prescott's leadership should dictate the game that State plays this year.
Senior offensive lineman Ben Beckwith says Prescott's leadership isn't something he turns on and off. "He's just awesome, a great leader," Beckwith said of Prescott. "What you see (on the field) is how he is all the time. He's never different. ... If I ever do have kids, I want them to be just like that."
Injury Implications
Mississippi State' has remained healthy, a stark contrast to last season. In 2014, no key starters have had to miss games. Knowing consistently who will be playing for them week-to-week has helped the team immensely in preparation and execution.
Ole Miss has suffered season-ending injuries to Nkemdiche on defense and Treadwell on offense, who are not the only Rebels banged up. Wallace suffered an ankle injury in the second quarter against Arkansas, and although he returned to the game, he never found his rhythm and committed four interceptions. 
 Senior Wallace is expected to find a way to play in the Egg Bowl no matter what, but the Rebels will need his A game to win. Offensive tackle Laremy Tunsil tore a bicep against LSU, and although he returned to action against Arkansas, his full recovery would be more than welcome. Thanks to Freeze's excellent recruiting classes, the team has viable options to call upon, including Engram and linebackers Serderius Bryant and Keith Lewis.
Keys to the Egg
Emotion always plays a role in Egg Bowl games, and using it to their advantage will be crucial for either team to secure a victory. If State's secondary keeps Wallace from completing passes downfield, it will go a long way toward shutting down Ole Miss' offense. The Rebels' rush offense is only 66th in the nation, averaging less than 180 yards per game. The Bulldog secondary has not been their greatest asset this season, but if they find a way to contain the Rebel receivers, victory will not be out of State's reach.
When Wallace lost his composure in the LSU game, he took his team out of the game. Luckily, in this game he will have the advantage of playing in Oxford. The Rebels need "Good Bo" on the field for them to have a chance to match the scoring of State's prolific offense.
The Bulldogs average nearly 250 rushing yards per game on the season, yet in their loss to Alabama, they did not even eke out 140 on the ground. Even though Mullen is known for his combination spread-rush offense, the Bulldogs will have a much greater shot at success if they can rush for at least 200 yards. That will not be an easy task, however, as Ole Miss' rush defense allows on average just over 130 yards a game.
Conversely, a prolific passing game will be necessary for Ole Miss to win. Losing Treadwell certainly put a damper on that, but thanks to Tunsil's return to action, Wallace ideally should have the time he needs to make smart passes provided his ankle has healed and he can keep himself mentally in the game. Another great boon to their offense would be standout play by Engram.
The Ole Miss defense, the 10th best in the U.S., has allowed the fewest points against them (13.5) of any team in college football. Mississippi State's offense ranks ninth in the country, putting up over 500 yards a game and averaging 39 points per game. For Ole Miss, defense may indeed win championships, but only if they are able to stop Dak Prescott. With a secondary among the best in the nation, they certainly have a shot.
More like this story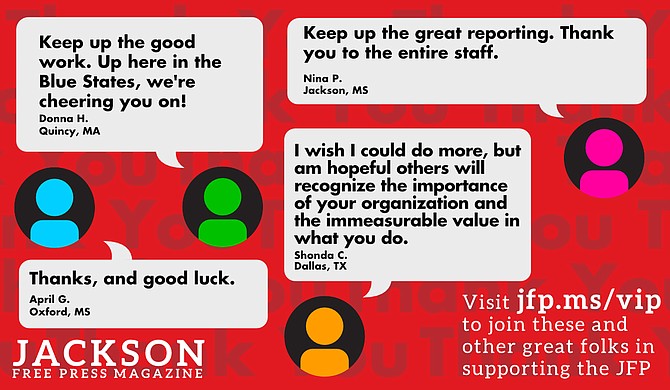 Thanks to all our new JFP VIPs!
COVID-19 has closed down the main sources of the JFP's revenue -- concerts, festivals, fundraisers, restaurants and bars. If everyone reading this article gives $5 or more, we should be able to continue publishing through the crisis. Please pay what you can to keep us reporting and publishing.