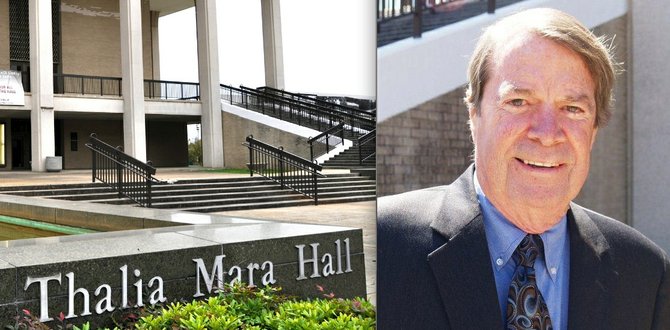 Soon, Thalia Mara Hall will be back, and officials overseeing its renovation say the opera house will be better than ever.
After a $5 million makeover that began last December, work on Thalia Mara is scheduled to wrap up next week. Mayor Tony Yarber is expected to speak at a ribbon-cutting ceremony, which will take place at 11 a.m. June 2 and will include tours of the theater for the public.
Thalia Mara Director Michael Raff said the theater has been revamped with a new air conditioning unit, a fire safety system, lighting and sound system upgrade, and new, larger chairs and carpeting.
Other improvements ensure that the opera house better complies with the Americans with Disabilities Act, including improved handicapped seating and new outside railings that a combination of age and skateboarders had worn down over the years.
The accelerated pace of construction is noteworthy, given the controversies and other snags that could have thrown the project completely off schedule. In the initial stages, work crews encountered asbestos that had to be enclosed.
The project took off after Friends of Thalia Mara Hall helped raise more than $1.5 million for repairs. Also, Jackson City Council voted to pump approximately $3 million into the city's Department of Human and Cultural Services in an attempt to broaden the scope of services that the opera house offers.
But now, spectators can expect to pay a little more, which also drew ire of area promoters.
Arden Barnett, who has built his entertainment company ardenland around Jackson's music scene, called a $5 surcharge the city council voted to levy on tickets to Thalia Mara events last fall "a tragic mistake."
"A $40 ticket suddenly becomes a $45 ticket, then you add in the Ticketmaster charges, and you're paying nearly $55 or $60 a ticket. It adds up quickly, and five dollars is a huge spread. I know it's going to limit my ability to organize concerts there in the future," he told the Jackson Free Press in late December.
Ward 1 Councilman Quentin Whitwell and Ward 7 Councilwoman Margaret Barrett-Simon voted against the surcharge.
Now that the work is complete, organizers at Thalia Mara are busy scheduling events for the fall season.
The USA International Ballet Competition , an event that has helped bolster the local economy in the past, is set to begin June 14 at the hall,.
"Our major goal is to have at least one event a week," Raff said.
Support our reporting -- Follow the MFP.