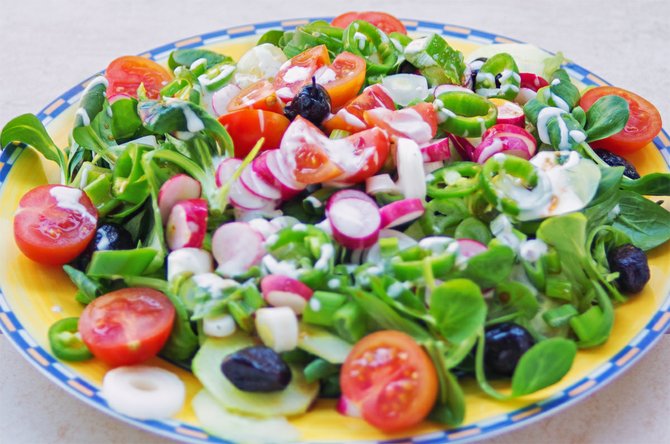 When it comes to dieting and eating healthy, I'm always trying to figure out the best route to wellness for my body and my mental attitude. The truth is that I have no idea. I've been all over the dieting spectrum—from two different types of weight-loss pills to trying, succeeding and then subsequently failing at Weight Watchers. I've been a vegetarian and toyed with the idea of veganism.
So, in my quest for the least painless way to lose weight and finally be healthy, I want to figure out exactly how to change my eating habits without going too crazy. I've often said that I want to "get healthy with minimal sacrifices," and while restriction tends to drive me crazy, I'm beginning to understand that I won't get to eat or do whatever I want if I change my lifestyle. It comes with the territory. In my desire to learn more about healthier lifestyles, I came across a documentary titled "Hungry for Change."
The film focuses on many of the things the diet, weight-loss, and food industries don't want us to know, and what keeps us from being healthy. One of the most compelling arguments in the film is that as a species, humans are built to be hunter-gatherers. Our ancestors lived off the land, hunting wild game, and gathering nuts and berries. As we became more civilized, we became farmers, and with the start of the Industrial Revolution, began to transition to cities. We've come far, and so has our food culture, but maybe not in the best way. Though we are beginning to slowly change our ways, we still live in a fast-food, fast-life world. Much of our diets come from processed foods, and we've lost touch with our roots.
I'm not a huge fan of the extremity of the lifestyle change the film supports. The ultimate goal should be to eat fewer grains, meat, and sugar, and more fruits and veggies. That's the goal. Pay attention to that keyword. But how do you get there? In the film, David Wolfe, co-founder of the online health magazine TheBestDayEver.com, mentions gradually adding healthier foods to your diet. That's something I can do.
Then some of the other experts, including Daniel Vitalis, a "rewilding" lifestyle expert—"rewilding is essentially going back to our hunter-gatherer roots—talk about the real way to do it: a three-day cleanse of vegetable juice and foods such as aloe vera and chia seeds, and then add healthy foods back.
Easier said than done. We can't turn our need to eat that unhealthy thing off with the snap of our fingers. We may not have the money or time to buy local, organic products. So what do we do? The answer may lie in making gradual changes—more exercise, less fried foods, 
more salads.
Don't take these comments as me bashing the film. On the contrary, I enjoyed watching it. The film inspired me to start the journey toward a processed-food-free lifestyle. It's message is moving, and while I don't agree with everything, I agree that something has to change.
One profound moment in the film comes toward the end, when experts, such as women's health and wellness expert Dr. Christiane Northrup, talk about the subconscious areas of our brain that control unconscious functions, such as breathing and heart rate, and also how we see ourselves.
The experts suggest that, to really get in the mindset of a lifestyle change, we must first visualize how we want to see ourselves.
In the film, Northrup says that she used to write a "prescription" for patients that said, "I accept myself unconditionally right now." 
 She had them put this note on the mirror and say those words each morning for 30 days. Around day 28, Northrup says, something begins to change.
That small, seemingly insignificant phrase has the ability to change your entire outlook on health, life, everything.
Amber Helsel is not a health expert. Consult your doctor about diet changes.
Support our reporting -- Become a JFP VIP.
The news business has changed dramatically in the past year, and we need your help more than ever to keep bringing you important stories about Jackson and the Metro. Become a JFP VIP with an annual membership or you can Sign up as a monthly supporter. Thanks for anything you can do to empower our journalism!