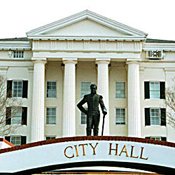 Community Meetings
Monday, May 5
9 a.m., Hinds County Board of Supervisors Meeting at Hinds County Chancery Court (316 S. President St.). The board holds its regular meeting, open to the public. Free; call 601-968-6501; co.hinds.ms.us.
Tuesday, May 6
11:30 a.m.-1 p.m., "Harder in Heels" Woman of the Year Ceremony at The South Warehouse (627 E. Silas Brown St.). The Mississippi Commission on the Status of Women honors Mississippi native and actress Sela Ward, as well as other women in eight categories such as performing arts, education and community service. RSVP. Sponsorships start at $250; call 968-0137; email [email protected]; msstatusofwomen.org.
noon-1 p.m., First Tuesday Lecture at Mississippi Museum of Natural Science (2148 Riverside Drive). Brad Maurer, restoration engineer for The Nature Conservancy, speaks on the topic, "Understanding Streams." $4-$6; call 601-576-6000; msnaturalscience.org.
noon-1 p.m., Women for Progress Lunch and Learn at The Penguin Restaurant & Bar (1100 John R. Lynch St.). The luncheons are on first Tuesdays. This month's speaker is Jackson Mayor Tony Yarber. RSVP. Pay online or at the door. $15; call 251-5222; email [email protected]; womenforprogress.net. 4 p.m., Jackson City Council Meeting at Jackson City Hall (219 S. President St.). Open to the public. Free; call 601-960-1064; jacksonms.gov.
Wednesday, May 7
noon, History Is Lunch at Old Capitol Museum (100 S. State St.). MDAH historian Jeff Giambrone presents "To Die by the Flag Rather than Disgrace It: Black Mississippians Who Served in the Union Army During the Civil War." Free; call 601-576-6998; mdah.state.ms.us.
6:30 p.m.-7:30 p.m., "Financially You" Wealth Building Workshops at Jackson Medical Mall (350 W. Woodrow Wilson Ave.). In the Community Meeting Room, third floor. Financial planner Ernest Jackson offers advice on meeting financial goals. Registration required. Free; call 601-750-3011; email [email protected]; find Jackson Consultant Group - JCG on Facebook.
Thursday, May 8
6 p.m., Precinct 2 COPS Meeting at Jackson Police Department, Precinct 2 (711 W. Capitol Street). These monthly forums are designed to help resolve community issues or problems, from crime to potholes. Free; call 601-960-0002.
Monday, May 12
1 p.m., Levee Board Meeting at Flowood City Hall (2101 Airport Road, Flowood). Members of the Rankin-Hinds Pearl Flood and Drainage Control District hold their monthly meeting. Free; call 601-939-4243; pearlrivervisionms.com.
6 p.m.-7 p.m., Freedom in Mississippi Series Lecture at Mississippi Museum of Art (380 S. Lamar St.). In Trustmark Grand Hall. Dr. Robert Luckett, director of the Margaret Walker Center at Jackson State University, gives a lecture on the Civil Rights Movement and involvement in Mississippi. Cash bar at 5:30 p.m. Free; call 601-960-1515; msmuseumart.org.
Family and Friends of LGBTQI Persons Support Group, call or email for location and time . The group offers a safe place for people to share their feelings and experiences. Professional counselors lead the sessions. Free; call 601-842-7599; email [email protected]
Community Events
Monday, May 5
6 p.m.-7:30 p.m., Cinco de Mayo Raffle at Sombra Mexican Kitchen (Township at Colony Park, 140 Township Ave, Suite 100, Ridgeland). Buy raffle tickets at Sombra, Anjou, Char and Amerigo for a chance to win a four-wheeler from Got Gear. Proceeds benefit the Mississippi Burn Foundation. $10; call 601-540-2995; email [email protected]
Tuesday, May 6
9 a.m.-4 p.m., Managing Your Faith-Based Organization at Mississippi Center for Nonprofits (201 W. Capitol St., Suite 700). This workshop is designed to give you clear guidance to develop and management your faith-based social ministry. It is aimed for grass-roots social ministry organizations striving to make a difference in their communities. $79-$99; call 968-0061.
11:30 a.m.-1 p.m., Freedom Summer Dialogues at Hattiesburg Cultural Center (723 Main St., Hattiesburg). The topic is "The Role of Women in the Movement." Free; call 601-583-6005; usm.edu/summer64hattiesburg.
5:30 p.m.-8 p.m., Wild and Beautiful: A Night at The Belhaven at The Belhaven (1200 N. State St.). The event includes appetizers, separate sessions for women and men, door prizes and a book signing. Registration required. $10; call 601-948-6262; mbhs.org/events.
6 p.m.-7:30 p.m., Family Fun Night at Hinds Behavioral Health Services (3450 Highway 80 W.). The purpose of the event is to strengthen the bond between family members. Includes games, pizza, drinks, music, face painting and more. The event is part of Children's Mental Health Awareness Week (May 5-9). Free; call 601-321-2400.
Thursday, May 8
8 a.m.-5 p.m., Canton Flea Market at Historic Canton Square (Courthouse Square, Canton). The biannual shopping extravaganza includes goods from artists and crafters. Free admission; call 601-859-1307; cantonmsfleamarket.com.
9 a.m.-1 p.m., Children's Mental Health Summit at Hilton Jackson (1001 E. County Line Road). Mississippi Children's Home Services is the host. Details pending. Free; call 769-777-1010; email [email protected]; mchscares.org.
9 a.m.-noon, Collaboration: Finding the Right Partner at Mississippi Center for Nonprofits (201 W. Capitol St., Suite 700). Topics include understanding the roles of business partners, setting collaborative goals, and focusing on timelines and due dates. Registration required. $109, $69 members; call 601-968-0061; msnonprofits.org.
Saturday, May 10
9 a.m.-7 p.m., Pioneer Day Festival at French Camp Historic District (LeFleur Circle, French Camp). Tour the historic village and enjoy square dancing, a kid's carnival, live music, competitions, arts and crafts vendors, and concessions. Blankets and lawn chairs welcome. Free admission, donations welcome; call 662-547-6482; frenchcamp.org/historic.
10 a.m.-2 p.m., Flora Boot Sale at First Baptist Church of Flora (102 Jackson St., Flora). In the parking lot. Sell what you like from your car trunk or pickup bed. Register to receive two parking spaces to sell from. Tents allowed. Participants may not sell live animals. The event is a fundraiser for the Flora Library. $1 admission, $10 per car for sellers; call 601-879-8835.
11 a.m.-7 p.m., Stray At Home Art and Music Festival at Smith Park (302 E. Amite St.). Enjoy live music, an arts and crafts fair, local food, craft beer and a cornhole tournament. A portion of the proceeds goes toward improvements at Smith Park. Free admission; find Stray at Home on Facebook.
11:30 a.m.-1 p.m., Young Business Leaders of Jackson Spring Banquet at Hilton Jackson (1001 E. County Line Road). The keynote speaker is Will Primos, founder of Primos Hunting. Sponsorships available. $35, $280 table of eight; call 601-201-5489; email [email protected]; ybljackson.org.
noon, Barnett Reservoir Boat Show at Ross Barnett Reservoir (Madison Landing Circle, Ridgeland). At the Madison Landing Boat Ramp. See the best in water recreation from local marinas. Free; barnettreservoirfoundation.org.
7 p.m.-11 p.m., Blondes v. Brunettes Flag Football Game After-party at Hal & Mal's (200 Commerce St.). The party includes music from AJC and the Envelope Pushers. For ages 21 and up. Proceeds benefit the Alzheimer's Association of Mississippi. $10; call 601-987-0020; email [email protected]; act.alz.org/bvbms14.
Ongoing
May 5 - 9, 9 a.m.-4 p.m., City of Byram Amnesty Week at Byram Municipal Court (5901 Terry Road, Byram). Those who have fines from the city of Byram may pay them without additional fees. Full payment of fines required to qualify; call 601-500-7010.
More like this story