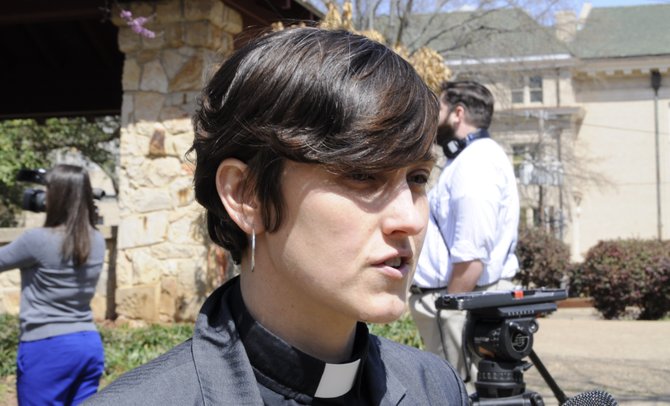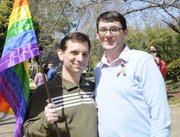 Advocates have injected new energy into the push for LGBT rights with a flurry of recent activity in Jackson and throughout Mississippi.
This afternoon, several organizations from around the state rallied in Jackson's Smith Park to urge policymakers to affirm the human rights of LGBT people.
The Campaign for Southern Equality, Mississippi in Action, Get Equal, PFLAG and Spectrum at Jackson State University participated in the rally.
Jeff White, president of the Mississippi Gulf Coast Lesbian & Gay Community Center, said the rally "presents a united front in demanding respect under the law in our home state, and that we are not going to give up and leave."
"Before we knew we were LGBT, we knew we were Mississippians," White said. "On that basis, the lawmakers of this state should welcome us, protect us and represent us in the work that we they were elected to do."
A few key catalysts have brought LGBT issues into focus in recent months. One included a controversial so-called religious freedom bill that, in its original form, could have opened the door to legalized discrimination against the LGBT communities and other minorities. In response, Mississippi college towns of Starkville, Oxford and Hattiesburg passed resolutions in support of LGBT rights.
Constance Gordon, youth advocacy coordinator for ACLU of Mississippi, was happy with the size of the crowed that showed up to the rally, noting that the turnout was much larger than last year. She hopes that this is indicative of the progress that LGBT is making in Mississippi.
"Mississippi is usually last for everything," Gordon said. "We will not be the last to get equality. I will work hard for that."
The Rev. Jasmine Beach-Ferrara, executive director of the Campaign for Southern Equality, said she was pleased with the "incredible momentum" she is currently seeing for LGBT rights in Mississippi.
"We're standing together to say something simple," Beach-Ferrara said. "We're fully equal, fully human, and fully loved by our Creator… The laws that deny our equality are unconstitutional and immoral. When a law is immoral, we are called to resist it."
Additionally, the Campaign for Southern Equality led same sex couples to apply for marriage licenses at Hinds County Courthouse as part of the 'What We Do' campaign on March 25.
Theses events followed a week of events sponsored by Spectrum, Jackson State University's Gay-Straight Alliance group that ended with a Second Chance Prom on Saturday, March 22.
Despite the week's theme, "Not Another GSA Week," this marked the first year that JSU's gay-straight alliance group hosted an entire week of events aimed at improving gay-straight relations.
The Second Chance Prom aimed to give students a chance to experience prom the way they want without the restrictions against going to prom with a same-sex date that many school boards set.
"When I was in high school, I went to prom with some of my friends but I know a lot of people aren't allowed to go to prom the way that they want to—to wear what they want to wear or bring their same sex date," said Natalie, one of the organizers, who asked that only her first name be used. "Second Chance Prom is just a chance to come as you are and you don't have to worry about anyone mistreating you or turning you away. "
Despite other campus-related events going on throughout the week, GSA Week has had a good turnout of people for the events, Natalie said.
The events leading up to the prom included a church service at Safe Harbor Family Church on Sunday, a meet-and-greet mixer, a public forum led by Mr. and Mrs. Spectrum, a poetry and art presentation night and a campus candlelight vigil and pride rally.
Although each event was planned with a specific goal towards activism or socializing, Natalie said that the overall goal of the week was to create an inclusive environment for both gay and straight students. Natalie also hopes to make GSA Week an annual event and that it will continue to gain support from students, administration, and staff.
"We wanted to show that our organization and LGBT people in general—we're the same as everybody else," Natalie said. "We are inclusive. We do things that involve everyone whether or not you're interested in art or activism or just going out and having fun."
CORRECTION APPENDED ABOVE: A previous version of the story relied on an email from Jackson State University Spectrum that misstated that Safe Harbor Family Church is affiliated with the Unitarian Church. Safe Harbor is affiliated with the United Church of Christ. We apologize for the error.
Support our reporting -- Follow the MFP.