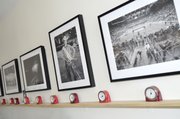 James Patterson's studio, 119 Gallery, is simple, like his photography. The white walls are lined with his work. His photography speaks volumes as he captures emotions of the subjects he has photographed. Patterson says he finds his inspiration by "looking at influences past and present that are around me."
He was born in Arizona, moved to Jackson and then back to Jackson at the age of 11. He graduated from University of Southern Mississippi with a degree in journalism and an emphasis in photography.
Patterson is most known for his portraits of people, from artists to local business owners to regular, everyday people.
He has been a photographer since the age of 12. His childhood neighbor, who was a photographer, and his grandmother, a painter, influenced him to start taking photos. I continued with my hobby through high school and college.
I sat down with Patterson recently to discuss his work.
Why did you choose photography as a medium?
Well, I like visual influences. I like media, not social media, but actual media, like the news—newspapers and visual media. I enjoy how stories can be told through pictures and then ultimately telling a full story with just one picture.
So, what do you like about photography?
I like how if you set a picture in front of (people), no matter black, white, rich, or poor, male or female, it will be acknowledged. I do a lot of work—commercial, editorial and portrait. I also do a lot of work for fun and for my enjoyment, like my pictures at the Dixie National Rodeo. I just enjoyed being there and getting the shot.
What are your dislikes, if any?
I love photography. There isn't too much that I dislike. However, I guess if I had to think of a dislike it's that sometimes the work doesn't have to be there, and the artist overshadows the art. Sometimes the work doesn't speak for itself if the artist is already well known. However, even after the artist dies, the art is still there, and the work lives on.
What is it about portraits that you find the most intriguing?
I like portraits because I like interacting with people and capturing and looking at people's emotions. One of the reasons I love photographing in the south—like Jackson, the Delta and New Orleans—is the people. The people are what make up these areas and places.
What is the most interesting subject you have photographed?
That's an interesting question. I haven't found it, yet. I am still trying to find it. That's the thing about photography: You can stand for five hours, pointing and shooting and never getting the shot.
What kind of equipment do you use?
I use a medium-format digital Nikon professional camera with a portrait lens.
I also use a 80 millimeter Hasselblad lens, 35 millimeter lens and 80 millimeter lens.
What do you use to edit your pictures?
I keep it simple and use (Adobe) Lightroom and Photoshop.
Do you have any tips for new photographers?
It's important to look at art around you and look for influences. I am thankful for all influences. There is always someone better or something better. It is also important to know the arithmetic of photography and to expect what is going to come out of your picture. The photographer should have some idea what they are looking at and what is there to be expected from the shot.
It is important to be open to everything and to appreciate the work of others. I consider myself technically proficient, but I am still looking for something important to say.
The Mississippi Museum of Art currently displays three of James Patterson's portraits in its "New Acquisitions" exhibit. 119 Gallery is located at 3017 N. State Street. Visit 119gallery.com or call 601-918-3232 for more information.
More like this story
Support our reporting -- Become a JFP VIP.
The news business has changed dramatically in the past year, and we need your help more than ever to keep bringing you important stories about Jackson and the Metro. Become a JFP VIP with an annual membership or you can Sign up as a monthly supporter. Thanks for anything you can do to empower our journalism!