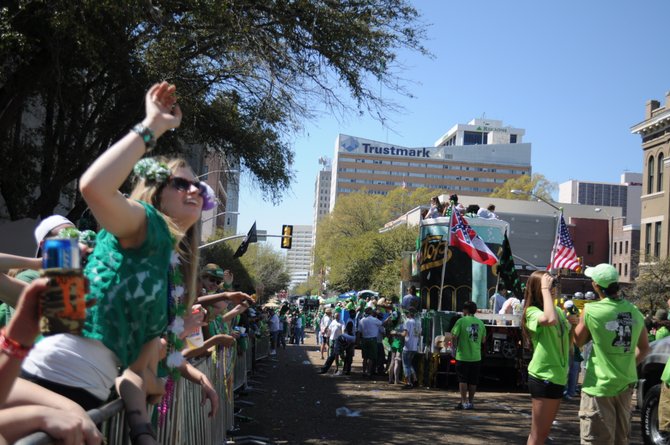 How would you prepare for a zombie apocalypse? The essentials, right?
A backpack, filled with water and nutritious non-perishables. An emergency communication device. A map. Weaponry. A pair of sturdy shoes.
For walking the Mal's St. Paddy's Parade—a Mardi Gras-style festival held in downtown Jackson each March for more than three decades—and the subsequent afternoon and evening revelries, I advise you to strap up much the same as you would to fight the zombies.
Now, I'm not telling you to bone up on "Survivor Man" episodes, but I've been burned at one too many outdoor celebrations by heat, low blood sugar, dehydration and the subsequent shenanigans that result from treating your body a little too rough. I've been getting to the parade under my own steam (well, generally—thanks for pushing me up State in the shopping cart, Wade!) for the past four years. I highly recommend walking or biking to downtown from a nearby neighborhood, if the option's available to you (kids, crutches and puppies might need closer drop-off points). It's often faster than finding a parking place if you're coming from the 'burbs, and if it's warm and sunny, you can think of it as your most enjoyable workout of the year. Here is my survivalist's checklist to having the best time at Jackson's biggest party (RIP Jubilee! JAM).
Rendezvous: My old home in Belhaven, across from Baptist Hospital, was the perfect rendezvous, organization and replenishment point for friends from all over the metro area. I advise you make friends NOW with someone who lives within one or two miles of the parade route—a place to park your car, leave unwanted beads, refrigerate leftovers and adult beverages, etc.
Allies: Do not go to this parade alone. If you are walking downtown on your own, the location of your allies (or friends-of-friends-of-friends) is valuable intel if you're suddenly overcome by crowds or you run out of Lucky Town. Make sure you know of at least one tailgate, tent, port-o-potty, or street corner controlled by friends, family or an employer.
Outfitting: Do your damndest to blend in. The individuals who now populate the downtown of our capital city are coated in fabrics, paint, imitation hair and plastic objects in every lurid shade of green. Don't be afraid to go to extreme measures to match their newfound devotion, as the more outlandish the outerwear, the greater likelihood you'll seamlessly integrate yourself into the parade experience. You'll get sweaty very quickly if the sun's out, so factor that into whatever plush chicken suit you're considering renting. Since you'll be walking, comfortable and sturdy boots or tennis shoes are essential ... wearing your foam pool flip-flops on hot concrete in a crowd brings a new scope to the phrase "there will be blood."
Of great import is your ruck. I advise procuring one of those free drawstring backpacks (the kind given away by sports-drink companies or at college fairs) or other inexpensive backpack to carry keys, consumables, a small wallet and any other desired provisions. The rucksack can be deposited in a friend's home or vehicle if you grow weary of it, and the small wallet maintained about one's person.
Comm devices: Even though the parade doesn't attract crowds at New Orleans Mardi Gras levels, anyone who's been to an Ole Miss-LSU game or similar crowded, compact venue can attest to their cell phone losing service due to a high volume of users, or else draining its battery searching for signal in its owner's pockets. Write down the phone number of at least one responsible ally, or that of the administrator of your recon point (above), so that you'll be able to communicate from a public phone if yours dies unexpectedly.
Sustenance: Hydration is key. If you don't partake in alcohol, skip down to "personal defense." If you do, here are my top sources of liquid sustenance along the main route to the parade: backpack beer, tailgate beer and bars-along-the-roadway beer. According to my extensive research, green beer—available only during mid-March, due to the annual algal growth in underground beer caverns from whence most major breweries harvest their product—is the most nutritious. However, man cannot live by ale alone, so tote a bottle of water or two in your ruck, and drink from it at least every half-hour to prevent possible evening coma-naps.
Avoiding the catatonia and eventual deep nappage that occurs around 5:30 p.m. on parade day, accompany water with a nutritious mini-meal. In past years, my go-tos were peanut butter and sliced apple sandwiches (which never seem to go bad despite heat and weight displacement) and balance bars. They're good to share, especially when you see a fellow survivalist worn down with sun- and Special K breakfast-fatigue around 2:45 p.m. Street vendors, bars and restaurants on the parade route and your walking itinerary will offer superior food, but I find I forget to eat at St. Paddy's unless my snack is immediately at hand.
Restoration and reinforcement: It's been a long, hot day, and once the parade is over, you might, depending on your location when the parade ends, make your way to the nearest eatery or home kitchen for a fortifying "linner" meal, accompanied by more water. Pizza Shack (925 E. Fortification St.), Jaco's Tacos (318 S. State St.), and Ole Tavern on George Street (416 George St.) are all great nearby choices. For dessert, split a small can of Red Bull or a Diet Coke to stay awake on a full belly.
If you return to your home or rendezvous point afterward, wash up and choose a new nighttime outfit that isn't soaked in sweat and acrylic paint. Charge your phone and contact friends and family to create a tentative schedule for the night, which may include another meal, a get-together at one's house or bar-hopping. Or all three.
If you need a little time to be a rugged individualist after suffering a mob of strangers to touch your bare arms, the end of the night is drawing near, and you find yourself unable to extricate yourself from a social situation, order the smelliest thing on the menu to passively but effectively rid yourself of hangers-on. For me, it's the Scotch egg at Fenian's—I almost lost some dear friends with the initial order.
Personal safety: As I've emphasized the convenience and pleasantness of walking to and fro the parade site, it must be said that, as with any large, public celebration, be on your guard. At night, if you choose to walk more than a few blocks, stay in well-lit areas and on busy streets, and try to travel with other like-minded individuals. Sometimes large crowds attract unsavory characters, so be aware of yourself and your surroundings. Having a destination and someone expecting you there can make all the difference between a fun night and toned legs, and getting lost and spending the night huddled under the lights of the drive-through at the State Street McDonald's.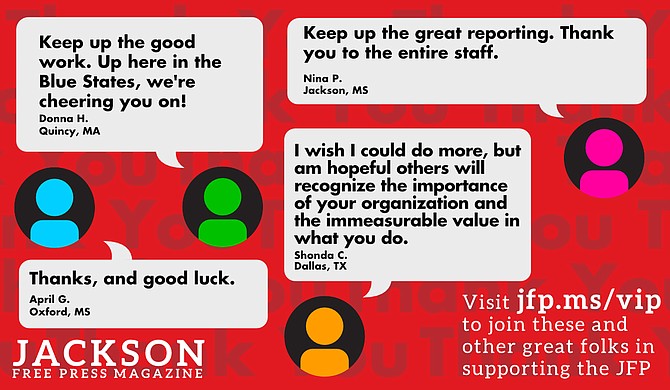 Thanks to all our new JFP VIPs!
COVID-19 has closed down the main sources of the JFP's revenue -- concerts, festivals, fundraisers, restaurants and bars. If everyone reading this article gives $5 or more, we should be able to continue publishing through the crisis. Please pay what you can to keep us reporting and publishing.