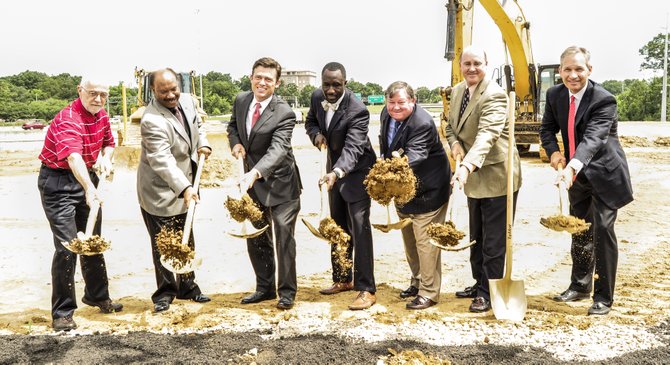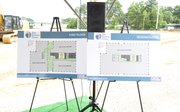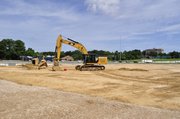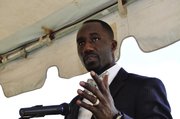 Jackson may be one step closer to finally having a movie theater again.
Holder Properties broke ground yesterday on what will be One Eastover Center, a five-story, 120,000-square-feet office building located in the District at Eastover along Eastover Drive and I-55 Frontage Road.
Holder Properties is a real-estate development firm based in Atlanta, with offices throughout the South. Nelson Partners, an architecture firm, designed the project. Roy Anderson Corp., based in Gulfport, with a branch in Jackson, will construct One Eastover. Holder Properties is also contracting with Jackson-based Duckworth Realty for leasing services.
The District will feature new retail tenants, dining options, one- and two-bedroom living spaces, a Residence Inn by Marriott Hotel and a movie theater.
The theater will have eight screens and three private "skybox-inspired" screening rooms for private events. It will showcase a variety of films, including new releases, independent and foreign films, as well as special events such as live sports, opera and concerts. Moviegoers will also have access to a full-service bar and a concession area.
Jackson Mayor Tony Yarber expressed gratitude to both Holder and developer Ted Duckworth for "having vision when a lot of people could not have that same vision."
"This place that we're standing on is a linchpin," Yarber said. "It's a linchpin of some amazing things to come in our city. It's a linchpin for other developers and people who are interested in great places to build businesses, to grow businesses."
Construction will begin immediately. Baker Donelson law firm will be the lead tenant, occupying the third, fourth and fifth floors of the building. The first and second floors will be available for lease.
Each floor of the building will have floor-to-ceiling glass windows to allow for a view of the District. Concrete and metal panels will accentuate the outside walls of the center, and the lobby will consist of wood and stone furnishings. The fifth floor will have a balcony located on the southeastern corner of the building. The building will also be designed with environmentally safe materials and energy-efficient systems.
Breck Hines of Duckworth Realty said the completion of the building's outside and core is scheduled for August 2015. Finishing touches will be done in the three-month period afterward, which includes laying carpets and building secretarial stations and cabinets. Baker Donelson will move into the building by January 2016, plans show.
Bill Painter, managing shareholder for Baker Donelson, detailed the firm's decision to become the lead anchor for the project.
"This summer marks the 19th anniversary of Baker Donelson in the city of Jackson. Approximately two years ago, we started focusing on where our 80-plus lawyers and more than 90 staff members will call home for our next 19 years," Painter said. "One thing we knew, beyond a doubt, was that it would be in city of Jackson."
Painter said that two years ago, when Ted Duckworth and Breck Hines of Duckworth Realty announced that the rights to develop the District at Eastover had been secured, Baker Donelson jumped at the opportunity. "We knew this could be a game changer for us and for the city," Painter said.
After a yearlong process of weighing their options, Painter said Baker Donelson decided that One Eastover Center would be its next home.
"We've been blessed with working with knowledgeable people who share our vision and people who make things happen," Painter said.