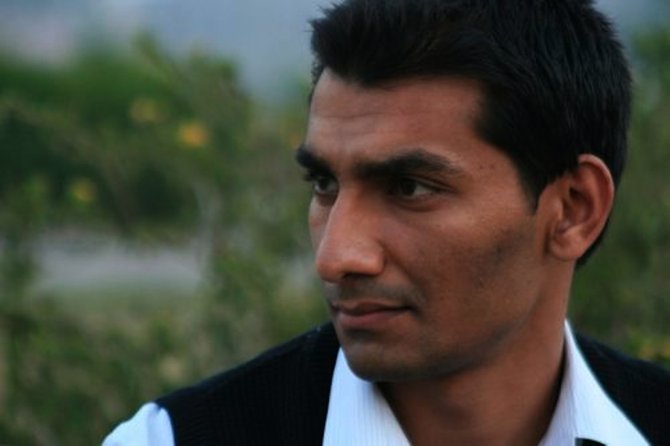 "Humanity, like armies in the field, advances at the speed of the slowest."
―Gabriel Garcia Marquez, "Love in the Time of Cholera"
Somair Riaz remembers the first time he saw Junaid Hafeez after moving to Mississippi from Pakistan for graduate school at the University of Mississippi Medical Center. He was on a field trip to the Twin Lakes camp and conference center in Florence, Miss., with First Presbyterian Church's Internationals Class on Labor Day of 2009 when he spotted a familiar face.
Hafeez told Riaz about his life after leaving medical school at King Edward Medical College in Lahore to pursue literature. "He had written short stories, poems and was working on being a playwright," Riaz said. They ate barbecue and cotton candy, and Hafeez told him about how J. M. Barrie, author of "Peter Pan," was also a cricket player.
As someone who knew him both in Pakistan and Mississippi, Riaz describes Hafeez as a humble and non-controversial man with a down-to-earth attitude that was surprising, given his intelligence. He remembers his appetite for diversity and studying the histories of cultures. "His humbleness and polite personality really struck me. And so did his dedication in getting the most out of this unique educational, social and cultural experience," Riaz said.
Hafeez, 27, had always called Pakistan home, prior to coming to Mississippi. Hailing from Rajanpur, possibly the most remote region in the Punjab province, Hafeez enrolled in King Edward Medical College in the capital city of Lahore in 2003 after receiving the gold medal in pre-medical studies from the Board of Intermediate and Secondary Education of the Dera Ghazi Khan division.
"In the land of doctors and engineers, it was a hard thing for friends and family to understand, but his mind was clear in following his creative pursuit," Riaz said. He moved back to his home region in 2006 to study English Literature at Bahauddin Zakariya University at Multan.
Opened-Minded Teaching
One of only a handful of NESA scholars, Hafeez came to Mississippi in 2009 to continue his studies at Jackson State University. in American literature, photography and theater. He had written in his personal statement to the university that he was inspired to pursue a different career path after watching films like "Dead Poets Society," "Ijazat" and "Dil Se" and reading texts like "Love in the Time of Cholera," Irfan Aslam reported on Dawn.com.
While in Mississippi, Hafeez acted in and directed several plays and excelled in his studies. After two semesters in the U.S., he returned to BZU Multan in 2011 as a graduate student and visiting lecturer in the English department, while also teaching at the College of Design.
Hafeez was known and respected by many students for his open-minded teaching and the way that he encouraged them to think about concepts that were considered liberal in Pakistan such as feminism. Hafeez was writing his thesis on an ethnographic study of masculinity in popular cinema in Multan.
Too Liberal
Hajeez faced criticism from the student wing of Jamaat e Islaami, a Muslim political party, as part of "a campaign to Islamize the English Department" at BZU, Meredith Tax of Center for Secular Space reported. It wasn't the first time Hafeez had faced opposition for his ideals, but the approval of the department head, Shirin Zaubair, had protected him until she was targeted herself.
Once she was gone, the Tehrik-tahafaz-e-Namoos-e-risalat, a derivative of Jamaat e Islaami, warned the university that they would take matters into their own hands if such liberal teaching was not addressed.
The group zeroed in on Hafeez when a teaching position opened that he was most qualified for. Rana Akbar Tabish, a member of the student wing of Jamaat e Islaami, began distributing a pamphlet on March 13, 2013 that called for the hanging of Hafeez, whom the group accused of blasphemy, an automatic death sentence in Pakistan. A strike was staged, and Junaid was stripped of his admission, housing and teaching contract with no investigation of the accusations.
Banned from campus and the target of ongoing protests, Hafeez eventually fled, but was caught and booked in Sahiwal Jail on charges of violating section 295-C of the Pakistan Penal Code, which states, "Whoever by words, either spoken or written, or by visible representation or by any imputation, innuendo, or insinuation, directly or indirectly, defiles the sacred name of the Holy Prophet Muhammad (peace be upon him) shall be punished with death, or imprisonment for life, and shall also be liable to fine."
Hafeez had allegedly created two Facebook pages where he committed these offenses, "So-Called Liberals of Pakistan" and "Mulla Munafiq." Mustajab Tareen of Let Us Build Pakistan wrote in an article that the professor was also charged under section 295-B, which outlaws defiling the Qur'an, but no evidence has supported such a claim. Tax said that, following the initial report, police gathered 1,200 pages of other materials to use against him from his computer and a book titled "Progressive Muslims" that was sent to him for review four days after his arrest.
In her article, "Chronicle of a Death Foretold," for openDemocracy.com, Tax said that a year after the charges were filed, there has still been no investigation to trace the IP addresses or learn the owners of the domains. And officials haven't given any attention to the fact that the websites have continued being updated, even while Hafeez has been in jail with no access to a computer.
"The standard of evidence in blasphemy laws is nonexistent," she said from her home in New York, in an interview via Skype.
Mudassar, the lawyer Hafeez's father originally hired, buckled under threats and dropped the case in June of 2013, leaving little hope. Tensions surrounding other recent blasphemy cases drove other lawyers away and prompted the (Supreme Court) Bar Association of Pakistan to forbid all its members to represent Hafeez in court.
'The Jaws of Death'
Enter Rashid Rehman, director of the Multan office of the independent Human Rights Commission of Pakistan. In an interview with BBC, Rehman said that taking the case was like "walking into the jaws of death." And he was all too right.
On April 3, 2014, after months of being transported from jail to court every couple weeks, a drive of several hours with a welcoming party of protesting Islamists, Hafeez was transferred to Multan Central Jail, and his trial was held there per Rehman's request, as he feared for his client's safety. Tax says it is common in Pakistan for trials to be delayed or postponed repeatedly.
Tax and Ali say that, during a trial the next week, prosecuting attorneys threatened Rehman that he would not be alive to attend the next hearing. Although the threats were issued before the presiding judge and Rehman reported their names, they were never charged or investigated.
Pakistan lawyer and journalist Sarmad Ali said that this kind of behavior on the judge's part comes as no surprise since 96.4 percent of Pakistan is Muslim, according to a study by The Guardian in 2010. "Out of every 100 people, 99 would be in favor of blasphemy laws," he said.
That also explains why no action was taken when Rehman and the HRCP, on his behalf, asked for protection during the trial amid daily death threats or when he was shot and killed in his Multan office, with surviving colleagues as witnesses. Lawyers protested, and the HRCP mourned, but no justice was found for Rehman.
In a Daily Times article, Ali wrote that upon hearing news of Rehman's murder, he "was not able to sleep for a whole night and found myself shaking with fear." He went on to say that the event had struck fear in all of Pakistan's human-rights activists.
Hafeez remains in jail, now in the Central Prison in Multan, the center of blasphemy violence. According to Ali, Pakistani prisons are notorious for being overcrowded and dangerous. Despite his circumstances, Afiya Zia, who met Hafeez in jail told Aslam that he was teaching other inmates and that he had numerous books with him.
Settling Personal Scores
Hafeez isn't the first to be jailed for blasphemy to settle personal scores. Ali says the blasphemy laws have a long history of misuse, motivated primarily by prejudice against minorities like Christians, Ahmedis, atheists and scholars. Fabricating facts is a common practice, and there is little discussion about evidence, because someone who repeats the supposed blasphemy does not want to be held accountable for the same sin.
The HRCP's 2013 Annual Report cited that 68 citizens had been jailed for offenses involving religion. While many of these charges carry the death penalty, the government has not executed a prisoner for violations. Instead, most are turned over to mob justice or die in prison like Riaz's grandfather. Also common in Pakistan are "police encounters"—where unarmed citizens are said to have threatened or attacked police and then are gunned down.
These citizens are usually rumored to have committed some offense like blasphemy. The region with the highest number of these encounters in 2013 was Hafeez's home region of Punjab with 217.
Activists such as Tax and Ali continue to advocate for secularism in Pakistan, in hopes that minorities and scholars like Hafeez will not have to live in danger in their home country any longer. Ali, however, is doubtful that change will come soon. Blasphemy laws will be difficult to repeal since parliament is the only group with the power to do so, and they are predominately Muslim.
Two officers from the provincial government have been suspended in relation to Rehman's death and the lack of investigation of it. The International Cities of Rescue Network (ICORN), IDARE and International Pen are planning an international campaign on Hafeez's behalf.
Although the charges are in direct violation of the United Nations Declaration on the Elimination of All Forms of Intolerance of Discrimination Based on Religion or Belief, it is not expected that they will step in.
People who knew Hafeez during his time in Jackson such as Jackson State University English professor Noel Didla are taking to social media and change.org to petition for his release.
Didla admits that it might not help, but she feels that she has to do something.
"It's very surreal for me to think of the courage he has at his age, but then again, he's an artist and a literary activist, which means he stands in his power and truth," she told the Jackson Free Press.
"The only reason I was so impressed with that is because voices from my part of the world don't have the platform. Very few are kind of adapted by Western media and they make it to mainstream news, and those are the tokenized ones. His voice was not tokenized. Nobody can tokenize a voice like that."
Support our reporting -- Follow the MFP.