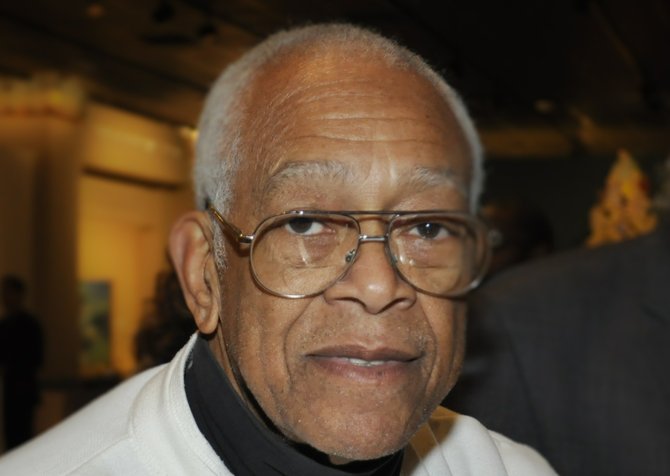 Albert Sykes, lead organizer of the Young People's Project, sat at a conference table in a downstairs room of Woodworth Chapel on Tougaloo College campus and told a story about an elderly man he met at the Hinds County courthouse.
"He kept saying, 'I need my voter ID,' and holding out his license. The woman was telling him that that was his voter ID," he said, surrounded by 12 nodding heads.
"He remembered a time when he had to pay a poll tax to vote, and now he was having those same fears."
George Patterson, director of campus life and community outreach at Tougaloo College, shook his head. "You learn about mass voter registration 50 years ago, then hear about similar things happening now," he said. "I feel like I have a role to play." That's why he was there, along with the other community leaders—to play a role in commemorating the 50th anniversary of Freedom Summer.
The most recent U.S. Census reported that approximately 74 percent of Mississippi's African American population is registered to vote, but a few decades ago, that number was drastically smaller—dismal, actually. In 1962, the percentage of black registered voters in Mississippi was 6.7.
Tilting the Scale in 1964
Freedom Summer, or the Mississippi Summer Project, was a nonviolent effort to change that.
More than 1,000 young civil-rights activists from groups such as the Congress on Racial Equality, the Student Non-Violent Coordinating Committee and the Southern Christian Leadership Conference joined African American Mississippians under the Council of Federated Organizations to organize a voter-registration drive in hopes of tilting the scale in the direction of equality in Mississippi during a pivotal time—or at least, that's the typical narrative.
Precious Vines, a graduate assistant at COFO, says that a primary reason for the creation of the Freedom Summer 50th Anniversary Youth Congress is to tell Mississippi's whole story, and there's more to it than that.
Part of Mississippi's story took place at Jackson's COFO center on Lynch Street, which is now an educational center and a stop on the Freedom Summer Youth Congress tour. Sykes, a Youth Congress co-chair, calls himself and his colleagues "direct beneficiaries" of what took place there. "Modern-day COFO isn't housed in one building, but all over Jackson," he said. "For us to be here in this room is a direct success from 50 years ago, but we have to do the work and earn our place."
The work they chose builds upon what the original Freedom Summer activists did. In 1964, the goal was to get as many African Americans registered to vote as possible. The Freedom Summer Youth Congress takes that a step further, training and empowering young people to organize programs that address issues in their communities and run for political offices.
"Young people gave life to Freedom Summer," said Daphne Chamberlain, a professor at Tougaloo College and Youth Congress co-chair. "There is a national narrative about today's youth, but there are young people here on the ground in Mississippi doing work."
Fighting Enemies of Equality
Youth advocate and Jackson Public Schools board member Jed Oppenheim agreed that it isn't about teaching something new. "I think a lot of young folks already have what they need inside of them, so we are creating a space for that," he said. "The older generation is passing judgment on them without doing our part."
And the team says that is the true narrative, both then and now. They believe Mississippi has the human resources it needs to progress, but that all of its citizens need an environment to harness their creativity and leadership skills.
The Freedom Summer Youth Congress conference will run from June 23-29 on the Tougaloo College campus and will include seminars on voting, campaigning, education, immigration, violence and rights. Participants will also have the opportunity to travel to Meridian and Philadelphia to see firsthand where civil rights history was made. And to put all they've learned into practice, participants will canvas to gather signatures for important issues and even register Mississippians to vote.
Charles Taylor, an advocate for Better Schools, Better Jobs, paraphrased Charles Cobb's 1963 statement: "It is universally known that education is grossly inadequate in Mississippi." He hopes that 50 years from now, that's a statement of the past.
"If you look at the four issues of Freedom Summer—workers' rights, voters' rights, healthcare and education—those are still at the forefront of issues in Miss.," Taylor said.
Freedom Summer 50th Anniversary Youth Congress Conference aims to empower young people to organize around these issues, creating a launching pad for political campaigns, fundraising and community building that honors and continues the work of the original Freedom Summer volunteers, who sacrificed themselves for the progress of Mississippi and its people.
The enemies of equality might look different now than they did in 1964, but rights and poll access still hang in the balance. Amber Thomas of Better Schools, Better Jobs says that Jim Crow still causes trouble; he's just cleaned up his act a little bit.
She believes natural response is to create an atmosphere for young adults to recreate a movement like Freedom Summer. "We want it to be true, meaningful, organic—something they created," Thomas said.
A Lineage of Activists
The response has been better than the team imagined, with proposals still coming in after the deadline. An account was set up on gofundme.com that brought in $3,000 in donations from all over the country. The most current numbers predict approximately 700 participants will fill the Tougaloo College campus next week.
Chamberlain calls her fellow planners her inspiration. "It becomes very personal to see how people are bringing change," she says. The committee says that this event isn't a one-time thing, and they are already discussing other efforts to support young leaders.
Currently, the team is examining the possibility of creating a nonprofit organization for social welfare that could provide financial assistance and resources to support campaigns and programs that might come as a result of the conference. The committee hopes to establish a pool of candidates that will run for office in their communities over the next four years.
Sykes said that people "(who) understand that regardless of what you do in your life, it doesn't matter unless you pass it down" are important.
The group would all be together any way, Natalie Collier, the southern regional youth organizer for the Children's Defense Fund and youth congress planner, says. She said that it's an added bonus that they get to hang out while serving their community and imitating mentors such as civil-rights veteran Hollis Watkins, who produced a "lineage of activists" they hope to continue.
Collier said that she hopes the event will make a lasting impact on the young people they encounter. "What I hope people will walk away with is a silent memory that they can tap into of what freedom feels like, what it tastes like, smells like; that they can leave with the remembrance that it can be like this all the time," she said.
To volunteer, call 601-977-7914 or email [email protected] Email Carmen Cristo at [email protected]