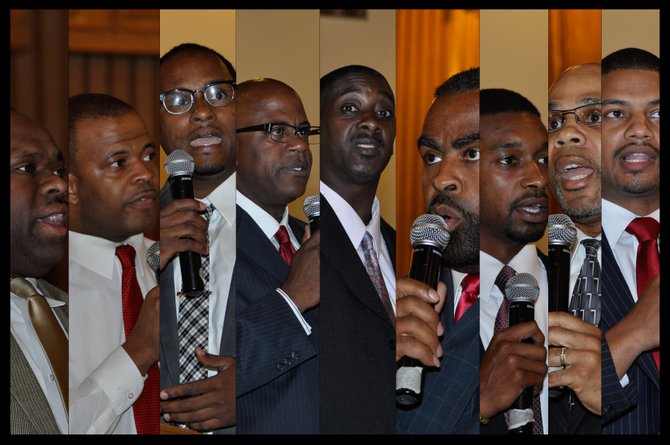 All nine of the candidates running in the Ward 6 City Council election met for a forum last night in which each had the opportunity to state their specific plans for aiding Ward 6 in regard to education, economic development, infrastructure and crime.
The Swan Lake Homeowners Association sponsored the forum, which took place at Emmanuel Baptist Church.
Plans for aiding education and youth has been one of the most talked about topics throughout the election. Tyrone Hendrix, a longtime Democratic Party operative who helped manage Jonathan Lee's campaign for mayor in 2013, said he would like to allocate more funding for Jackson Public Schools to allow for more truancy officers. Dennis Sweet IV, a local attorney, said he would like to provide more learning incentives to both teachers and students.
Robert Amos, who competed in the 2013 Democratic primary for Jackson mayor, said he would like to help solve the truancy issue by funding a building to house truancy officers. However, Daniel Myers, a consultant for the Social Security Administration, wants to provide more GED programs for students who have already dropped out of school.
In regard to economic development, Robert E. Green Sr., a pastor, said he would like to bring in better businesses to create more jobs, which he says will help cut down on crime. Wayne Lewis, who works for Eaton Aero- Space, said it would be better to market Ward 6's strengths—land and building space—to attract new business.
Sylvester McDonald, who has worked with the metering division of the Pearl Public Works Department, stressed that the area's streets must be fixed first, followed by offering land to new businesses at a discounted price. Instead of contracting with outside businesses, Tim Rush, who has worked as a counselor and educational administrator, would like to aid in job creation for Jacksonians and lessen the City's contracting with outside businesses.
The candidates had several different responses to how the ward's infrastructure needs should be handled. Hendrix wants to work with the Council to bring in more advanced technology that will provide a lasting solution to potholes. Lewis said that the ward's main thoroughfares that lead to commercial business should take top priority, as should tearing down dilapidated structures in those areas. Rashaad Crisler, who has worked for the Hinds County Sheriff's Department and the U.S. Post Office, would like to ensure budgeting is used appropriately and hold meetings for citizens' input on how the streets should be prioritized.
Almost all of the candidates felt that the neighborhood watch programs should be strengthened in order to cut down on crime. However, Lewis felt that more funding should go towards the Jackson Police Department, saying officers need more training in how to be proactive rather than reactive.
Green said he would like to see more police officers on foot patrol in Ward 6 in order to strengthen their relationship with the community. Crisler said that his experience working with the Hinds County Sheriff's Department has prepared him to address any criminal activity that the ward is currently facing.
Elections for the Ward 6 seat will be held Tuesday, June 17. A runoff election should it be in order and is scheduled for July 1.
Support our reporting -- Follow the MFP.