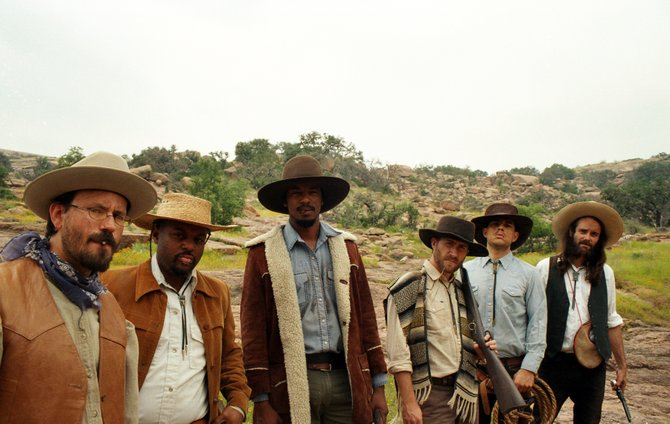 There's a new old sound on "Electric Slave," the latest album from Black Joe Lewis.
The vintage soul-powered sound that brought Lewis out of Austin, Texas, has been replaced with a harder-rocking assault, almost like Iggy and The Stooges with horns. For Lewis, the shift to a harder sound is a back-to-the-future move.
"I've played around town for a really long time, more than 10 years," Lewis said from his Austin home. "If you'd have heard me prior to this band, you'd be saying he's going back to what he used to do. I've always been into blues and rock 'n' roll, so that's what I do. The soul sound comes from the horns that we put in there. That's our style, that's what makes us unique."
The new sound also comes with a new band.
"There were a lot of views in the band," Lewis said. Guitarist Zach Ernst and drummer Matt Strmiska quit the group before "Electric Slave" was recorded. "They had a different idea of what they wanted to do. It was a battle to do what you wanted. ... With this record, we got a new producer. They left. There's all kinds of different stuff."
While left explicitly unsaid, Lewis made it clear that they were more interested in staying with the soul-based sound while he wanted to move toward the garage R&B of "Electric Slave."
The shake-up in the band provided an opportunity for Lewis not only to recruit more sympathetic musicians, but also to dump the band name, the Honeybears. The new album is credited only to Black Joe Lewis.
"The name always was a joke," he said. "We did our first couple shows and were stuck with it. It was kind of a dumbass name. It was time to get rid of it. Maybe on the next one, we'll throw another name on there."
The songs on "Electric Slave" are Lewis' most personal and direct—although some like "Skulldiggin," a song about media control, and "Dar es Salaam," about political and social turmoil, come with sci-fi trappings.
"It's kind of like my middle finger, this album," Lewis said. "I get to tell people this is what happened. I get to put out what I want without somebody screwing with me."
That freedom to write the songs he wanted to write and record the album that he wanted makes "Electric Slave," Lewis's favorite among the four albums and two EPs he's put out since 2005.
The first record, "Black Joe Lewis and the Cool Breeze," came out as he was working his way up in the competitive Austin music scene.
"It's hard, but it makes you better at the same time," said Lewis, who picked up a guitar while working at a pawn shop. "I just did what I could, kept playing until more people were showing up, and here I am now. But I did it by playing happy hours on Red River, playing (at) the Hole in the Wall. ... It makes you be more original. There are a lot of good bands that sound like everybody else. You have to be more than good."
Lewis was clearly a natural performer.
"I just got up there one day and went for it, and I was good at it," he said. "For me, it's a good escape from the problems I have. I don't worry about anything besides putting on that show. It's a great release."
Since 2007, Lewis has been getting that release on the road, which he loves.
"It's kind of like you're running your own business," he said. "It's like being a cook and seeing people like what they're eating. You get to travel, meet people and play music for a living. It's mostly a joy."
Lewis signed to Lost Highway Records, a division of Universal Records, in 2008 and released an EP and two albums on that roots-dominated imprint.
He later moved to Vagrant Records, an indie label that is home to The Hold Steady, Edward Sharpe & The Magnetic Zeroes, and P.J. Harvey. Vagrant, which started as a punk-rock label, is a better fit for Lewis and his music, he said.
Lewis has shows booked this summer in the United States and Canada and said the new material should make for even better shows for him and for the audience.
"I'll mix everything in," Lewis said. "I'm sure we'll play some of the old (music), but we're mostly going to be doing new stuff. ... I think people are going to be into it."
Black Joe Lewis performs at 7:30 p.m. June 12 at Duling Hall (622 Duling Ave.). Naught also performs. Admission is $12 in advance and $15 at the door. Visit blackjoelewis.com and ardenland.com.