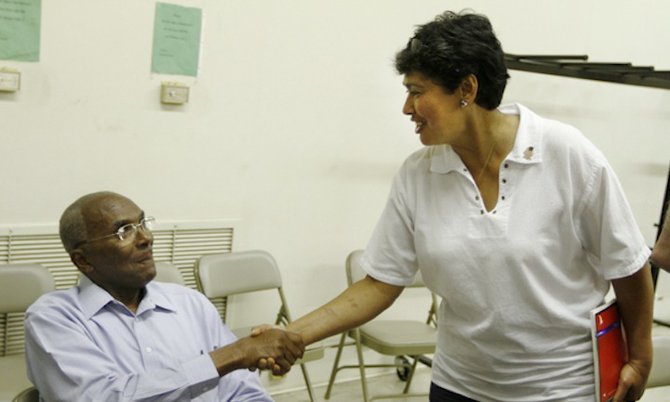 A resolution recognizing the dignity and worth of all people in Magnolia, Miss., including people who are lesbian, gay, bisexual and transgender (LGBT), could become a casualty of small-town politics.
Mercedes Ricks, a Magnolia alderwoman and business owner who sponsored the measure that passed by a one-vote margin in April, said she has heard whispers that her political enemies want to roll back the nonbinding resolution passed recently and orchestrate a boycott of her business.
"I really don't care," Ricks told the Jackson Free Press this morning of the rumored boycott. "I'm just going to get free publicity."
In July, Magnolia (population: 2,420) will vote to replace Mayor Melvin Harris, who resigned in May due to health reasons. Upon Harris' resignation, Ricks, the board's mayor pro tem and at-large alderwoman, became the town's acting mayor.
Ricks and Lonnie Cox, another member of the board and supporter of the pro-LGBT resolution, say that the trouble started two months ago, when, due to concerns about lax security, the board voted to terminate a lawn-maintenance worker who worked under Police Chief Ray Reynolds and supervised county inmates. At that meeting, Cox said that Reynolds, who is elected, consoled the worker and vowed to "get even" with the board.
After the episode, several members of the board wanted to move to an appointed police chief in order to increase accountability over the department's $523,000 budget, which is approximately one-fourth of the city's overall budget of $2.3 million. Magnolia is one of approximately six cities in the state that has an elected police chief. On June 3, the board voted 3-2 to move to such an appointed system.
Racial politics further complicate the situation. The coalition that voted to move to an appointed police chief system is the same one that passed the LGBT resolution and consist of Ricks, who is a native of Colombia, along with Cox and Joe Cornacchione. Cox and Cornacchione are white. Reynolds is black.
Ricks said that appointing the police chief is not about a lack of confidence in Reynolds, and she would be open to keeping him in the position when his term expires 2017. However, some residents are accusing Ricks and her colleagues of racism. One of Ricks' Facebook friends even characterized the vote as akin to taking the town back to slavery.
Ricks finds the accusation absurd.
"How dare you call me racist?" Ricks said. "I'm an immigrant, I'm a female and, to top it all off, I'm a lesbian, so don't play that card with me."
Reynolds denies organizing opposition to either the LGBT resolution or Rick's herself. He also denies, presumably, threatening retribution over the termination of the maintenance worker.
"I am not bitter about this matter," Reynolds said. "...I do not plan to challenge (the board) in any sort of way. ...I am a man of faith, but I don't have a problem with it. ...I'm too busy trying to do my job as a police chief so I'm not going to get involved in any controversy. So if they are saying that there is a controversy, that is them."
Now that resolutions are gaining a foothold in cities across the state, many people now wonder what the next major step toward full equality will be.
Ricks believes that the state's legalization of gay marriage won't be too far away if more resolutions continue to pass.
"I believe from there, it will be a starting point," Ricks said. "I was excited when I saw that happen in Jackson. ... I think that's our beginning."
On June 9, the Jackson City Council held a confirmation hearing for the mayor's nominations Ceaser Denise McKay as director of the Department of Personnel Management and Ronerick DeKeith Simpson as chief of the Jackson Fire Department. Both were confirmed.
During the nomination process, Council President Charles Tillman urged the nominees to remember to put the equality resolution into practice when in their management roles.
Support our reporting -- Follow the MFP.