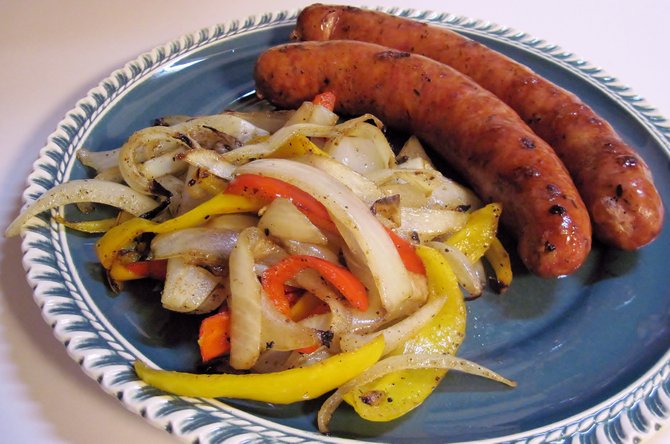 When putting together suggestions of food and beer pairings, I decided to go with seasonal beers, specifically those best for warm weather. Truth be told, I am only an occasional beer drinker, so I was pleasantly surprised to learn so much about the different styles and tastes available.
The first beer I chose is a hefeweizen (pronounced "HEH-feh-vite-zehn"). It is a top-fermented, light-colored beer with very low hop bitterness due to the fact it is a mix of barley malt and wheat (usually 50 percent each, although some can be 70 percent wheat). This produces a crisp, sweet, fruity but full-bodied beer.
The hefeweizen that I chose to sample—Magic Hat Brewery's Circus Boy Hefeweizen—is an American-style beer—refreshing, light and non-cloudy. Circus Boy is brewed with a note of organic lemon grass. Any wheat beer of your preference would work with this menu—pair it with grilled sausages served on a bed of onions and sweet peppers.
Hard cider is also a happy revelation for me, and I discovered that Woodchuck Hard Cider has a variety of summer brews. For a food pairing, I gravitated toward their Pear and Raspberry Ciders. Serve these, or a similar cider of your choice, with a roast chicken, topped with a matching fruit salsa or chutney.
These recipes make for easy-to-prepare warm-weather fare. The simplicity of the dishes and crispness of the beers make even a weekday night's cooking easy, special and bright.
Grilled Sausages served on a Bed of Onions and Sweet Peppers
1 pound sausage
1 medium onion
1 medium green bell pepper
1 tablespoon olive oil
Garlic clove, crushed
1/2 teaspoon fennel seeds
1 bottle Hefeweizen beer
My brother-in-law, David, provided me with this recipe. He is an incredible cook and griller and, yearly, helps cook sausages for the autumn Germanfest at his church in Gluckstadt.
Parboil one pound raw sausages in liquid—a half beer and half water mixture—until skin tightens, about 20 minutes. Be careful not to boil on high—keep temperature to a low boil.
Transfer sausages to a grill on indirect heat, turning once, and cook until a thermometer inserted reads 160 degrees Fahrenheit (about 20 minutes).
Meanwhile, on the stovetop, saute one medium sliced onion in the olive oil for five minutes. Add sliced green bell pepper and saute for three minutes. Add the fennel seeds, one crushed garlic clove and a splash of beer. Cover a cook for another two minutes.
Top pepper and onion mixture with the grilled sausages. You can also make it a sandwich by placing the ingredients inside heated rolls.
Serves two.
Roast Chicken served with Paired Salsa
Whole chicken
Salt and pepper
1 lemon
Garlic
Rosemary sprigs
This roast chicken is classically easy! Anoint a whole chicken with olive oil, sprinkle with salt and pepper, place a cluster of garlic, rosemary sprigs and half a lemon inside the cavity and roast (uncovered) at 400 degrees Fahrenheit for 15 minutes per pound plus 10 minutes.
Raspberry Salsa
1 cup fresh raspberries
1/8 cup sweet onion, chopped
3 teaspoons jalapeno pepper, finely chopped
1 small clove garlic, minced
1/4 cup fresh cilantro, chopped
1/2 teaspoon sugar
3 tablespoons fresh lime juice
Ginger-Pear Salsa
1 medium ripe pear, peeled, cored and chopped
1/2 sweet red pepper, chopped
1/2 fresh jalapeno pepper, seeded and finely chopped
1/8 cup of fresh parsley, chopped
1/2 tablespoon lime juice
1/2 teaspoon fresh ginger, peeled and minced
Salt to taste
Check In, Drink Up
The favorite smartphone app of many a beer aficionado, Untappd is useful for logging the beers you try, finding out more detail about them and seeing what your friends are drinking. Craig Hendry, Raise Your Pints president, says the app has its own social-media world, and Jackson has a big presence on Untappd. If you allow it to see your location, Untappd will also show you popular venues and highly ranked beers nearby.
Another useful app is called BJCP Styles. BJCP stands for Beer Judge Certification Program, and the app is helpful for learning about a beer style or a particular brew's defining details while you sip.
More stories by this author
Support our reporting -- Follow the MFP.