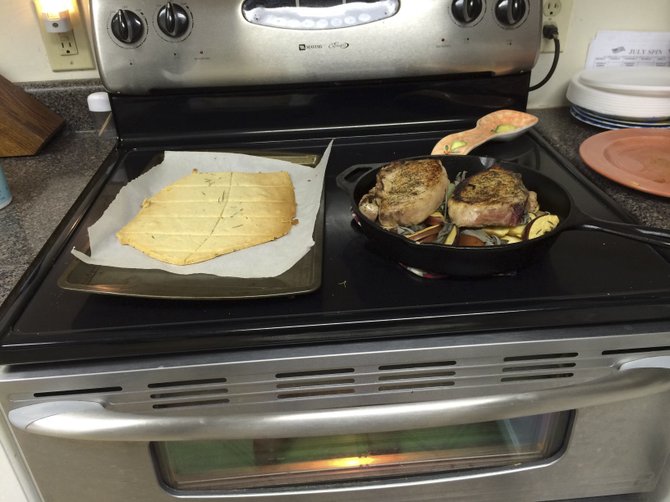 I finally feel as though I've found a good way to lose weight. As I've said before, I've tried everything, even just eating "healthy." The problem with that is that simply eating healthy has no structure. I'm not sure I know what it means, nor do I have the self-control to "simply" do it.
I finally had to call in the big guns and do something a little more risky, at least for my sanity—the Paleo lifestyle. If you've never heard of it, the idea is to eat more like our Paleolithic ancestors—no processed foods, no dairy, no grains. Think of it like this: You can only eat what is easily gathered or hunted in the wild. No, this is not the real diet of cavemen. We'd die from just eating a wild tomato if we really committed to the caveman lifestyle. The point of all of it is to eat cleaner.
Paleo might sound like the most restricting diet ever, and in some ways, it is. I can no longer eat milk chocolate, and sometimes I still want a sandwich.
But for every kind of food you can't have, you can have so many more. This is the only diet I've ever heard of that says you can eat (grass-fed) butter and (organic) bacon fat. Check the list to the right for all the foods you can eat. All things in moderation, of course, and it's imperative that you eat plenty of fruits and veggies, but the freedom is nice. And the online Paleo community is so big that if you're craving something un-Paleo, chances are, someone adapted it.
The biggest criticism is that it cuts out major food groups, which means you might hurt your calorie intake, but many experts say that if you operate on an 80/20 basis—80 percent healthy Paleo, 20 percent not—Paleo won't be as bad.
Believe me, the diet isn't for everyone. You have to watch the amount of unhealthy meats and fats you eat. And don't think that you won't have restrictions. Any major lifestyle change comes with repercussions, but if you feel like it's for you, you might see benefits. The key seems to be eating cleaner.
As always, do your research and consult your doctor before changing your diet. Amber Helsel is not a health professional.
You can't eat:
Any foods with ingredients that are hard to pronounce
Refined oils (like hydrogenated corn oil or soy bean oil)
Processed sugar
Dairy
Bread
Fried foods (most breading will be grain-based)
A lot of starchy veggies (though I will eat potatoes regularly, but that's my own preference)
You can eat:
Most veggies
Fruits
Grass-fed beef
Organic hormone-free pork
Cage-free chicken (and eggs)
Wild-caught fish and seafood
Unrefined, unprocessed fats (bacon fat, steak fat, butter, legume and grain-free oils)
Grain-free flour (such as almond and coconut)
Dark chocolate (check the dairy content)
Nuts and seeds
In-season Veggies and Fruits (for summer)
Veggies:
Chilis
Cucumbers
Eggplant
Garlic
Green beans
Okra
Tomatoes
Peppers
Fruits:
Apples
Avocados
Blackberries
Blueberries
Cantaloupe
Grapes
Limes
Melons
Source: "The Paleo Kitchen" by Juli Bauer and George Bryant (Victory Belt Publishing, 2014, $34.95)
Fruits and Veggies You Should Buy Organic
Apples
Strawberries
Grapes
Celery
Peaches
Spinach
Bell peppers
Nectarines
Cucumbers
Potatoes
Cherry tomatoes
Hot peppers
Summer squash
Source: "The Paleo Kitchen" by Juli Bauer and George Bryant (Victory Belt Publishing, 2014, $34.95)
Useful Tips
Don't feel guilty about eating something non-Paleo. Figure out how to fight against the craving and move on.
Snack. You're cutting out three food groups. It's important to snack frequently.
Drink lots of water. It helps with your skin and everything else.
Shop local. Generally speaking, locally based stores or stores that supply local products will have the best choice of fresh meats, fruits and veggies.
This diet allows cooking with fats like (organic) butter or bacon fat. But don't overdo!
Do research. I've found a lot of different places helpful with recipes and such. You might be able to find Mississippi-based farms who supply crops and meat to Jackson.
Sometimes gluten-free is your friend.Gluten-free doesn't always mean grain free, but if you're like me and constantly have cravings for toaster pastries and waffles, find some that are organic or gluten-free.
Helpful websites
nomnompaleo.com • marksdailyapple.com • everydaypaleo.com • nerdfitness.com
Support our reporting -- Follow the MFP.