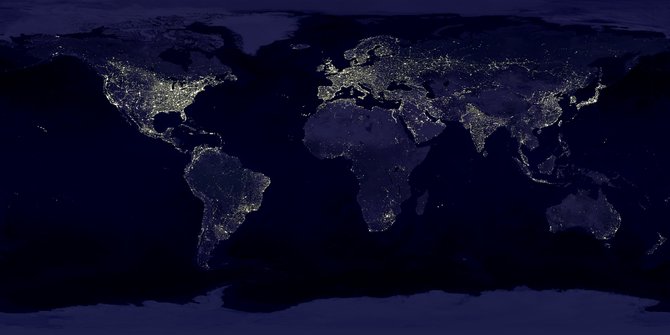 This story appeared on The Daily Climate.
Coverage of climate change issues jumped in 2013, fueled by reporting on energy issues—fracking, pipelines, oilsands—and a heavy dose of wacky weather worldwide.
The climb, 30 percent above 2012 levels, marks the end of a three-year slide in climate change coverage and is the first increase in worldwide reporting on the topic since 2009, based on analysis of The Daily Climate's aggregation database.
Last year The Daily Climate aggregated 24,000 news articles, opinions and editorials on climate change from "mainstream" media outlets globally. That's well above the 2012 low of 18,546 stories, but still below the highs from 2007 through 2009, when the Daily Climate aggregated an average of nearly 29,000 a year.
"The climate issue is not seen anymore as something that lives inside a green bubble," said David Sassoon, editor of the Pulitzer-prize winning news site Inside Climate News. More and more, he said, climate change "is intimately connected to every major energy and extreme weather story you'd care to look at. The dots are finally being connected more responsibly, something that's long overdue."
More Ink in 2013
Most major outlets gave climate and energy issues far more ink in 2013 than 2012: Bloomberg News was up 133 percent, the Globe and Mail doubled its reporting, USA Today boosted its effort 48 percent and stories in the Wall Street Journal, Sydney Morning Herald and the Financial Post each were up 40 percent, according to The Daily Climate's archives.
Of the world's news outlets, Reuters led the pack in climate change coverage, with almost 1,100 news stories. Associated Press was second, with 1,030, followed closely by The Guardian, with 1,025.
The New York Times, having dismantled its "green desk" in early 2013, was the only major publisher worldwide to see coverage drop in 2013, dipping 10 percent from 2012's level to 883.
The Daily Climate is an independent, foundation-funded news service that has aggregated climate coverage since 2007. The aggregation is meant to provide a broad sampling of the day's coverage, not a comprehensive list.
Niche Journalism
A growing universe of niche and mostly online publications such as Inside Climate also fueled the overall rise in climate coverage, media experts and the Daily Climate's database suggest.
"Our work infiltrated in ways we never dreamed of," Sassoon said. "I can't say that our work has had a big influence on the uptick in the raw number of climate stories. But it is pretty evident to us that we've changed the quality and the substance of the national discourse."
But that metric—how or whether the uptick in coverage has changed public opinion on climate change—is far more difficult to assess.
"When you look at public opinion data, it's still the nightly news, believe it or not. That's still the single biggest driver," said Robert Brulle, a social scientist at Drexel University who monitors climate coverage and has spent time plumbing the depths of the Daily Climate's archives.
Brulle's tracking of TV news shows climate coverage was stable last year, with nightly news at ABC, NBC and CBS airing 30 stories, compared to 29 in 2012.
Nightly News' Impact
Brulle also works with media watchers at the University of Colorado who track climate change coverage in major news newspapers worldwide. That team's data show a decline in coverage among the top five newspapers in the United States.
But those trackers, unlike The Daily Climate's aggregation, count a story only if the words "global warming" or "climate change" appear.
"So a story all about the politics of Keystone, or Bill McKibben (founder of 350.org) and his struggles with the White House, aren't going to show up in our search," Brulle said.
Those stories would be picked up by the Daily Climate's team of part-time researchers, who scour the web twice daily.
Drawing Links to Climate Change
On many fronts more reporters are drawing links among energy security, environmental impacts and a changing world—even if they don't use the term "climate change."
"It's a huge story," said Jeremy Schulman, senior project manager of Climate Desk, a collaboration of several media outlets including Mother Jones, the Atlantic, Wired and the Center for Investigative Reporting. "It goes beyond typical environmental stories.... You have national security, or sports or entertainment."
"It should be treated as the new baseline that affects all stories," he added, noting that Grist columnist David Roberts, in an August essay, called for climate change to be freed from the "straightjacket" of the environmental beat.
In some ways that's happening. Energy stories saw the biggest jump of any of the several categories The Daily Climate tracks. Oil infrastructure and pipeline safety became a key climate story in 2013, pushed by debates over fracking in the United States and Europe, development of Canada's vast oilsands deposits, Russia's push into the Arctic, coal plant emissions regulations and the increased demand for new pipelines.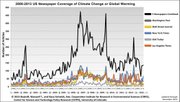 Driving the News
Inside Climate News' dogged reporting on the issue—and a subsequent Pulitzer for its coverage of a pipeline spill in Michigan involving an oilsands product called "diluted bitumen"—also forced more "mainstream" outlets to follow the issue.
The Daily Climate picked up 1,569 climate-related stories featuring the word "pipeline" in 2013, compared to 720 in 2012 and 423 in 2011.
Stories and op-eds about hydraulic fracturing, or "fracking," saw a similar spike, with 1,680 from 2013 in the Daily Climate's archive versus 629 in 2012.
Stories about the impacts of climate change also drove the trend, with reports on sea-level rise and extreme weather both more than 60 percent above 2012 numbers.
New Outlets
Further boosting climate coverage last year: Several climate- or environment-themed outlets launched or added staff in 2013. That reporting, often delivered to a specialized audience, is percolating into "mainstream" coverage, several journalists and media experts interviewed said.
The Climate Desk is one example. It doubled its full-time staff last year, to four journalists. Climate News Network is another, launched by four veteran newsmen in London earlier in 2013. The Daily Climate aggregated 234 stories from the two sites in 2013, though both published far more. Inside Climate had 166. E&E Publishing, a subscription-based service that increasingly offered its stories for free, had 926 via four publications the Daily Climate tracks: ClimateWire, Greenwire, EnergyWire and E&E Daily.
"The ecology of this whole field has changed," said Christopher Daly, a journalism professor at Boston University. "I don't think these kinds of sites were much of a factor until recently."
In the "legacy media" days of even just a few years ago, he added, a beat reporter covering the environment likely subscribed to a few specialized newsletters with nowhere near the reach or granularity a reporter can now find online.
Inside Climate News, by snagging the biggest prize in journalism for its coverage of pipeline safety, is the clearest example of how dogged attention to one issue can turn the national debate.
"These sites ... drive the more traditional outlets to cover those stories," said Kate Sheppard, a long-time environmental reporter and board member of the Society of Environmental Journalists who focuses on environment and energy at the Huffington Post. "It's not necessarily going to be front page on the New York Times every day, but it's a front-page story for plenty of people every day."
"And there are plenty of publications that put it on the front page every day."
Byline Counts
Another metric that jumped in 2013: The number of reporters or reporting teams covering the issue, according to our archives. More than 8,825 wrote about climate change last year. That's a 23 percent jump from 2012.
Byline counts are an imprecise and flawed way to measure a journalist's productivity. A ground-breaking investigation often requires weeks or even months of research and reporting. And many journalists post news on blogs, a format The Daily Climate aggregates sporadically.
Still, the number of journalists reporting intensely on the topic offers a yardstick against which the topic's importance can be judged. And that, too, shows a rebound.
The Daily Climate captured 30 or more stories over the course of the year from 82 reporters in 2013, more than 50 percent the number in 2012 and nearly matching the high seen in 2009. To make that list, a reporter would need to write an average of a story every 12 days, all year long.
Ben Geman of The Hill led the gang, with an astonishing 165 stories. Andrew Freedman of Climate Central, 2012's most prolific reporter, was runner-up with 161. That's almost a story every two days.
Consistently Prolific Reporters
Equally remarkable is the number of journalists who consistently produced 50 or more stories—one a week—for each of the past five years.
Fiona Harvey and Suzanne Goldenberg of The Guardian, Andrew Revkin and Matthew L. Wald of the New York Times, Alister Doyle of Reuters; David Biello of Scientific American, Juliet Eilperin of the Washington Post and Bryan Walsh of Time Magazine all belong to that club.
One important caveat: The Daily Climate does not pick up every story every reporter writes; some are considered too "bloggish," others too short, and others are missed, behind an Internet paywall or ignored in The Daily Climate's quest to offer a broad sampling of the day's climate news.
But below is a list of the most prolific reporters in The Daily Climate's archives, with affiliation and number of their stories The Daily Climate aggregated in 2013.
Journalist / Publication / Stories Aggregated in 2013
Ben Geman The Hill 165
Andrew Freedman Climate Central 162
Peter Hannam Fairfax Media 152
Jennifer A. Dlouhy Houston Chronicle 117
David J. Unger Christian Science Monitor 116
Suzanne Goldenberg The Guardian 113
Fiona Harvey The Guardian 113
Steve Curwood Living on Earth 101
Zack Colman The Hill 95
Bob Berwyn Summit County Citizens' Voice 92
Alister Doyle Reuters 87
David R. Baker San Francisco Chronicle 81
Andrew C. Revkin New York Times 79
Damian Carrington The Guardian 79
Ken Ward Jr. Charleston Gazette 78
Juliet Eilperin Washington Post 75
Tim Radford Climate News Network 73
Brad Plumer Washington Post 70
Matthew L. Wald New York Times 68
Neela Banerjee Los Angeles Times 67
Valerie Volcovici Reuters 67
Barbara Lewis Reuters 62
David Biello Scientific American 60
Pilita Clark Financial Times 60
Andrew Restuccia Politico 58
Tom Arup Melbourne Age 57
Mark Drajem Bloomberg News 57
Shawn McCarthy Globe and Mail 57
Matt McGrath BBC 56
Stephanie Paige Ogburn ClimateWire 56
Bryan Walsh Time Magazine 56
Darren Goode Politico 54
Evan Lehmann ClimateWire 52
Jean Chemnick Greenwire 52
Alex Kirby Climate News Network 51
Tom Bawden The Independent 50
Zain Shauk Houston Chronicle 49
Alex Morales Bloomberg News 48
Fred Pearce Freelance 48
Laura Barron-Lopez The Hill 47
Seth Borenstein Associated Press 47
Wendy Koch USA Today 47
Pete Spotts Christian Science Monitor 47
John Vidal The Guardian 47
Christopher Doering Gannett News Service 46
Michael Marshall New Scientist 46
James Bruggers Louisville Courier-Journal 45
Bobby Magill Climate Central 45
Lisa Friedman ClimateWire 43
Louise Gray The Telegraph 43
Mark Jaffe Denver Post 43
Tim McDonnell Climate Desk 43
Sandy Bauers Philadelphia Inquirer 42
Paul Brown Climate News Network 42
Nick Juliano E&E Daily 42
Oliver Milman The Guardian 42
Steven Mufson Washington Post 42
Elana Schor EnergyWire 42
Chris Mooney Climate Desk 41
Emily Pickrell Houston Chronicle 41
Ben Webster The Times of London 41
Kate Sheppard Huffington Post 40
Ben Cubby Sydney Morning Herald 38
Richard Harris National Public Radio 38
Michael D. Lemonick Climate Central 36
Roger Harrabin BBC 36
Dana Nuccitelli The Guardian 36
John M. Broder New York Times 35
Justin Gillis New York Times 35
Maria Gallucci Inside Climate News 34
Nina Chestney Reuters 33
Daniel Cusick ClimateWire 33
Lauren Morello Nature 33
Kieran Cooke Climate News Network 32
Graham Lloyd The Australian 32
Erica Martinson Politico 32
Lenore Taylor The Guardian 32
Elizabeth Harball ClimateWire 31
Julia Pyper ClimateWire 31
Joel Connelly Seattle Post-Intelligencer 30
Anne C. Mulkern ClimateWire 30
Ben Schiller Fast Company 30
Support our reporting -- Follow the MFP.