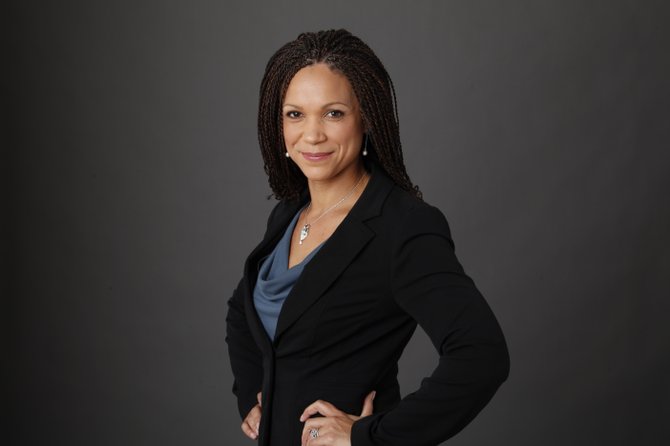 NEW YORK (AP) — Since MSNBC is in the political ring, its opponents are always on the lookout for things to attack. Lately, NBC's left-leaning cable news sister has offered plenty of ammunition.
MSNBC fired a staff member last week for an offensive tweet after top Republicans began talking about refusing to appear on the network. It was fourth in a string of apologies by people who've gone too far with their words, leading to questions about whether the incidents reveal a systemic problem.
"It's one thing to make (mistakes) a few times in a row. That's bad luck," said Tom Rosenstiel, executive director of the American Press Institute. "But if you keep doing it after you've acknowledged it, that suggests a blind spot."
The provocative or profane can be a fine line, particularly when appealing to an opinionated fan base that cheers a hard hit on a rival.
MSNBC President Phil Griffin moved quickly to contain any damage following the latest incident, where a message on the network's Twitter feed suggested the right wing would hate a Cheerios ad featuring a biracial couple. "With increasing frequency many of your hosts have personally denigrated and demeaned Americans—especially conservative and Republican Americans—without ever attempting to further meaningful political dialogue," GOP National Committee Chairman Reince Priebus wrote to him.
Griffin apologized to Priebus, who backed off his threat not to appear on MSNBC programs and to encourage other Republicans to do the same.
The other incidences differed in degrees and targets. In November, Alec Baldwin apologized and subsequently quit for something that wasn't even on MSNBC's air: He was accused of using an anti-gay slur in a New York City street confrontation. But for the language involved, the timing may have been opportune; Baldwin's weekly program was a ratings dud.
Shortly after, afternoon host Martin Bashir apologized for an on-air suggestion that someone should defecate in former Alaska Gov. Sarah Palin's mouth. After a week of not addressing the incident publicly, MSNBC accepted Bashir's resignation.
Melissa Harris-Perry apologized after Mitt Romney's family Christmas card, which showed the Republican's adopted, African-American grandson, was joked about on her show. She said she meant to praise the family's inclusion, but the message went awry with her panelists' sarcasm.
"MSNBC got the wrong message from its Keith Olbermann experience," Paul Levinson, communications professor at Fordham University, said of the anchor whose intense anti-GOP commentaries set MSNBC on its new path before his relationship with management soured. "You had somebody who was very charismatic and galvanizing and they thought it was OK basically to let anybody say whatever they want."
Griffin, who declined comment through a spokeswoman, has quietly put the word out to hosts to avoid personal attacks. Rachel Maddow's meticulous, fact-based criticisms of conservatives is looked upon as the network's model.
In an interview with The Daily Beast, he promised transparency. "If you make a mistake, you've got to address it, and we've done that throughout all the last six years that I've been here," he said.
Griffin's a survivor, one of a dwindling number of top NBC Universal executives who predate the company's takeover by Comcast Corp. He's succeeded by establishing MSNBC's identity as a liberal alternative to industry leader Fox News Channel.
A traditional post-presidential election hangover hurt MSNBC, with viewership dropping 29 percent between 2012 and 2013, the Nielsen company said. The network, particularly Maddow, showed signs of life with its attention paid to the New Jersey Gov. Chris Christie bridge story, hinting at better days when politics becomes a bigger story.
Financially, the picture is much brighter as new deals with cable and satellite companies have taken effect over the past few years. As opposed to years when the network struggled for direction, its current identity makes it essential to more customers, and NBC Universal can charge higher prices.
There's some feeling within MSNBC, and among its fans, that the network's personalities are held to a higher standard than people at Fox News.
To a large extent, that's driven by the relationship with NBC News. Some viewers make little distinction between the two, particularly when NBC News personalities like Andrea Mitchell and Chuck Todd have regular programs on MSNBC, and NBC is sometimes held culpable for MSNBC's sins.
"If you're going to be a news organization, I think you probably need a little more self-control than the MSNBC commentators have," Levinson said. "I think it does reflect badly on NBC."
Comcast's move to separate MSNBC and NBC News, at least on a corporate level, has become more apparent within the past year. New NBC News President Deborah Turness makes it clear she has nothing to do with MSNBC. Griffin has said that a post-Olympics lineup change at MSNBC will bring greater clarity to the lineup by bunching the news-oriented shows earlier in the day before a turn toward opinion with Ronan Farrow's new show starting at 1 p.m. Eastern.
"All prominent news organizations have bumps like this," Rosenstiel said. "The real question is, are the corrections perceived as sincere and honest? More importantly, does the audience believe that you have learned something ... from your mistakes?"
Copyright Associated Press. All rights reserved. This material may not be published, broadcast, rewritten, or redistributed.
Support our reporting -- Follow the MFP.