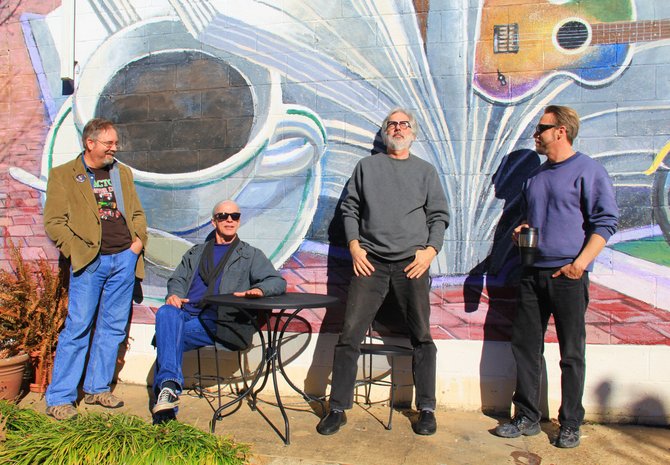 On the outskirts of Jackson, four Clinton artists meet on Sundays in routine salons, of the renaissance variety, to discuss paintings, process and, more often than not, obscure popular culture. This gathering of Wyatt Waters, Ron Lindsey, Sam Biebers and Paul Fayard, who have carved out their own creative enclave, differs only in that it lacks a Parisian locale and occurs instead in the corner of a Starbucks in western Hinds County.
The artwork of these four will be on view under one roof for the first time from Feb. 6 through 21 at The Cedars in Fondren. The exhibition, "The Artists of Clinton," is the first in the 2014 "Four Seasons of The Cedars Visual and Performing Arts Series," presented by Fondren Renaissance and curated by Jackson oil painter Jerrod Partridge.
These artists, friends as much as colleagues, describe their loose association as everything from the Four Mules (rather than horsemen) to the Brick Street Bastards (on one Sunday after coffee, they recreated a bastardized version of The Beatles' infamous street-crossing album-cover-shoot and dubbed it, with jocundity, Crabby Road).
While they paint very different subjects using varied media and techniques, they are connected by an ethos of humility and their charmingly cynical, yet lighthearted worldview. Each of them has also studied under respected Mississippi College art professor Dr. Sam Gore, deepening further their connections to Clinton.
"Being able to know these guys and paint with them really is the art-spirit in action," Fayard said. "I've never had that before. I really do feel like this is a brotherhood."
"It's a real honor for me," echoed Biebers, "because I feel like I'm in the show with big brothers—people that I've always admired and respected, and from whom I've learned a lot."
In fact, it may be less like a French salon after all and more like a Mississippi deer camp. Less blood and bullets, but the same camaraderie that hunting clubs have long fostered. They substitute shushed tones of midnight conversation for the vibrant cadence of morning coffee, swapping liquor for lattes, cardigans in lieu of camo. Making art is, after all, a hunt for meaning and expression, and each of these four artists has found his own path.
Biebers' inspiration comes from the natural world. He spoke of the memory of walking, as a child, atop the dry leaves of fall and the rich experience of their crackle under foot. One of his paintings in the exhibition is a focused interpretation of a single leaf on canvas, embodied with his own empiricism.
Fayard's newest paintings include a depiction of fellow artist Ron Lindsey at work, surrounded by a backdrop of studio portraits. It is entitled "Headhunter." Fayard, in addition to being a working artist, is an employee of The Wolfe Studio, the respected and hallowed artist compound created long ago by Jackson artists Karl and Mildred Wolfe.
"There's a great Karl Wolfe quote," Fayard said, "where he says that what people want from an artist is their soul. You can't take somebody else's heart and apply that to your work. It has to come from within. I do work that has a resonance to me, and hopefully that comes through to somebody else, too."
Lindsey himself, beginning as a teenager, was apprentice and friend to Karl and Mildred, and that has greatly shaped his artistic journey. "Mildred said every square inch of the canvas should be interesting," Lindsey said. "And that's one of the things that's stuck with me."
Especially compelling in the show are portraits Lindsey has done of clients at the Mississippi State Hospital, where he teaches art. He has lived in Clinton longer than any of the four, having moved there in 1962, when, as he said, "the roads were not even paved." Not longer after, in 1970, Clinton's resident mascot Wyatt Waters joined him.
Waters is coming off a recent exhibition of impressive Italian watercolors, but this show with his friends has special meaning even in the shadow of his most recent body of work. It allows him to paint free of expectation. "I've done a lot of themed shows," Waters said. "This is not going to be like that. This is just going to be about the four of us. I like the freedom it gives me, because I can do things I like that I might not have shown before."
One morning, as he is apt to do, Wyatt Waters pulled forth from his catalogue of references a song by Pierce Pettis and offered it up for conversation. "He wrote this song called 'Chase the Buffalo,'" Waters said. "It went something like: 'Indians of long ago / Followed after buffalo / They found a use for every part / Everything except his heart.'"
For these artists, every bit of their body of creativity finds purpose. Making art is for sport and enjoyment, sure, but it is also a way of life. And the act of painting is a rite in itself. Clinton being unmistakably a Baptist town, it's perhaps appropriate to think of the paint smeared on their fingers and across their denim as a baptismal stain of sorts. Through it comes a specific type of artistic communion: watercolors turned into wine, canvasses anointed with oils and acrylics. 
 Ultimately, the source of inspiration for each is the wild and individualized creativity, made tame and encapsulated into finished work, preserved in pigment, a taxidermic trophy of the hunt, mounted on the wall for all to see. 
"The Artists of Clinton" runs Feb. 6-21 at The Cedars (4145 Old Canton Road, 601-366-5552). The free opening reception Thursday, Feb 6., 5-8 p.m.
More like this story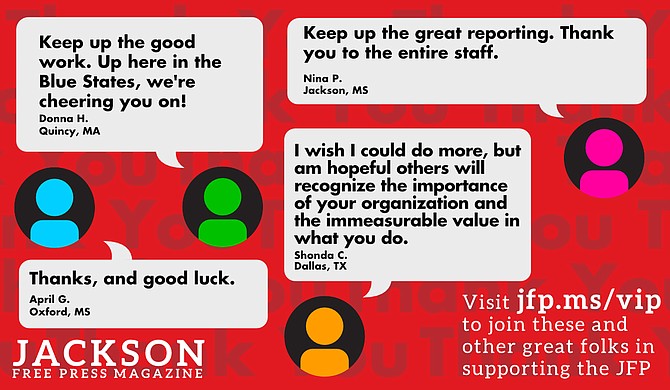 Thanks to all our new JFP VIPs!
COVID-19 has closed down the main sources of the JFP's revenue -- concerts, festivals, fundraisers, restaurants and bars. If everyone reading this article gives $5 or more, we should be able to continue publishing through the crisis. Please pay what you can to keep us reporting and publishing.