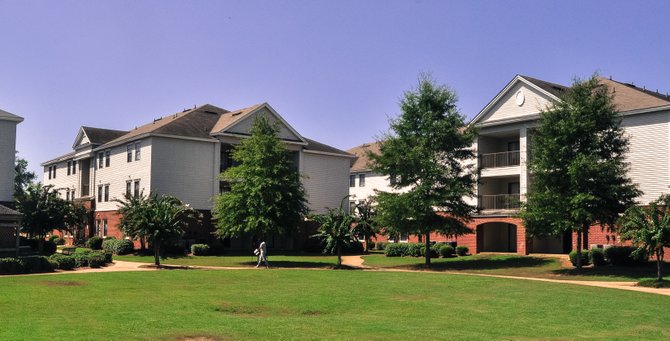 JACKSON, Miss. (AP) — Jackson State University will lease a 444-bed apartment complex next to its campus, with hopes of buying it later to accommodate increasing enrollment.
The College Board approved plans Thursday for JSU to lease the Palisades apartments, spending as much as $1.9 million. The university has an option for a second year, but JSU President Carolyn Meyers said the university hopes by then to buy the complex, which adjoins the southwest corner of the school's campus.
Trustee Ed Blakeslee urged university leaders to move ahead with plans for a permanent facility to accommodate the increasing numbers of students.
"This is a good problem to have, but you don't want to have it for a long time," Blakeslee said.
Last year, JSU began leasing a 240-bed motel near the Mississippi State Fairgrounds. JSU will retain that motel this year, and is pursuing plans to build a new 628-bed housing complex, a 650-seat dining hall and a conference center. That complex was projected to cost $47.3 million when the College Board approved it. Meyers said it would probably be two to three years before students could start moving into that complex, though.
The agreement with Redus Mississippi LLC, a subsidiary of Wells Fargo & Co., calls for a lease payment of $869,000 and a $1.094 million reserve to make repairs agreed to by the university and Redus. It's not clear how much of that maintenance reserve will be spent. The university procured an opinion from a financial advisory firm stating the rent does not exceed fair-market value.
Jackson State says it plans to finance the deal using revenue from housing payments.
Because some apartments are leased, only 290 beds would be available immediately. JSU President Carolyn Meyers says JSU could still be as many as 64 beds short of housing this fall, even after leasing the Palisades.
Meyers said the projection that the school could still need more housing after renting the apartments would only be true if enrollment was at the top of the projection range.
"If we're 60 beds short, we're going to have some temporary arrangements to make."
Wells Fargo took over the property after foreclosing on a previous owner in 2012. Hinds County tax records value the complex at $6.1 million.
Copyright Associated Press. All rights reserved. This material may not be published, broadcast, rewritten, or redistributed.