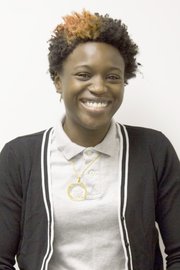 Editor's Note: The following column is a response to both a column by Ole Miss student Tim Abram about the Kappa Alpha "Old South" celebration and a response back to him by an Ole Miss law student (jfp.ms/enough_already). Both pieces ran in the Daily Mississippian, and the JFP reprinted Abram's piece online last week at jfp.ms/oldsouth. Both pieces are causing debate on the state's college campuses. This response is by a Mississippi State student.
In 2014, it's sometimes difficult to believe that individuals still exist who do not see the offensiveness of the Confederate flag and celebrating the "Old South" culture.
To begin, to even refer to an "Old South" culture admits that a change in society affected the economy, language, arts and the region altogether. The Civil War officially marked the end of the "Old South" culture. It's easy for some apologists to deny that the Civil War was about slavery, but let's try to be honest. To remove slavery from the "Old South" would affect the economy, societal norms, language and more, which are factors that define culture.
The "Old South" culture had a striving economy that depended on agriculture cultivated by slaves or sharecropping. The societal etiquette allowed minimal interaction between races, and whoever had fairer skin was superior when they had to interact. Women were expected to be submissive and reserved, while "gentlemen" were expected to dominate every situation.
Once slavery was forbidden, blacks had to be referred to as "freedmen," their labor had to be paid for or bartered, and efforts for equality began even though it took decades to see success. The Confederate flag is a reminder of the economy and way of life during the "Old South." We admit that burning a cross is offensive in spite of the fact that the Ku Klux Klan tries to deny that there are any racist connotations to it.
I quickly came to the conclusion that Ole Miss and Oxford wasn't a culture I would fit into because of my skin tone. I visited the campus and learned the history behind the college. I blame that on the systematic racism that built the south because, even just a few years ago at age 14, I still witnessed and suffered from racism at a great rate while growing up in Mississippi.
Yes, racism still does exist in spite of President Obama's re-election. It was so engrained in the southern culture because slave labor fueled the economy, etiquette and even day-to-day activities. So when people started challenging these social norms, Jim Crow laws and the Ku Klux Klan sprang up as a reaction to Reconstruction and perpetuated the inequality through systematic oppression and intimidation. Once northerners left the South, blacks were left behind like young victims in a playground of bullies.
Those who haven't visited the South or know little of the region may not understand why progress is still limited. Movies like "Gone With the Wind" gave outsiders a romanticized peek into the culture. Footage of abuse from the Civil Rights Movement aided protestors in their effort to spread the message to gain support. Although film does entertain, it also reveals truth and offers insight. Media can do the same.
I admit that I released a sigh of exhaustion when I read an article about Ole Miss students harassing black students after the 2012 election and was disgusted when I heard of the James Meredith statue desecration. I was ashamed that Mississippi would receive another blemish on its racial record—but I was not fully surprised.
It will take time to see progress. Even though the system has changed, the southern culture is still taking time to evolve. Full evolution of culture and positive interaction and interpretation between races won't be successful until all Mississippians face, with empathy, the continuing state of many race relations within the state, as well as historic implications of celebrating the "Old South" culture.
Until then, we'll continue to be the state shaped like a human face with problems with actual human interaction.
Mississippi State student Ariel Terrell is an Arizona native who has lived in Mississippi for more than 10 years. She graduated from Mississippi School of the Arts, where she studied theater, and made a documentary "Dark Horse Mississippi." She is a student journalist and videographer for the Starkville Free Press.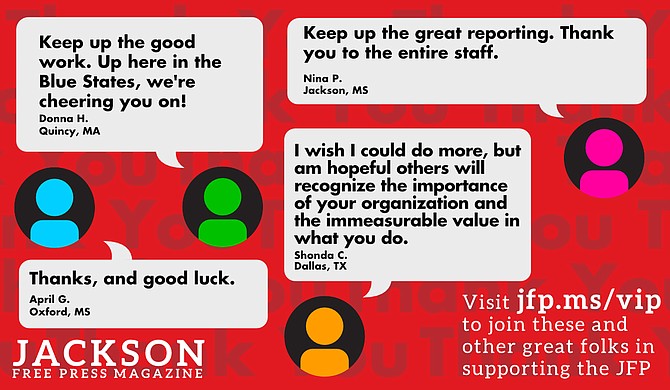 Thanks to all our new JFP VIPs!
COVID-19 has closed down the main sources of the JFP's revenue -- concerts, festivals, fundraisers, restaurants and bars. If everyone reading this article gives $5 or more, we should be able to continue publishing through the crisis. Please pay what you can to keep us reporting and publishing.