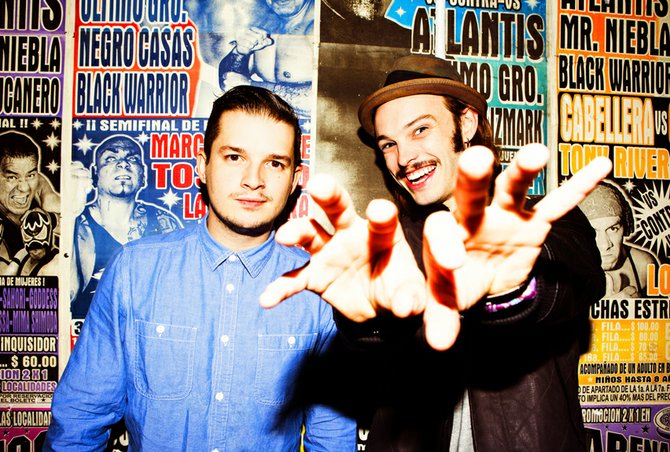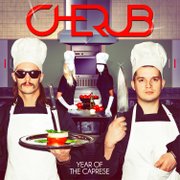 At a first listen of Nashville-based duo Cherub, you might classify the music as mere laptop-generated bass and electronic synths. Even under such an assumption, though, listeners must recognize and acknowledge Cherub's super catchy groove and infectiously appealing falsetto-driven vocals. That first small listen, however, doesn't even scratch the surface of the duo's musicianship.
In interview after interview, the guys of Cherub—producer-guitarist-vocalist Jason Huber and singer-songwriter-guitarist Jordan Kelley—disprove any theories of them being anything less than talented musicians.
"We do actually play instruments," Kelley told the Jackson Free Press via phone. Both Kelley and Huber play guitar, bass and drums, and they both sing.
"In the studio, we actually write and perform everything as well. So we are musicians and instrumentalists," Kelley says.
In the studio, they use lots of electronic instruments such as keyboards and drum machines. "We use the electronic elements as a way to bring the things that we do in the studio to the stage without having to hire a bunch of other musicians to do it. It's what we both went to school to learn to do. We decided to take everything we learned and put it to good use."
Huber and Kelley met about eight years ago in Nashville at Middle Tennessee State University where they both were pursuing music business degrees. Kelley grew up in Lincoln, Neb., and Huber is from Durham, N.C.
"So Jason's kind of a country boy, and I'm like a corn-shuckin' midwestern boy," Kelley jokes. The two guys have a quirky and humorous rapport between them, and make it obvious that, while serious about their music, they still want to have fun. "We're just like some good ole boys. We just like to write music and have a good ole time."
The duo performed its first show as Cherub in late 2010, and Columbia Records will release its third full-length album May 27.
"It's our major-label debut with Columbia, so we're pretty stoked for that," Kelley says about "Year of the Caprese." "It should be a change of pace, and we're really excited that we'll be able to put it out internationally; this is the first time we've gotten to do that. We're stoked about everything, it should be pretty badass."
"Year of The Caprese" will include the duo's biggest hit so far, "Doses & Mimosas." It was No. 1 on Hype Machine's "Most Talked About Songs" list, and USA Today named it as one of 2014's possible first big hits.
According to Huber and Kelley, the title of the upcoming album doesn't have much of a deeper hidden meaning.
"We just started eating a lot of caprese salads, and then we started making it a thing," Kelley says.
"(We'd say) caprese instead of crazy and all this sort of sh*t. And then things just got real caprese. So we were like, 'You know what? Let's just name the album this. Because I want to remember this moment of my life forever.'"
One might say that caprese is a testament to the duo's love of living and the crazy—or caprese—ride so far. "It's all been pretty caprese," Huber says.
It also, in a way, describes Cherub's music. The easy way to label Cherub would be simply as an electro-pop duo. But simple things can reveal depth and subtlety.
"Caprese is real simple," Huber says. "When you put it together, there's not much to it. But when you bite into it, it bursts with flavor in your mouth."
Similarly, Cherub's simple electro-pop songs are layered with sonorous textures, from guitar riffs and bass grooves to pumped-up synths and octaves of multiplied falsetto voices. "MoM & DaD," the duo's February 2012 full-length album, has obvious mixed influences.
"They range everywhere from metal to R&B to old '80s and '70s stuff," Kelley says. "It varies from thing to thing, but we definitely listen to a broad range of music. I know when you ask someone what kind of music they listen to and they say, 'All kinds,' it's kind of lame, but that really is the case for us. We listen to a lot of genres. We don't care about genre actually."
Perhaps it's that disregard for genre that allows Huber and Kelley to create such distinct-sounding music. In a way, they are creating a brand for themselves, and they have a plan to keep it going.
"We just like putting out as much music as possible for people," Huber says. "We love to share music, and we don't like to have to sit on it."
In the three and a half years since playing its first live show, Cherub has released two full-length albums—its debut "Man of the Hour" in 2011 and then "MoM & DaD" in 2012; and two EPs, "100 Bottles" in March 2013 and "Antipasto" in December.
"We get antsy," Kelley says. "A lot of times when you make a whole album, it can take like a year or even more. So we put out EPs between albums. It's good because people can get new music and not have to wait forever, and also we're not making music and then sitting on it and moving on to new music and then releasing it."
Apart from Cherub's most-heard singles, "XOXO" and "Doses & Mimosas," one example of Cherub's style, both lyrically and musically, is the sixth track of "MoM & DaD," called "Monogamy."
"Monogamy is not for me. I want to do whatever I please. Dirty deeds and sinful things. Get down on your hands and knees," the duo sings during the chorus.
The sound and style of "Monogamy" seem to take hints from both recent electro-pop successes and the early '80s Prince sound. Without being as overtly explicit as Prince might have been with such a topic—but still making the message blatantly clear—Cherub tackles the question of commitment honestly and head on.
"Shallow thoughts and empty hearts; how can you find the right fit? You just can't, you just can't so ...," they sing at the end of the song's first verse, leading straight into the chorus. While many of Cherub's songs, such as this one, have clear sexual overtones, the duo excels at presenting the material in a less offensive-sounding manner. And while many of the songs sound upbeat with lyrics seemingly inspired by parties, sex and drugs, they actually hint at undertones of sadness.
"Most of the things that I write about come from living in life and people," Kelley says.
"I definitely hope that the songs that I write will link with someone else and make them feel the same way I do when I'm writing. That's always a goal with the songs."
Between the catchy and sometimes shocking lyrics and the danceable R&B-meets-synth-pop sounds, the members of Cherub are able to do exactly what they love.
"We make (our music) first and foremost because it's what we enjoy and it's what inspires us," Kelley says.
"And the fact that other people dig it—that's just cool. We play it every single night, so if we don't dig it, then we'd end up going crazy. It makes us very excited to make it, and hopefully it does the same for the people who listen to it. And so far, it's been good."
Cherub performs at 9 p.m. April 23 at Hal & Mal's (200 S. Commerce St., 601-948-0888). Los Angeles-based electro-pop band Carousel and hip-hop artist ProbCause also perform. Doors open at 8 p.m., and admission is $12 in advance and $15 at the door. Those under 21 pay a $3 surcharge. For tickets, visit ardenland.net, and for music, visit cherublamusica.com.
More like this story
More stories by this author