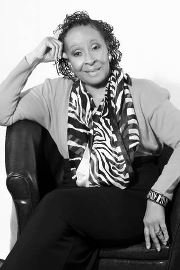 "For a person who has been everywhere, now I have a focus," Wilma Mosley Clopton says.
That focus for Clopton involves chronicling the African American story in Mississippi through the medium of film, reaching deeper into the community to find the "people, who are everyday people, that have done magnificent things." And Clopton really has been "everywhere": She studied psychology, education, and marketing; owned her own public relations firm; taught GED courses; served as a wholesale foods distributor; and now serves as the president of the Susan G. Komen Foundation (a survivor of breast cancer herself). Now she adds filmmaker, local historian, and documentarian to her list of professional endeavors.
A Vicksburg native, Clopton was reared in Jackson. After graduating from Jim Hill High School, she spent a long period of time away from Mississippi because of college, marriage (to husband, Lt. Col. William Clopton) and career, but she's been back home for the past decade.
Clopton returned to Jackson in 2004 to continue her mother's vision of vitalizing interest in African American history, and has done so through a film company, NMHS Unlimited Film Productions, working with her mother's organization, The Negro in Mississippi Historical Society.
"When my mother passed, I had made a promise to return to Mississippi and continue her work," Clopton says. "I had to figure out how best to do that. For me, film was the best interpretation of her company (NMHS) at this point of time."
Clopton's mother, Dr. Jessie Bryant Mosley, founded NMHS in the 1940s when she discovered that many Mississippians were not familiar with the contributions that African Americans made to the state.
Like her mother, Clopton focuses on Mississippi African American history and has created several documentaries featuring people such as Charles Evers (in "Through My Brother's Eyes" which focuses on his relationship with his younger brother, slain civil rights leader Medgar Evers) and Dr. Ollye Brown Shirley (the subject of "In Spite of It All"). Clopton recently completed a documentary that looks at the roles that Mississippi's people of African descent played during the Civil War, rediscovering the more than 17,000 individuals who have often been overlooked by historians.
The filmmaker takes an interactive approach to filmmaking, combining educational supplements that give the audience a wider perspective and a chance to participate in the slices of history that they see on the screen.
"With each of my films, I write publications to go with the film," Clopton says. "Rather than being a stand-alone film, we also use the books to teach math, language arts, geography and other subjects."
The documentarian has been successful in integrating these learning tools into classrooms to go alongside her films and expresses the need to keep incorporating interactive techniques with film to draw audiences closer to the subject.
Although Clopton's filmmaking craft is largely self-taught, she credits the non-profit organization Barefoot Workshops for helping her find the narrative rhythm of her stories to engages an audience. On Sept. 27, Clopton, in collaboration with Barefoot Workshops, the Mississippi Film Commission and the Mississippi Arts Commission, will provide a workshop for interested Mississippi filmmakers. Clopton will be speaking on the importance of honing the filmmaking craft and the need to be close to other creative talents when pursuing filmmaking.
When she can find the time and resources, Clopton has an infinite number of stories that she's in the process of pursuing. Those projects include a film on the 1940s Lanier bus boycott, a biopic on Senator Henry J. Kirksey and a historical documentary on the historic Farish Street community in downtown Jackson.
Clopton acknowledges that she won't be able to tell all the stories that she comes across, but that doesn't prevent her from trying. She's constantly improving her craft, and the next story is always the one that brings her happiness.
"I feel very humble for the people that share their stories with me," Clopton says. "That's a gift for people to tell their stories ... and if you sit down and talk with individuals, most people would realize that they have more in common than they believe. I guess that's really what I'm trying to do with film."
The day-long Mississippi Arts Commission (MAC) a workshop inlcudes open Q&A sessions and training to support artists who are considering applying for the MAC Artist Fellowship in the category of Media Arts (application deadline is March 3, 2014.) The workshop is from 10 a.m. to 4 p.m. on Friday, Sept. 27 in Room 145 of the Woolfolk State Office Building (501 N. West St.). The workshop is free, but registration is required in advance. To register, email Susan Liles at [email protected]
Support our reporting -- Become a JFP VIP.
The news business has changed dramatically in the past year, and we need your help more than ever to keep bringing you important stories about Jackson and the Metro. Become a JFP VIP with an annual membership or you can Sign up as a monthly supporter. Thanks for anything you can do to empower our journalism!