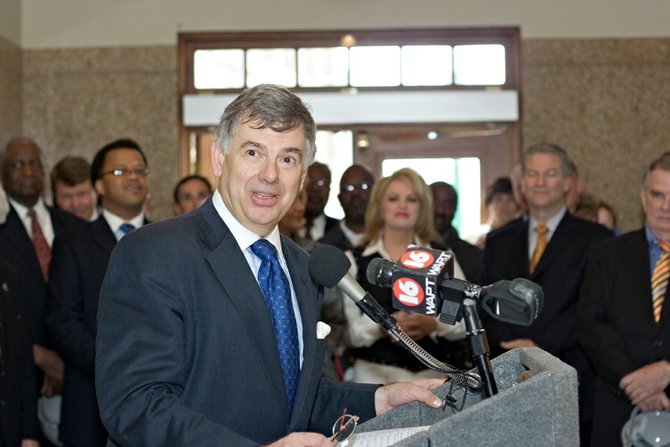 JACKSON — Mississippi Secretary of State Delbert Hosemann is investigating whether developer David Watkins fraudulently financed a Meridian development with bond money allocated for redevelopment in Metrocenter Mall.
Watkins testified Tuesday in proceedings related to his dealings with Retro Metro LLC at the Mississippi Secretary of State's office. At issue is Watkins' decision to move over half a million dollars directly from Retro Metro LLC's account on April 12, 2011, into the account of Meridian Law Enforcement Center LLC while he was a manager of both companies.
He denied any wrongdoing in the transaction. "Absolutely not," he said.
The secretary of state is investigating whether the alleged transfer of money between Retro Metro to MLEC is tantamount to securities fraud. The central question seems to be why Watkins moved the money and whether it was an illegal transaction.
Watkins formed Retro Metro LLC in August 2010, along with partners including Socrates Garrett and Leroy Walker, to renovate the former Belk building in Metrocenter Mall. But Walker announced that Watkins had resigned from Retro Metro in 2012 after it surfaced that he was facing lawsuits from subcontractors who he allegedly had not paid for work in Metrocenter. (He is still listed, however, on the secretary of state's website as a director.)
During the same period of time that he was pursuing the Retro Metro project, Watkins formed Meridian Law Enforcement Center LLC, in Meridian in April 2011 to redevelop an old Cowboy Maloney building on 22nd Avenue into a new police station at an estimated cost of $9.2 million. The Meridian Star reported then that the project was being financed through Watkins Development LLC and Citizens National Bank in Meridian.
However, that project fell into controversy after work began in May 2012 but then stalled, with Watkins saying he was waiting for new market tax credits to help pay for the development due to problems with coordination of the various entities involved with the credits. Watkins is the only officer listed on the secretary of state's site for that group.
In June 2012, the Meridian City Council decided to re-examine the lease with Meridian Law Enforcement Center LLC, deciding to hold rental funds for the building, scheduled to be paid to Watkins' group, in escrow until the work was done. Watkins had originally started planning the project in Meridian in 2010, according to The Meridian Star, for a $10,000-a-month consulting fee that would be automatically renewed each year "for a number of years," the agreement stated. But the city council and Watkins agreed in 2012 to reduce the fee to be paid to him to $1—to keep him "on line" with the city, Ward 1 Councilman George Thomas said then.
At the hearing today, Watkins attorney Brad Pigott, a former U.S. attorney, asked Watkins about a $5.1 million bond that the Mississippi Business Finance Corporation* issued to Retro Metro for renovations in Metrocenter.
Watkins denied that he had planned to use money from the bond for the Meridian project. "I had all kinds of ways—getting loans, paying cash from my own reserves," Watkins said. "There were multiple ways I could have come up with the money."
During Pigott's questioning, Watkins stressed that he was wearing multiple development hats at the time of the transfer. When he moved the money from Retro Metro to a different company, he said, he was simply settling the debts of Retro Metro as a manager, and he was in a time crunch to deposit money into the MLEC account.
Watkins assured Pigott that entities owed him more money than he needed to send to Meridian. "Retro Metro was one of the entities that owed me a lot more than $587,000," Watkins said.
During Watkins' testimony, Pigott asked him about the timeline of events in an attempt to show that Watkins could not have foreseen the necessity for money for the Meridian project when he closed on the bond to renovate parts of Metrocenter Mall.
The developer emphasized that he was pulled a lot of directions at the time. "We were very busy," Watkins said. "We had dozens and dozens of projects we were working on. Meridian was only one of them. We had multiple projects we were working on. We had a housing redevelopment (and) a hotel in the Fondren area called Whitney Place. We were looking at turning the Mississippi Valley Title building into a hotel. We were trying to talk the Jackson Public Schools into relocating all of their public offices to Metrocenter, and w were looking at redeveloping property on State Street near the new federal courthouse."
The secretary of state's investigation of Watkins is just one more layer in the mounting controversy roiling around him. The Jackson Free Press has reported in recent weeks that the Jackson Redevelopment Authority fired Watkins from the Farish Street Entertainment District project, and that Watkins and the JRA are suing each other over the controvery.
The hearing went to recess at 5:30 p.m., and will resume Wednesday morning at 9 a.m. Watch the JFP website and @tylercleveland and @jxnfreepress for updates.
*CORRECTION ADDED ABOVE: On the evening that the JFP broke this story, reporter Tyler Cleveland interpreted attorney Brad Pigott on the recording saying that "MDOC" issued the bond. It is corrected above, based on Mississippi secretary of state documents.
Support our reporting -- Become a JFP VIP.
The news business has changed dramatically in the past year, and we need your help more than ever to keep bringing you important stories about Jackson and the Metro. Become a JFP VIP with an annual membership or you can Sign up as a monthly supporter. Thanks for anything you can do to empower our journalism!