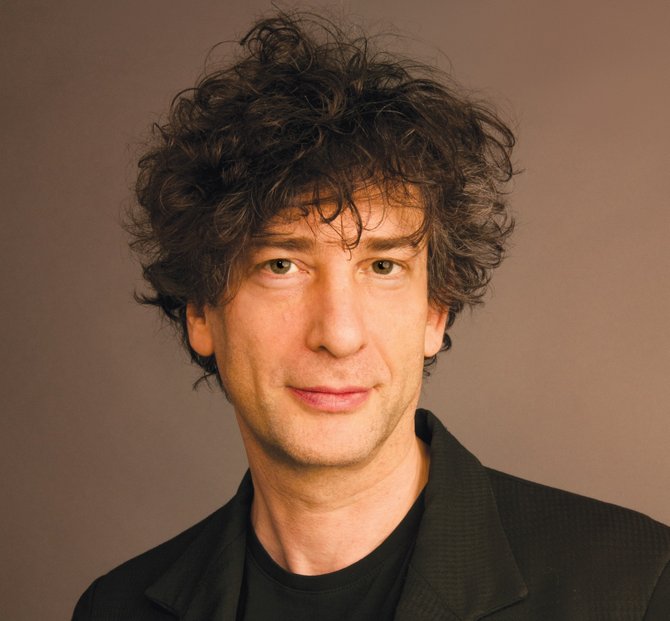 The classic trick-or-treat song wouldn't feel the same if you replaced "give me something good to eat" with "give me something good to read." Because it's all about the candy, right? For science-fiction and fantasy author Neil Gaiman, it's not.
In 2010, Gaiman started giving scary books instead of treats on Halloween—a tradition he calls All Hallows Read—as a ploy to get children to read.
He recommends that participators in the event say the following to trick-or-treaters: "'Take it. Read it. Trust me... around here... a book can be... safer than candy.'" Then he says to, "chuckle to yourself, as if remembering something unfortunate that happened to some of the local children only last year."
Though a lot of kids may not like this tradition, it could play in parents' favors, because instead of the tons of candy that lead to many trips to the dentist, kids get a scary book that sparks their imagination—and possibly their inner fears.
You can trace the tradition to a blog post where Gaiman pondered what Halloween would be like if it was a book-giving holiday. Of course, he insists that participators give trick-or-treaters scary books they can handle, and even has a list of recommendations.
For more, visit allhallowsread.com.
Neil Gaiman's All Hallows Read recommendations:
For younger readers:
"The Eyes of the Dragon" by Stephen King (Signet, 1987, $7.99)
"Goosebumps" by R.L. Stein (multiple books, Scholastic)
"The Halloween Tree" by Ray Bradbury (Yearling, 1999, $5.99)
"The Witches" by Roald Dahl (Puffin, 2007, $6.99)
"Scary Stories to Tell in the Dark" by Alvin Schwartz (Scholastic, 1989, $5.39)
For teen and adult readers:
"The Shining" by Stephen King (Anchor, 2012 reprint, $7.99)
"The Magic Cottage" by James Herbert (Onyx, 1988, $7.75)
"The Woman in Black" by Susan Hill (Vintage, 2012 reprint, $14)
"The Exorcist" by William Peter Blatty (Harper, 2013 reprint, $7.99)
The short story collections of Edgar Allan Poe or H.P. Lovecraft
Harper-Collins' recommendations:
For pre-schoolers:
Five Little Pumpkins by Dan Yaccarino (HarperFestival, 2003, $5.99)
The Dangerous Alphabet by Neil Gaiman (HarperCollins, 2010 reprint, $6.99)
For 8- to 12-year-olds
"The Headless Horseman Rides Tonight" by Jack Prelutsky (Greenwillow Books, 1992, $6.99)
"Always October" by Bruce Coville (HarperCollins, 2012, $16.99)
For teens
"Carnival of Souls" by 
 Melissa Marr (HarperCollins, 2012, $17.99)
"Fat Vampire: A Never Coming of Age Story" by Adam Rex (Balzer + Bray, 2011 reprint, $8.99)
Support our reporting -- Follow the MFP.