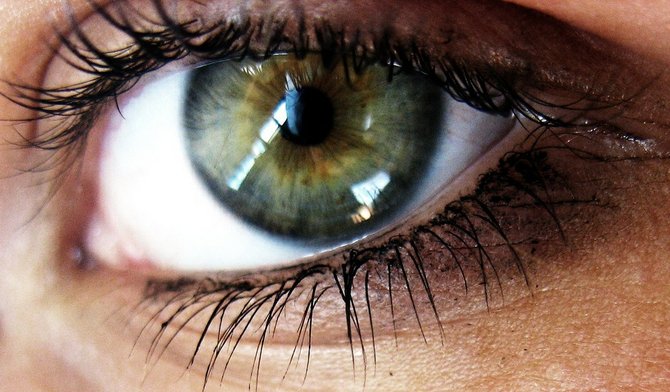 This story appeared on Environmental Health News.
Under a new global treaty that limits the use of mercury, some light bulbs will be banned. Some batteries, thermometers and medical devices will be banned, too. But mascara is exempt.
Last week, about 140 countries signed the United Nations' Minamata Convention, which includes a ban on mercury in cosmetics and soaps. But mascara and other eye makeup are exempt because "no effective safe substitute alternatives are available" and "the intention is not to cover cosmetics, soaps or creams with trace contaminants," the treaty says.

 Mercury is sometimes used in small amounts in mascara as a preservative and a germ-killer. In the United States, the Food and Drug Administration allows it in eye cosmetics at a concentration of up to 65 parts per million.
"The purpose of the products is to inhibit the growth of bacteria and fungi that could spoil the products and that could infect and damage the eye, so the risk-benefit analysis favors the use of these preservatives," said Joanna Tempowski, a scientist for the World Health Organization's International Programme on Chemical Safety, in an email.
But Stacy Malkan, co-founder of the advocacy group Campaign for Safe Cosmetics, said there is no reason "a known neurotoxin should be allowed in any of these products" because most companies already have found alternatives.
In the United States, "companies just haven't been using it. There's absolutely no reason to not include it in the treaty," Malkan said. "It's just ridiculous."
Mercury is a potent neurotoxicant. High levels can cause serious neurological effects and kidney damage, and, if a pregnant woman is exposed, lower concentrations can disrupt the brain of a developing fetus. However, no scientific studies have examined exposures or effects from the low concentrations found in mascaras or other eye makeup.
The focus of the treaty's phase-out in cosmetics was on skin-lightening creams that use much larger concentrations of mercury as an active ingredient. For those products, the toxic metal can be absorbed at high levels through the skin, and some studies have linked them to kidney damage in women.
Sheila Logan, a program officer with the United Nations' Mercury and Other Metals team, said in an email response that when the treaty's cosmetics ban goes into effect in 2020, there probably will be "few or no products" with mercury.
Alternatives exist for some mascaras—particularly those with shorter shelf lives—but not for all, Logan said. When asked for examples of those products that currently do not have substitute preservatives, she did not respond.
The Personal Care Products Council, the trade group for the cosmetics industry, is not aware of any manufacturers using mercury in mascara, said Linda Loretz, the group's chief toxicologist.
But according to a database compiled by the Environmental Working Group, six mascaras and two eyelash makeups manufactured by Bari Cosmetics, Ltd. under the Love My Eyes brand contain thimerosal, a mercury-based preservative. The database is compiled from the ingredients listed on the boxes. The products were added to the database between July and September of this year.
Bari Cosmetics, Ltd. directed calls to the parent company, Revlon, which did not respond to requests for comment.
The FDA does not require ingredients that comprise less than 1 percent of a cosmetic product to be divulged on the label, so a lot more products may have thimerosal and consumers would never know, said Kristin Adams, chief executive officer of Afterglow Cosmetics, a natural and organic cosmetic company.
Instead of mercury, some major brands use phenoxyethanol, methylisothiazolinone, parabens and formaldehyde releasers as preservatives, according to the group's database.
Such substitutes also may not be benign; formaldehyde is carcinogenic to humans, and parabens may be linked to hormone disruption. But none of the substitutes is as toxic as mercury, said Sonya Lunder, an Environmental Working Group senior analyst.
Adams said many big cosmetics companies use preservatives such as mercury and parabens because they are good at what they do—extend shelf life.
"They (large companies) are looking for a five-year shelf life for their product because it's all about cost of goods for them," she said. "Cosmetics will go bad very fast."
Adams wouldn't divulge what Afterglow Cosmetics uses instead, but said they adhere to a France-based network that developed a non-toxic standard for cosmetics.
"We see alternatives, why not just include [eye makeup] in the ban?" Malkan said. "Women should not be putting something so toxic right by eyeballs."
Support our reporting -- Become a JFP VIP.
The news business has changed dramatically in the past year, and we need your help more than ever to keep bringing you important stories about Jackson and the Metro. Become a JFP VIP with an annual membership or you can Sign up as a monthly supporter. Thanks for anything you can do to empower our journalism!