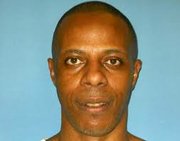 JACKSON, Miss. (AP) — A judge has denied death row inmate Willie Jerome Manning's request for a new trial in the 1993 slayings of a 90-year-old woman and her 60-year-old daughter in Starkville.
Oktibbeha County Circuit Judge Lee Howard handed down his ruling Tuesday. Manning's attorney, Robert S. Mink of Jackson, said he will appeal.
Mink said prosecutors' case against Manning rested on the testimony of an alleged eyewitness who later recanted.
"This is just astonishing," Mink said of Howard's ruling.
Manning had been set for lethal injection May 7 in a separate case — the December 1992 slayings of Mississippi State University students Jon Steckler and Tiffany Miller. The state Supreme Court blocked the execution hours before it was scheduled. Justices didn't explain their action, but Manning had argued that DNA tests would prove him innocent.
In 1996, Manning was convicted and sentenced to death in the slayings of Emmoline Jimmerson and her daughter Alberta Jordan. They were beaten and their throats slashed during a robbery attempt at their Starkville apartment. Their bodies were found Jan. 18, 1993. The Supreme Court upheld Manning's conviction and two death sentences in 2000.
By the time Manning was brought to trial in the deaths of the elderly woman and her daughter, he already had been convicted in the students' slayings and sentenced to death.
In his 1996 trial in the women's deaths, one of Manning's friends, Kevin Lucious, testified he saw Manning at Brooksville Gardens apartments around 6:30 p.m. on the day of the killings. After their conversation, Lucious testified he returned to his apartment and saw Manning go to the women's apartment.
Lucious testified he watched Manning knock on the door, and when one of the women opened the door, he pushed it open, went in and closed the door behind him. Other witnesses also testified they saw Manning at the apartments, but he denied he had been there.
The prosecutor in the case was District Attorney Forrest Allgood.
In the ruling issued Tuesday, Howard wrote: "The court finds that Lucious' testimony that he was threatened into testifying at the petitioner's trial and that Allgood knew his testimony to be false is unreliable and should be given no weight in the present proceedings."
In 2004, the Supreme Court gave Manning limited approval to try to convince a judge he deserved a new trial. In his request to the Supreme Court to pursue a post-conviction claim, Manning cited 16 issues. The justices allowed three — whether prosecutors withheld certain evidence, whether prosecutors presented false evidence and whether Manning was denied effective assistance of counsel at trial and on appeal.
Howard conducted hearings on the post-conviction petition in January and April 2011.
In February, the Supreme Court asked Howard why no ruling had been issued. In his response, the judge said his decision had been delayed because lawyers on both sides asked for more time to file briefs, which he had to review while continuing his own court schedule.
Associated Press writers Emily Wagster Pettus and Jeff Amy contributed to this report.
Copyright Associated Press. All rights reserved. This material may not be published, broadcast, rewritten, or redistributed.
Support our reporting -- Follow the MFP.