JACKSON, Miss. (AP) — Several Mississippi cities will inaugurate new mayors this summer after Tuesday's party primaries winnowed the lists of candidates and knocked some incumbents out of contention, including Jackson Mayor Harvey Johnson Jr.
In the state's capital and largest city, voters opted for change, as Johnson placed third in the Democratic primary for Jackson mayor. Businessman Jonathan Lee and attorney and City Council member Chokwe Lumumba advanced to the runoff. The eventual nominee will face three independent candidates in the general election: Cornelius Griggs, Francis P. Smith Jr. and Richard C. Williams Jr.
All cities have party primary runoffs May 21 and the general election June 4. The four-year terms start July 1.
Among the other cities where incumbent mayors were defeated Tuesday are Vicksburg, Holly Springs and Moss Point.
Turnover is also coming to several cities where current mayors didn't seek re-election, including Clarksdale, Clinton, Gulfport, Laurel and Pascagoula.
Johnson made history in 1997 by becoming the first black mayor of Jackson, which by then had a majority-black population. He served two terms before being defeated in 2005 by Frank Melton, an outspoken former TV executive who had briefly led the state Bureau of Narcotics. During Melton's tumultuous four years as mayor, he led a warrantless raid in 2006 on a duplex he called a crack house. Melton was tried twice on charges related to the raid — once in state court and once in federal court. Melton had heart problems and was hospitalized May 5, 2009, the day he placed third in the Democratic primary as he sought another term as mayor. He died two days later.
Johnson won the 2009 Democratic primary and the general election, promising to bring stability to City Hall. This year, he pledged to make Jackson a "destination city," but many voters said they were more concerned about basic services such as fixing bumpy, crumbling streets and improving the outdated water system.
Stacey Winters, who runs a Jackson soul food cafe, said she likes Johnson but she was ready for change. She voted for another candidate, but said she didn't want to publicly disclose which one.
"It's time to see some fresh blood," Winters said. "We need to see more business in the city."
Five state House members ran in Democratic primaries, and four advanced:
— Rep. Kelvin Buck, who has served in the House since 2004, will be the next mayor of Holly Springs. Buck defeated current Mayor Andre DeBerry and is unopposed in the general election.
— Rep. Billy Broomfield, who has served in the House since 1992, defeated Mayor Aneice Liddell in Moss Point. Broomfield faces independents Dobbs Dennis and John Mosley Jr. in the general election.
— Rep. Omeria Scott, who has served in the House since 1993, advanced to Laurel's Democratic primary runoff with Johnny Magee, a current City Council member. No Republican is running. Two independents are in the general election: Ken Keyes and Anthony Hudson.
— Rep. George Flaggs of Vicksburg, who has served in the House since 1988, received just over 50 percent of the vote and narrowly avoided a runoff with businesswoman Linda Fondren. Fondren said she would not seek a recount. The current mayor, Paul Winfield, placed third in the primary and awaits an Aug. 5 trial on a federal bribery charge related to a city contract.
— Rep. Chuck Espy, who has served in the House since 2000, lost the Clarksdale primary to attorney Bill Luckett, who co-owns the Ground Zero Blues Club with actor Morgan Freeman. Luckett unsuccessfully sought the Democratic nomination for governor in 2011. Luckett will face Republican Angie Smith and two independents, Bradford Fair Sr. and Roger Weiner, in June. Espy was trying to succeed his father, longtime Mayor Henry Espy. One other Democrat also ran Tuesday.
In other races:
— In Southaven, insurance agent Darren Musselwhite and police officer Jerald Wheeler advanced to a runoff for the Republican nomination. Current Mayor Greg Davis will be on the general election ballot as an independent. Davis has been mayor since 1997 and had been a Republican until he qualified with no party label for the current election. He ran as a Republican for north Mississippi's 1st District congressional seat in 2008. Davis awaits an Aug. 19 trial on state charges of embezzlement and false pretense. The state auditor has also demanded that Davis, now divorced, repay the city $70,000 for trips, shopping and marriage counseling that were charged to the city. Democrat Coria B. Williams also is running.
— Madison Mayor Mary Hawkins Butler won a ninth term by defeating county supervisor John Bell Crosby in the Republican primary. Butler is unopposed in the general election. "I have served as your mayor more than half of my life, and it has been one of the most rewarding experiences a human being could have," Butler said on her Facebook page Wednesday.
— Hattiesburg Mayor Johnny DuPree, who was the 2011 Democratic nominee for governor, defeated two candidates Tuesday. He will face four independents in June: Dave Ware, Nathan Jordan, Shawn O'Hara, and Clyde Stewart.
— Oxford Mayor Pat Patterson defeated one person in the Democratic primary and will face independent Todd Wade in June.
— In Clinton, Hinds County supervisor Phil Fisher defeated two candidates to win the Republican nomination. He will face Democrat Rodney C. Carter in June. Current Mayor Rosemary Aultman, a Republican, didn't seek re-election.
— In Pascagoula, Republican Jim Blevins will be the next mayor after defeating three candidates in the primary. The current mayor, Republican Robbie Maxwell, didn't run.
— Gulfport's next mayor will be Republican Billy Hewes, a former state senator who unsuccessfully sought the GOP nomination for lieutenant governor in 2011. The current mayor, Republican George Schloegel, didn't run, and Hewes' only opponent dropped out.
Copyright Associated Press. All rights reserved. This material may not be published, broadcast, rewritten, or redistributed.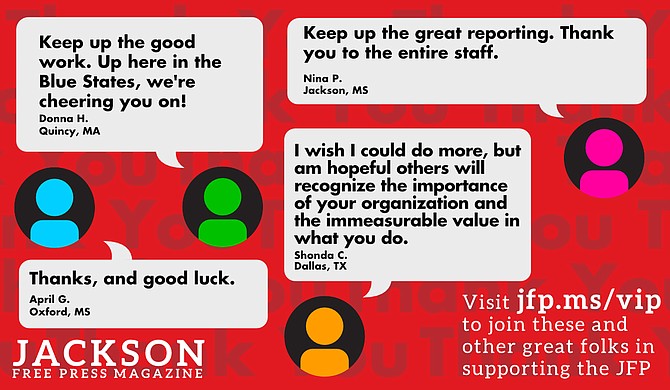 Thanks to all our new JFP VIPs!
COVID-19 has closed down the main sources of the JFP's revenue -- concerts, festivals, fundraisers, restaurants and bars. If everyone reading this article gives $5 or more, we should be able to continue publishing through the crisis. Please pay what you can to keep us reporting and publishing.