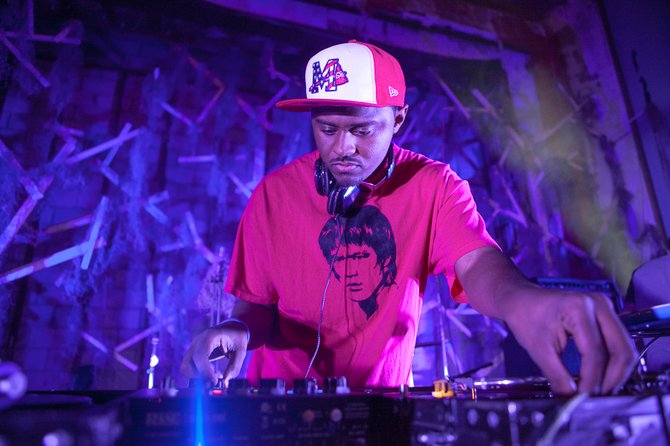 One thing we can all agree on is that Rick James, Prince and Michael Jackson are undeniable icons of pop and soul music. Their beats and melodies have become part of the fabric of pop culture and are nothing to be messed with--unless you're one of the three talented DJs spinning hits at the upcoming RPM Party.
As DJ Phingaprint says, "Bring your dancing shoes, 'cause it's gonna be a stone groove, baby!"
Ardenland presents the RPM Party at Duling Hall. DJ Young Venom, DJ Phingaprint and DJ Stephen Urquel will mix classic hit tracks from the three title artists, with some additional surprise tracks in store, by artists who have unique relationships to each of the superstars they're representing.
DJ Young Venom, a 28-year-old local DJ on the rise and the brainchild of the RPM Party, has carried the concept for the show around in his mind for many years.
"I was first introduced to soul music by my godfather and (to) pop funk music by my aunt when I was growing up throughout the 1980s," he says. "After seeing the movie 'Juice' in 1993, that's when my interest in turn-tablism really began."
Hot 97.7 took Young Venom on as an intern from 2004 to 2006. As his interest continued to grow, he approached DJ Phingaprint, hoping that the more experienced DJ could help him hone his skills. Phingaprint told him he'd need his own equipment before he would take become an apprentice. Venom set out to do just that.
It wasn't long before Young Venom was not only working with DJ Phingaprint, but had also landed a gig performing each Sunday at Seven Studioz for Poetry Night. By 2009, he was a member of the Violator Allstar DJs and went on to have a popular syndicated show called Violator Radio on Sirius/XM. DJ Young Venom will be working with Michael Jackson's hits at the party.
DJ Phingaprint, a local DJ in his 30s, has 20 years of experience spinning wax, 10 of which he's done on a professional level. David Banner hired him on as his exclusive DJ before Phingaprint got involved with the Prague festival, "HipHop Kemp," for three consecutive years. The first two years he included special guest performers--Skipp Coon one year and Kamikaze the next--choosing to go solo that third year. Shortly thereafter, he toured Ghana, Africa, in 2009 in a series of conferences representing the Rhyme & Reason Foundation, whose mission is educating children through hip hop.
"Turn-tablism is not just a way of life for me," DJ Phingprint says. "It is my life."
Rick James is DJ Phingaprint's chosen artist for the evening.
The third DJ, performing Prince's hits, is DJ Stephen Urquel. As an artist, he is as secretive and mysterious as Prince--Urquel chooses to remain anonymous, so you'll have to come on out and find out why.
The 18-and-up RPM Party is at Duling Hall (622 Duling Ave., 601-362-8440) March 23 at 9 p.m. with cocktails at 8 p.m. Tickets are $5 in advance or $8 at the door, and are available at Babalu (622 Duling Ave., 601-366-5757), Morning Bell (622 Duling Ave., Suite 212, 769-233-7468), the Coliseum Box Office (1207 Mississippi St., 601-
353-0603), ardenland.net or ticketmaster.com.
More like this story