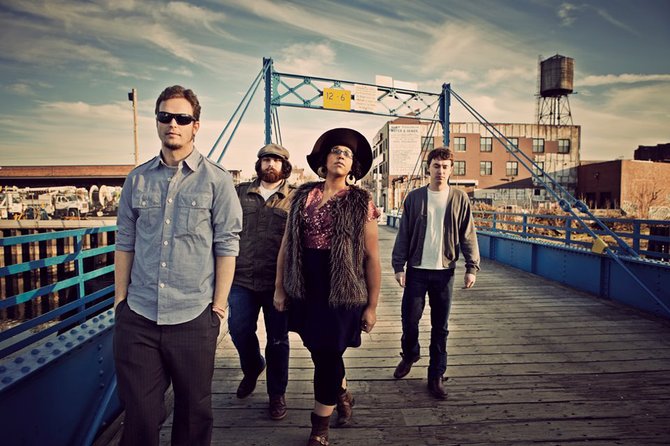 Steve Johnson was delivering a FedEx package to the animal clinic where his friend Zac Cockrell worked in 2008 when Cockrell asked if he wanted to play some music together after work.
Cockrell and friend Brittany Howard were already working on a couple of songs, so Johnson, a drummer, asked if they wanted to create a band. "That's pretty much how it started," Johnson says of the unassuming beginning of Alabama Shakes.
In April 2009, they got their first gig through Heath Fogg, who offered them a 45 to 60-minute gig opening for his band.
The problem, however, was that Cockrell and Howard had little-to-nil experience performing. Plus, Howard had never played the songs on guitar while singing, so Fogg stepped in to help. After a week or two of preparation, the four played the set.
"We were extremely well-received, so we kept doing it," Johnson says.
Whenever Fogg's other band had a show, he'd do double duty and have the Shakes open.
"Finally we caught a break. We just happened to be in the right place at the right time," Johnson says. "Somebody heard us and kind of passed it on to a friend who had a blog and blogged about us."
The blogger happened to be Justin Gage, whose influential Los Angeles-based Aquarium Drunkard blog has gained honorable mention from the likes of Rolling Stone and Paste magazines. Before they knew it, Patterson Hood was at a Shakes show and hooked them up with his management.
In April 2012, two years after that first gig in their hometown of Athens, Ala., Alabama Shakes released its debut album, "Boys & Girls," through ATO Records. The road wasn't easy, though. The group had to travel to nearby cities to perform on weekends when possible.
"All of the places around here wanted cover bands to play for like four hours--bar bands and stuff," Johnson says. "We were trying to work on originals, and we all had jobs so it wasn't like we could get out and tour or anything."
Now, Alabama Shakes tours all the time across the country, and in Canada, the United Kingdom, Australia, South America and Europe, and plays at big and small venues alike. The band has had a love/hate relationship with touring, Johnson says. While it's fun to be on the road playing their music and meeting new people, the members miss the things they once took for granted.
"You eat when you can because you don't know when you'll get to again," Johnson says. "You shower when you can because you don't know if at the next stop you're going to have a hotel room or if you'll be sleeping on the bus and bathing at the venue. And not all venue showers are nice."
The transformation from playing small Alabama bars to playing larger shows and festivals hasn't been too bad, though. "They gradually escalated so that it felt comfortable," Johnson says. "Festivals are still a little shocking. They're not as personal as a small club or theater venue. You feel like you're there, but you're not. You feel like you're disconnected I guess. ... I mean you can see all the people out there, but you don't know where it ends."
Alabama Shakes became so popular within the year and a half after releasing "Boys & Girls" that, along with receiving many concert requests, the group was nominated for three Grammy awards: Best New Artist, Best Rock Performance (for the song "Hold On") and Best Recording Package (for the album "Boys & Girls"). While the band didn't win, lead singer and guitarist Howard had the opportunity to perform with Elton John, Mavis Staples, Zac Brown, T Bone Burnett and the band Mumford & Sons in a tribute to the late Levon Helm of The Band.
Howard's voice is one of the defining elements of her band's music. Sources such as Newsweek and The New York Times likened Howard to Janis Joplin. They share the same throaty, gritty style, singing deeply in a way that weakens the vocal chords after one night of singing. Howard's voice isn't just gritty and raspy, though; her singing evokes raw, emotional power. Listeners can feel that passion coming through in songs such as "You Ain't Alone."
"Even the album's slower moments sizzle in Howard's hands, her vocal delivery conjuring old-soul emotions and effortlessly reaching back through the decades to solder together heartbroken blues, righteous soul and irreverent rock 'n' roll," wrote NPR in its "NPR Music's 25 Favorite Albums of 2012 (So Far)." "Boys & Girls" made the list.
Howard's old-school raspy delivery combined with Motown-esque guitar melodies has earned Alabama Shakes the labels of soul-revival and retro-soul; however, this isn't the band's goal.
"We definitely have a soul influence, and there's a bunch of songs of ours that I guess give off that vibe of being a soul band," Johnson says. "But I don't think it was ever our intention to be retro-soul."
Alabama Shakes' style is the result of a mixing of influences from the different members. Cockrell is really into Motown and old session players, while Howard and Johnson like to play hard rock. Lately, Johnson has been listening to an assortment of music including Steel Johnson, Michael Kiwanuka, The Fugees and Pantera.
"Put all four of us together, and that's just what came out," Johnson says. "We've got some songs that have a groove to them and are kind of soulful, and by the end of the song they're just amped up rock 'n' 
roll songs."
Johnson strongly believes that rock 'n' roll is probably the best way to describe Alabama Shakes' music. "If you've been to one of our live shows, if you've seen us, then you would classify us more as a rock 'n' roll band because there's a lot of energy that we bring in a live setting that is not captured on the album," he says.
Alabama Shakes performs in Jackson as part of the Mal's St. Paddy's Street Dance March 16. Doors open at 4 p.m., and tickets cost $20 plus fees for the 18-and-up event. Visit ticketmaster.com to purchase tickets or 
alabamashakes.com for more info on the band.
More like this story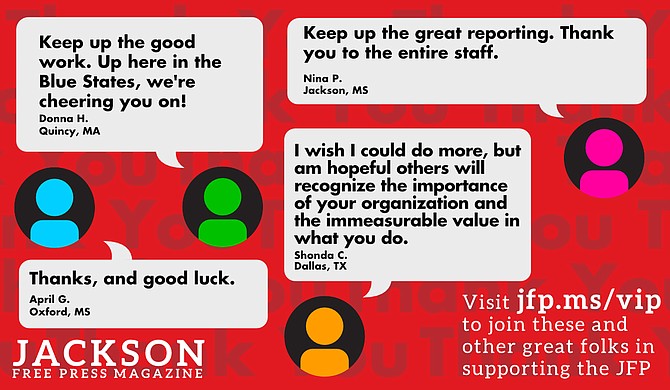 Thanks to all our new JFP VIPs!
COVID-19 has closed down the main sources of the JFP's revenue -- concerts, festivals, fundraisers, restaurants and bars. If everyone reading this article gives $5 or more, we should be able to continue publishing through the crisis. Please pay what you can to keep us reporting and publishing.