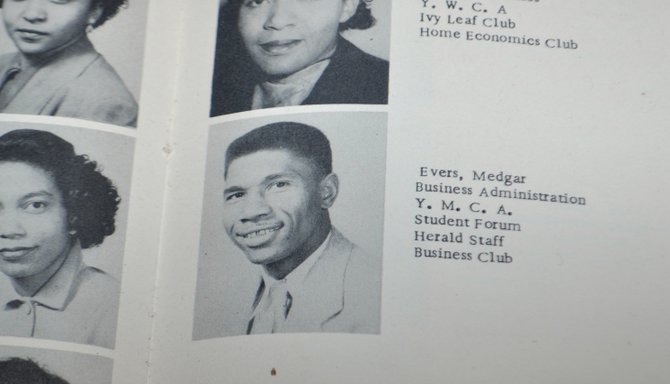 Imagine not being allowed to vote for the candidate of your choice, even though you were allowed to register to do so, or not being able to go to the college of your choice, even though your grades and conduct were exceptional. Imagine being thrown in jail, beaten or even killed for attempting to do any of these things because of the color of your skin. What would you be willing to do to change the course of things? Would you give up your life?
Medgar Evers was assassinated in the driveway of his home June 12, 1963. At the time of his death, he was a field secretary for the NAACP, working to help end the so-called Jim Crow era that plagued Mississippi and much of the South with government-enforced segregation. He played an important role in attempts to desegregate Mississippi universities, in particular by submitting his denied application to Ole Miss as a test case to the NAACP, and he was instrumental in helping enroll James Meredith at the same university that rejected him.
To honor his legacy, Medgar Evers' widow, Myrlie and his brother, Charles, along with their families dedicate themselves to preserving the memory and legacy of Medgar Evers. Every year, since 1973, the family has hosted a Homecoming Celebration for three or more days in June. Held in places such as Camden, Edwards and Jackson, and including celebrities Ruby Dee, Dionne Warwick, Jesse Jackson, Redd Foxx and Danny Glover and others the celebrations have always been a time of reflection and fellowship.
The theme for this year's 50th celebration is "How Far We've Come." Events in Jackson run from Thursday, June 6, through Wednesday, June 12.
Events
June 6—Tougaloo College hosts a gospel concert starting at 6 p.m. with Charles Evers, Medgar Evers brother, as the guest speaker. Admission is free.
June 7—The celebration continues with a homecoming parade that begins at Freedom Corner (Martin Luther King Drive and Medgar Evers Boulevard) at 10 a.m. The Evers are the parade grand marshal, and honorary marshal include Miss Black Mississippi, Kimberly Morgan; attorney Richard Schwartz; Hinds County District attorney Robert Shuler Smith; and Kixie 107 DJs Stan Branson and Rob Jay. Also in the lineup are the Fayette High School Marching Band, the Mississippi State Alumni Band, a collection of 18-wheelers, and more.
At 7 p.m. a scholarship banquet is at the Masonic Temple (1072 J.R. Lynch St.) followed by a concert. Organizers have not announced the musical performers; however, speakers for the evening are Dr. Tanya Moore, grandniece of Medgar Evers; Robert F. Kennedy Jr.; and former blues singer Bishop Joe Simon. Admission is $50, and attire is semi-formal.
June 8—Inaugural Medgar Evers International Day of Justice and Service is at the Jackson Medical Mall (350 W. Woodrow Wilson Ave.) from 8 a.m. until 1 p.m. For information, go to MEdayofjusticeandservice.org.
June 9—Medgar Evers Sunday. Faith leaders all over the world will remember Medgar Evers and celebrate his Legacy by sharing a message of "Unity and Faith." In Jackson, the Liturgy for Racial Reconciliation Commemorating the Life and Legacy of Medgar Evers will be at St. Andrew's Episcopal Cathedral (305 E Capitol St.) at 4 p.m. At 6 p.m., the grand opening of the Medgar Evers Exhibit at the Smith Robertson Museum and Cultural Center (528 Bloom St.) includes a reception.
June 10—A rededication ceremony of the Medgar Evers Home Museum (2332 Margaret Walker Alexander Drive) is at 11 a.m. Tougaloo College hosts the Freedom Trail marker dedication on the Campus Green at 2 p.m.
June 10 and June 11—Where Medgar Walked: Civil Rights Sites Tours from 9 a.m. to 5 p.m., covers sites in Jackson. Tours start at Smith Robertson Museum and Cultural Center (528 Bloom St.). Email Daphne Chamberlain at [email protected] or call 601-979-1561. The free Civil Rights Film Festival is at the Davis Planetarium (201 E. Pascagoula St.) from 10 a.m. to 9:30 p.m. Monday, June 10, and 9 a.m. to 9:45 p.m. Tuesday, June 11. For information, call Jeanne Luckett at 601-960-0649, or email her at [email protected]
June 11—Day of Commitment.
The unveiling of Medgar and Myrlie Evers' portraits and opening of the Civil Rights Art Exhibit begins at 9 a.m., at the Mississippi Museum of Art (380 S. Lamar St.)
Tougaloo College hosts "Conversations on the Life and Legacy of Medgar Wiley Evers" from 10 a.m. to 4 p.m., at the Bennie G. Thompson Academic and Civil Rights Research Center.
At 7 p.m., head to Tougaloo's Campus Green for "The Spirit of the Civil Rights Movement: Medgar Wiley Evers in Jazz."
Youth Congress: Dedicated to the Cause of Freedom will be at the Cabot Lodge Millsaps (2375 N. State St.).
June 12—The International Day of Remembrance includes Celebration on the Green at the Mississippi Museum of Art's Art Garden (380 S. Lamar St.) from 10 a.m. until 2 p.m. The event includes music, art, a food festival, a literacy fair, reflections, book signings by historians as well as authors, and sponsor exhibits. For information, contact Jacqueline Berry at 601-709-3744 or email [email protected]
The Service of the Bells is from noon until 12:30 p.m., and includes memorial and praise in word and song. For information, call Jeanne Luckett at 601-960-0649, or email her at [email protected]
Closing out the week in Jackson is the 50th Anniversary Gala, a commemorative tribute. The Red Carpet Party starts at 6:30 p.m., and the black-tie event starts at 7:30 p.m. at the Jackson Convention Complex. Tickets are $100 each; purchase a reserved table of 10 for $1,200. The deadline for purchasing gala tickets is Friday, June 7, at 5 p.m. To purchase gala tickets, call 601-878-1881 or go to eversinstitute.org to buy them online.
In keeping with this year's theme, "How Far We've Come," organizers hope the weekend will be a time of reflection on the life of Medgar Evers, the legacy he leaves behind, and all he and others have done for civil rights and equality throughout Mississippi and beyond.
For more information, call 601-948-5835, or visit eversinstitute.org.