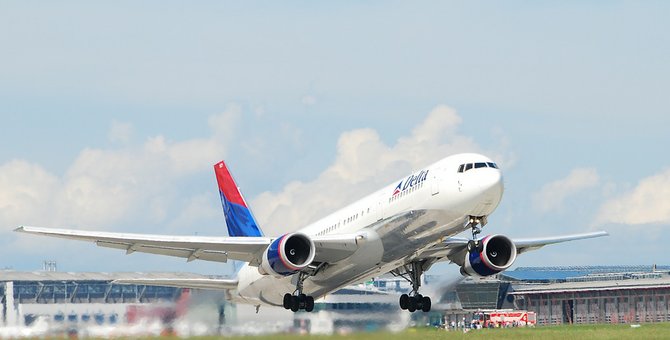 Federal Customs and Border Protection officials estimate that 20 million people worldwide (8 million more than in 2010) are trapped in the modern-day form of slavery known as human trafficking.
This is why Congress signed into law the Victims of Trafficking and Violence Protection Act 13 years ago, which began a large-scale effort by the U.S. government to combat the issue.
The effort came to the forefront of the aviation industry this year when Delta Airlines, along with JetBlue, Allegiant and North American, signed a memorandum of understanding with the Department of Homeland Security to adopt a program called Blue Lightning Initiative.
Though Customs and Border Protection allows the program to be voluntary, Delta is making the training mandatory for all frontline employees, such as pilots and flight attendants. The computer-based program will train the employees to recognize the indicators of human trafficking, some of which are mostly unnoticeable to the untrained eye, and report them to law enforcement.
"On international flights to the United States, the real-time reporting mechanism provides law-enforcement officials with additional time to identify suspected victims or suspected traffickers, and allows CBP to conduct research and analysis and coordinate an appropriate situational response before the plane arrives," said Stephanie Malin, a press officer for U.S. Customs and Border Protection.
Some of the signs include a person having no control of his or her own identification or travel documents, restriction from freedom of movement or social interaction, such as speaking to family members, the victim's lack of knowledge of the destination or where he or she lives, and a child being accompanied by someone other than a real parent or guardian.
Liz Savadelis, Delta's corporate communications coordinator said that the company prides itself on being socially and globally aware.
"Part of that, for us, means being committed to raising awareness about this type of thing, and in this case, the increasing prevalence of human trafficking," she said. "We're just doing it because we know it's the right thing to do."
The company started the training this summer, and Savadelis says it will be complete by the end of the year.
"This is a program that is consistent with our values," she said. "That's why we were the first airline to take a broad stand on this issue, and that's why we're investing in training for all of our customer-based employees."
Delta also signed the code of conduct outlined by the End Childhood Prostitution and Trafficking of Children, a policy organization fighting childhood sexual exploitation.
Delta is also a founding member of the Global Business Coalition Against Human Trafficking, which strives to bring businesses together to fight human trafficking.
"(This issue is) something most people can't comprehend," Savadelis says. "We're committed to doing our part to fight it."
For more information on the Blue Lightening Initiative, visit cbp.gov or dhs.gov.
Support our reporting -- Follow the MFP.