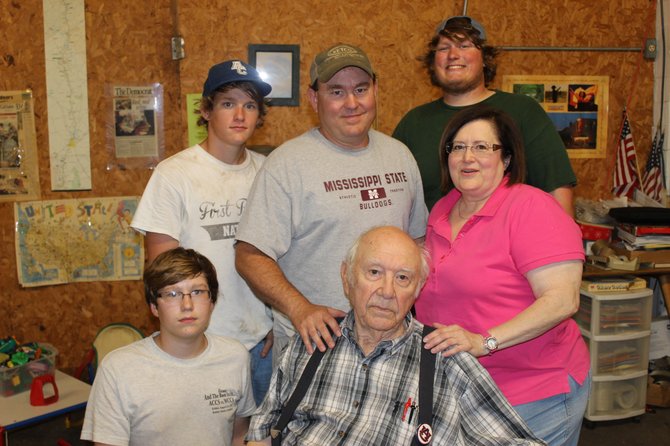 Natchez holds a little sweet secret that has been a part of the historic landscape since 1979. It's the Old South Winery, which uses one of the state's perfect fruits: muscadines.
Scott O. Galbreath Jr., the son of a soybean and cotton farmer-turned veterinarian from Lorman, Miss., had some free time every year after the crops were laid. He started making a little wine that tasted pretty good—at least to him and his childhood friends.
On a recent trip to Natchez, my twin and I went to pick up a few bottles of wine (a little "communion" as we call it in the Hill Country) from the Old South Winery. While there, we got the rare opportunity to sit down and chat with Galbreath, the founder and owner of the winery.
Galbreath, an 88-year-old retired veterinarian, like his father, moved to Natchez when he was about 15. On Friday and Saturday nights, he used to hang outside the Rhythm Club listening to local blues singers, some of whom would later become the greatest blues musicians of all time, such as John Lee Hooker, Gene Gilmore and Stompy Jones. Galbreath and his friends often drank homemade muscadine wine while they listened to or played music.
"(We) had a little ole band," he says. "We were so bad, we once had to pay a man down in Louisiana to play at his place."
On the night of April 23, 1940, a fire broke out at the Rhythm Club, and more than 200 people lost their lives. "It was a bad time," Galbreath says. "There's no way to describe it. They let us out of school to see if we could identify anybody."
The Rhythm Club, which was located at 1 Saint Catherine St., reportedly burned because some guys got into an argument. The police arrested five black men after drunkenly threatening to burn the building down. The charges against the men were later dropped. Some people trampled others in the midst of the madness. The Rhythm Club fire was called the Natchez Dance Hall Holocaust because 209 people, mostly African Americans, died.
At the time, the fire was the second most deadly building fire in the nation, behind the Iroquois Theater fire in Chicago in 1903. Blues greats that had played at the club, such as Leonard Caston and Willie Dixon, John Lee Hooker, Stompy Jones, Cab Calloway and Gene Gilmore, later immortalized the fire in song. A memorial marker of the event sits in Natchez Bluff Park and, on Nov. 6, 2010, the Rhythm Club Museum opened to commemorate the tragic fire.
Galbreath got his first muscadines from a guy who paid his father, also a vet, with them. "That man gave my daddy 10 tons of muscadines and threw in two extra tons for good measure. We had no machinery at that time so we ended up unloading them by hand in tin buckets," he says. It was some of the hardest work he ever did. Galbreath made his first muscadine wine when he was 15 years old.
Later, Galbreath decided to open Old South Winery. Back then, Mississippi liquor stores weren't allowed to advertise alcohol. Interested buyers found out about who made it and where to buy it via word-of-mouth. Stores that sold alcohol had to blacken their windows so passers-by couldn't see what was going on inside. They had to sell alcohol in plain brown paper bags so not to advertise in any way. This is how the name "package store" came about.
Finally, after the laws relaxed, Galbreath was able to advertise the winery on the highway. "The sign that's out there now is the only sign I ever put up out there," he says. "It's kind of small. I didn't want to upset the Baptist across the road by putting up a big sign. The people in Mississippi are known for being beer and whiskey drinkers, but the people in Louisiana just across the bridge are wine drinkers. (Sometimes) the Cajuns would come over here on day trips to my winery, playing that good music, and have a party on their bus drinking wine. That's how I knew we'd be successful in this wine-making business."
The Galbreath family now boasts a three-generation operation at the Old South Winery in Natchez (65 S. Concord St., 601-445-9924). Galbreath's daughter Diane is the lead sales and marketing person. Son Scott III is the winemaker, and his sons Scott IV, 19, Dylan, 17, and Lane, 14, carry on the business under the watchful eye of its patriarch.
The wine is available in any liquor stores in Jackson that sell wine. The top sellers are Miss Scarlett, Sweet Noble, Sweet Magnolia and Blue Bayou, in that order. Scott III reports sales of approximately 90,000 bottles a year of pure muscadine wine with all grapes (six different kinds of muscadines) grown in Mississippi without the use of pesticides.
Visit oldsouthwinery.com for more information regarding brands and directions. Call 601-445-9924 to arrange a tour of the winery. The Old South Winery is open daily except Sunday, so perk up your taste buds, because wine tasting is free.
Support our reporting -- Follow the MFP.