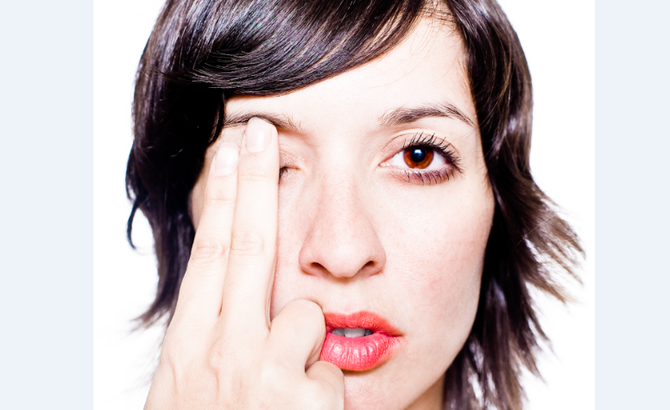 Singer-songwriter and multi-instrumentalist Tess Brunet dove into the music industry in different capacities over the years. As a drummer, she injected independent rock groups Generationals and Deadboy & the Elephantmen with a healthy dose of lo-fi fills and a steady, driving rhythm. Then she took the reins for solo act Au Ras Au Ras, self-releasing two albums in as many years. But now, Louisiana native Brunet has chosen to reinvent herself yet again, albeit under a familiar moniker: Tess Brunet.
"In the end, Au Ras Au Ras just proved to be too difficult," says Brunet, who was holding out hope that the name would be an angle rather than an anchor. "I'd end up having to spell it out phonetically and sounding like a cheerleader." She considered adopting another band name before deciding on using her own just after the release of the album, "The Great Nothing," in September.
Despite the hassle inherent in selecting a new handle, Brunet said that this would be a jump forward for her band instead of a return to square one, particularly because of her bandmates' involvement with the writing process on "The Great Nothing."
"I stepped right out of the first record (self-titled "Au Ras Au Ras") and started writing straight away. I showed the songs to the band, and everyone then came up with their own parts, which is so helpful when there's that little effort. They just play that way inherently," Brunet says. Guitarist and steel pedal player Jonny Campos, bassist Patrick Hodgkins and drummer Pat Fee joined Brunet in the studio to play the songs in a live setting—a challenging and seldom-used recording medium.
For Brunet, the risk was worth the reward. The choice to record as a full band with little overdubbing on tracks was all about honing the groups' skills in a live setting.
"I know we're a great live band, but this album has been a path of feeling more comfortable in the studio, which takes a whole different level of preparation," Brunet says. "With any project I was in prior to this, there has always been a sense of uneasiness or dissatisfaction because I want to put my heart on my sleeve when I play. On levels both a personal and musical, we just get each other."
As for the shift from disappearing behind a drum kit to bearing her heart before crowds of listeners, Brunet says it can still be daunting at times.
"It doesn't change anything at home, writing behind closed doors, but everything changes when you're playing. I wasn't quite prepared for the shock to my ego," she says.
"Before, I could be quiet and just say thank you or something here and there, but I didn't expect the transition to be so difficult on a confidence level."
On "The Great Nothing," a little lack in self-reliance and conviction fits just about perfectly, as Brunet's soulful vocals strikes nerve after raw nerve with the right concoction of woe and wonder. "From a musical standpoint, it's emotional and sadder than other projects I've been in," she says. Her favorite tracks from the new album are the bluesy, distorted opener "Left" and powerful and airy "The Wild December."
The band will be in Jackson Jan. 16, , at Morningbell Records & Studios, as part of a southern tour celebrating the release of "The Great Nothing." The 2013 tour begins with two shows in New Orleans Jan. 15 at Euclid's and Siberia, ending in Baton Rouge Jan. 24 at the Mud and Water Bar.
"I feel like there are a lot of towns in the south that get left by the wayside, so it was important to me that we hit those towns like Jackson that appreciate good art and music but don't always get the bands that they want," Brunet says. "Hopefully, people will want to come see us."
See Tess Brunet Jan. 16 at Morningbell Records & Studios (622 Duling Ave., Suite 205A, 769-233-7468) at 7 p.m. Visit http://tess.bandcamp.com to hear some music.
More like this story
Support our reporting -- Become a JFP VIP.
The news business has changed dramatically in the past year, and we need your help more than ever to keep bringing you important stories about Jackson and the Metro. Become a JFP VIP with an annual membership or you can Sign up as a monthly supporter. Thanks for anything you can do to empower our journalism!