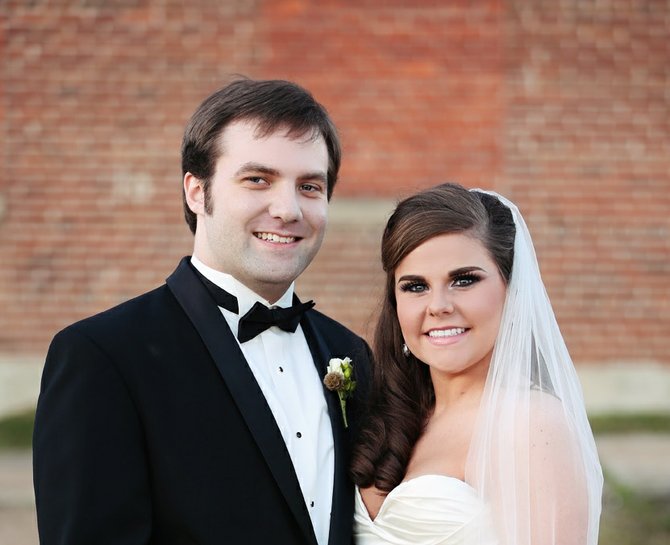 He Said
My part of the wedding preparation mostly consisted of getting it all started. I had to create a proposal tailored perfectly to the woman I wanted to marry.
I couldn't think of any place feasible that would be more special to Alex than her home, where it would be just the two of us and, of course, the dogs.

At the time, I was living in Monroe, La. The day of the proposal, I sped east on Interstate 20 to get to her house while she was at work. By the time I got to Clinton, I realized I'd only have a few minutes to prepare the house.
So I sent a text message to Alex asking her to go to the store and get some made-up request I didn't really need, just to buy some time. She said she was tired, and she just wanted to go home. My plan was falling apart.
I got to her house and ran inside. I put on my best coat and tie. I started pulling petals off some of roses I'd bought. I made a trail of the petals from the carport door to the bedroom, lined with white candles and full red roses.
Right as I was about to light the first candle, I looked up and saw Alex's face through the glass in the door. I ran to the door and opened it.
"Go sit in the car. Give me five minutes," I said. I thought the whole surprise was blown.
Five minutes passed and she was still in the car. I called her cell—no answer. Ten minutes. Still no answer. Fifteen minutes. By this point, I was drenched in sweat. Fifteen minutes earlier, I was 100-percent sure she'd say yes, but that was dwindling with every second I didn't see her. Was she not coming in because she knew what I was about to do and she didn't want me to?
Finally, she answered the phone. "Come inside," I said.
I heard the door open. "Oh my goodness!" she said.
Alex followed the trail of roses and candles to the bedroom, where I was waiting with the ring. When she walked it, I immediately got down on one knee.
"Are you serious?" she asked as tears began to well up in her eyes.
"Alexandra Horrobin, I want to spend the rest of my life with you. Will you marry me?" I asked. I don't remember if she managed a verbal response or not, but I'm pretty sure she conveyed a yes somehow.
From there, my preparation included tasting food and saying: "If that's what you want, Baby, get it."
The day of the wedding was a blast. The greatest moment was when I saw the most beautiful woman I'd ever seen in her dress for the first time, as we were doing photos prior to the ceremony. I knew I'd picked the right one.
She Said
Wedding planning isn't just a process, it is an experience. Mine started when Jacob and I got engaged in July 2011. I walked into my house and found it lined with beautiful flowers and candles. That's when my brain kicked into planning mode.
Of course, the wedding magazines and Pinterest boards ran wild. They took over my desktop and life. My dream colors and flowers changed daily.
Crisler Boone, my wedding planner, was a huge help in all the planning. I am not the bride who likes to meet 10 times over tablecloth colors and although most brides these days love the do-it-yourself attitude, I am definitely not a DIY type of bride. Having a great planner took care of nine of those meetings. I only had to attend one. (Jacob, of course, got out of all them—he loved that).
We got married Nov. 17 at The South. Having over a year to plan a wedding was a great choice for us. I could not imagine planning a wedding in under a year. The stress of making sure my dresses fit, getting bridal photos, and picking out bridal party attire and invitation design was hard enough.
I also loved having Wendy Putt at Fresh Cut handle our food, flowers and decor. What Boone didn't handle, Putt did. Having these two local experts responsible for most of the wedding was amazing. Their expertise took so much unneeded worry and stress off my mind and body.

The day of the wedding, I was full of so many emotions. My sweet bridesmaids rented out a room in Julep for brunch. The fun and food helped keep my mind off the nerves. I was not nervous until I started to get my hair and makeup done. The rush of all the planning and stress was all coming out in that moment.
Once I got to The South, I realized it was all worth it. Everything was perfect. The only thing left was for Jacob and me to see each other. Once Jacob and I had our sweet and loving reveal during the pre-wedding photo session, I was ready to walk down the aisle and get married.
My wedding was beautiful, but it went by so fast. The countdown began the day I got engaged. Then I turned around, and it was all over. All that planning for one day can be a bit disheartening when its over, but I would not change it for the world.
More like this story
Support our reporting -- Become a JFP VIP.
The news business has changed dramatically in the past year, and we need your help more than ever to keep bringing you important stories about Jackson and the Metro. Become a JFP VIP with an annual membership or you can Sign up as a monthly supporter. Thanks for anything you can do to empower our journalism!