JACKSON, Miss. (AP) — Expanding Medicaid would help thousands of "working poor" Mississippi residents who don't receive health insurance coverage through their jobs, a small-town family physician told lawmakers Tuesday.
Dr. Tim Alford of Kosciusko said this includes cashiers, clerks, nurses' assistants, poultry plant workers, truck drivers, pulpwood haulers and others.
"They live among us," Alford said. "They are our fellow Mississippians and in so many ways, we depend on them."
Under the federal health care overhaul that President Barack Obama signed into law in 2010, states have the option of expanding Medicaid to people making up to 138 percent of the federal poverty level. That's about $15,000 a year. The cutoff in Mississippi is about $5,500 a year and the state's program doesn't cover many able-bodied adults.
Gov. Phil Bryant and other Republican leaders say Mississippi can't afford Medicaid expansion, even with the federal government paying most of the tab.
Alford spoke to a bipartisan Senate Public Health subcommittee during the only legislative meeting this session that has focused mostly on how Medicaid expansion would affect the uninsured. He said people without coverage often go without primary care, and diseases such as diabetes escalate to dangerous levels.
Alford told of an Attala County pulpwood hauler who suffered a herniated disk about 10 years ago and has been unable to work except for occasionally cutting firewood. Alford said he tried to get the man approved for disability payments, but a judge wouldn't agree. The man's calf has atrophied because he can't walk properly.
"He has said, 'I'll scratch out a living somehow,' which is what he has done," Alford said.
The pulpwood hauler's wife worked in a chicken processing plant without health insurance. Alford said she slowly developed complications from diabetes, including an ulcer on her foot. She sought treatment sporadically in his office and in a local emergency room but had she been insured, through private coverage or Medicaid, she could have received treatment more regularly, Alford said.
"We could've held off the progression of her disease," he said.
Senators also heard from uninsured residents, including Jackson child care worker Rene Trevilion. The 42-year-old said she has had chronic, severe back pain since giving birth to her youngest child 12 years ago. She said her back problems started after a health care worker had difficulty inserting a needle into her spine to give her epidural anesthesia, which blocks pain during labor.
Trevilion said she never filed a lawsuit over the procedure and because she's uninsured, she can't afford therapy to improve her condition. Her job involves lifting.
"I try to fix a way where I can do some lift positions where I don't pull so much on my back," Trevilion said in an interview.
Trevilion, a single mother, said on some days, her back pain is so severe that she can't work — and she doesn't get paid when she doesn't work.
Mississippi is one of the poorest states in the nation with one of the highest percentages of uninsured residents. About 530,000 residents younger than 65 are uninsured, according to a study the Urban Institute conducted for the nonpartisan Kaiser Family Foundation. That's 21 percent of the state's nonelderly residents.
In a population of roughly 3 million, more than 640,000 are already on Medicaid, and expansion could add an estimated 288,000 to 300,000.
Alford is a member of the Mississippi Academy of Family Physicians, a group that has endorsed Medicaid expansion.
Democratic Sen. Hob Bryan of Amory led the subcommittee meeting Tuesday. He said many Mississippi residents can't afford private insurance and can't qualify for Medicaid now if they're between 18 and 65 years old, not pregnant and not disabled.
"If you work at a job that doesn't provide health care, it seems to me you wind up in this gap," Bryan said.
Mississippi has high rates of diabetes and heart disease, and the governor has said people could head off some conditions by eating better and exercising. Alford said he often tells patients those things.
"I try to convince them they've got to stop playing so much defense and play some offense — get out and walk," he said.
Republican governors in six other states have proposed expanding Medicaid in their states to cover more low-income residents, citing the financial realities of their states' medical costs.
The law says the federal government would pay 100 percent of medical expenses for the newly qualified enrollees from 2014 to 2017, then the federal share would be reduced to 90 percent by 2020, with each state paying the balance.
Copyright Associated Press. All rights reserved. This material may not be published, broadcast, rewritten, or redistributed.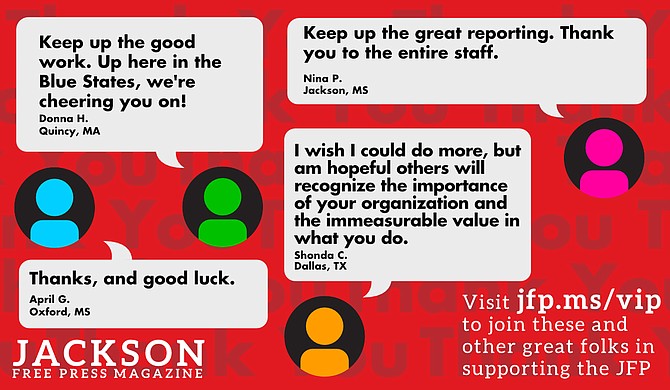 Thanks to all our new JFP VIPs!
COVID-19 has closed down the main sources of the JFP's revenue -- concerts, festivals, fundraisers, restaurants and bars. If everyone reading this article gives $5 or more, we should be able to continue publishing through the crisis. Please pay what you can to keep us reporting and publishing.